The Loop
PowerStroke: An ergonomic, mid-taper grip
Have those in search of game improvement through better equipment been looking in the wrong place? A retired oral surgeon from Richmond, Va., thinks so.
"I long had an idea that there was something wrong with the wide butt-tapered grips," Dr. Richard Ferris said. They were designed, he said, to counter "the outward club movement resulting from the centrifugal force created during a golf swing," or "the opposite of the ergonomic form required for the consistently efficient wrist/hand/finger actions of the grasping human hands in a golf swing."
Ferris, president of Macro Golf, Inc., consulted with a friend, Dr. Robert Dombrowski, an orthopedic surgeon in Fairfax, Va., who "enlightened me about the way fingers of the hands closed," Ferris said, "and it went from there."
The result is the PowerStroke grip, which features a mid-grip ergonomic reverse taper that promotes "a complete straight wrist with no tension or wrist bowing," he said. The PowerStroke grip "is an ergonomic physiological design element essential to comfort, natural hand control, wrist flex and full hand/arm extension [see below]."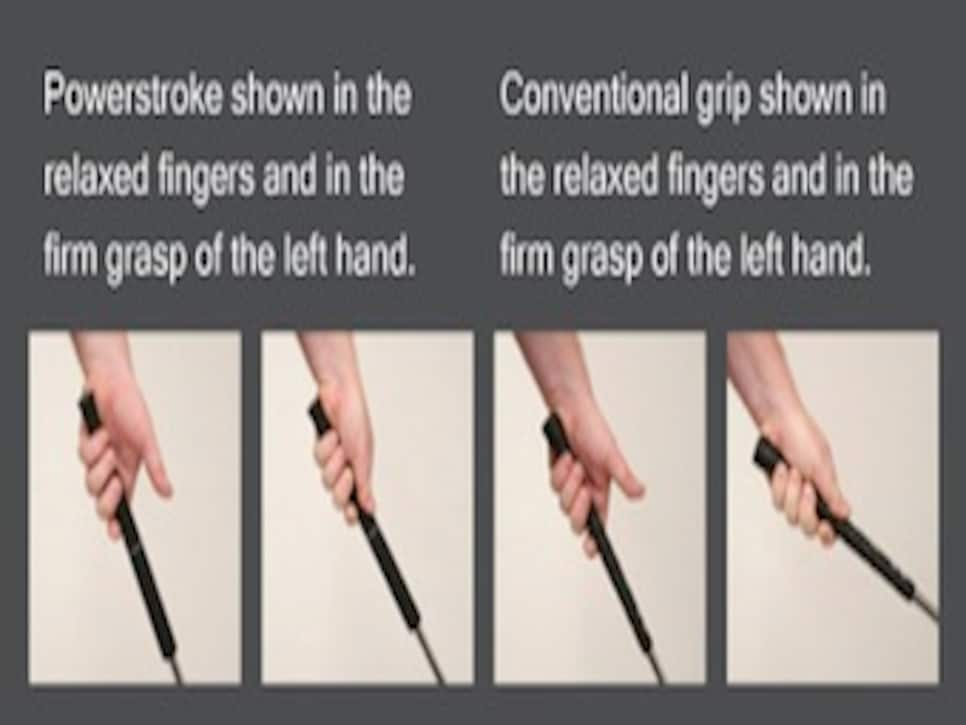 But does it work? "You could be Moe Norman without having to grip it in your palms," Ferris said. "If Tiger Woods had this grip I don't think he'd ever lose.
"Nick Aquilino has them. He was a patent attorney who spent whole life doing patents on golf, for Adams Golf, Dave Pelz, Guerin Rife and me. He said that this is probably the best patent he ever worked on as far as making a difference. He used to be a scratch player when he was younger. About a year ago, he had fallen to a 10 handicap. I talked to him yesterday. He says he's now playing to about a three. He's almost back."
The grips sell for $10 each, or $8 when four or more are purchased. They are available through the Macro Golf website.