Partner Content
Should Zach Johnson tab Dustin Johnson or Justin Thomas with a captain's pick? This insider poll says neither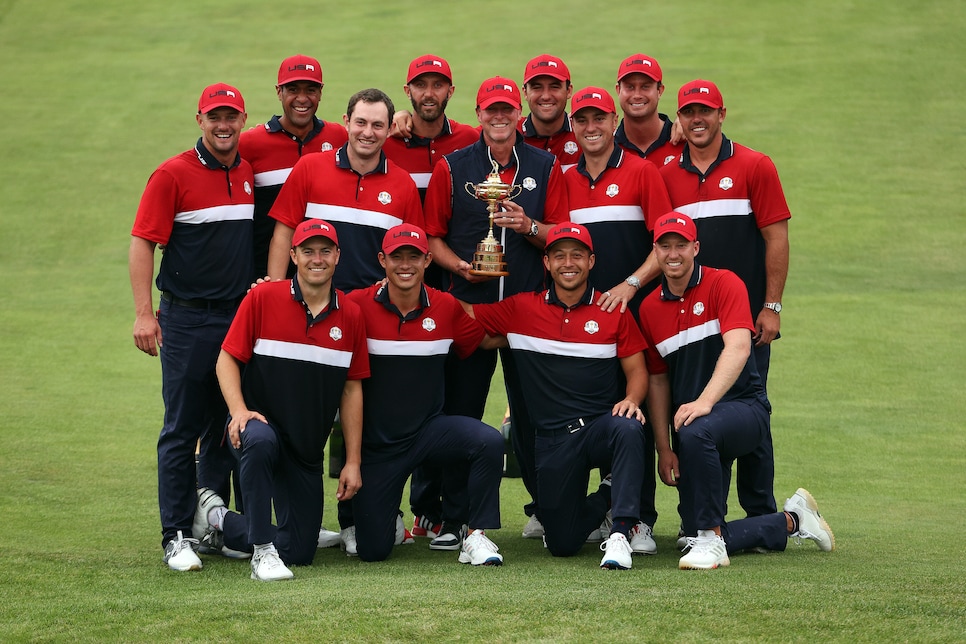 Maddie Meyer/PGA of America
Editor's Note: This article first appeared in Power Poll, a Golf Digest content partner.
United States captain Zach Johnson will fill out his Ryder Cup roster with six captain's picks on Monday after the Tour Championship. If our Power Poll voters had any say in the matter, neither Justin Thomas nor Dustin Johnson would be on the 12-man American roster in Rome. And tour affiliation would have no bearing on who deserves to be there.
We asked our poll voters to rank the six players they'd select to join the six automatic qualifiers for Johnson's U.S. team. Based on both total votes received from 128 responses and the weighted value of those choices, our six Power Poll wild-card selections would be …
Jordan Spieth (117 votes, 548 points)
Brooks Koepka (94 votes, 457 points)
Collin Morikawa (92 votes, 315 points)
Rickie Fowler (89 votes, 303 points)
Lucas Glover (86 votes, 287 points)
Cameron Young (54 votes, 168 points)
Matched up with the six automatic qualifiers—World No. 1 Scottie Scheffler, U.S. Open champ Wyndham Clark, Open champion Brian Harman, Patrick Cantlay, Max Homa and Xander Schauffele—that would send the U.S. team to Marco Simone Golf Club next month trying to snap a 30-year road losing streak with 12 players all currently ranked among the top 30 in the Official World Golf Ranking – seven of them major champions, five Ryder Cup rookies and only one member of LIV Golf.
"Americans have long been viewed as individual contractors who struggle in the Ryder Cup due to a lack of genuine camaraderie," said George Willis, a longtime sports writer from New York to Miami. "That's not likely to change, and the LIV v. PGA Tour dynamic will be intriguing. Getting the pairings right with all the personalities involved is an even greater challenge for Zach Johnson than past U.S. captains."
Rank from 1 to 6 the players from the list of candidates below (listed in order of Ryder Cup points standings) who you would pick for the 2023 team.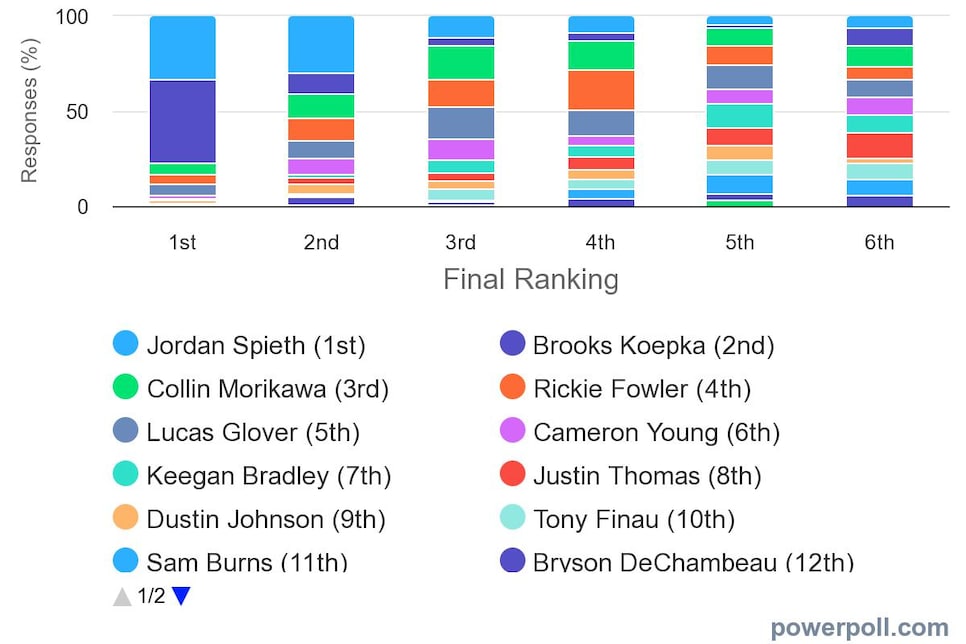 The first five of those players were picked by at least two-thirds of our poll responders, making them fairly consensus choices. That includes Glover, who a month ago was nowhere near the conversation before winning consecutive PGA Tour events in August after reviving his game with a new broomstick-style putter.
The sentiments fall off pretty precipitously after the first five, with Young getting the nod over Keegan Bradley and Justin Thomas, who each received 48 picks weighted in favor of Bradley. Young's sophomore season on the PGA Tour hasn't been as loud as his rookie-of-the-year campaign in 2022, but his skill set made him a contender in each of the last two Open Championships which shows his game can travel to Europe. It was enough to have him resoundingly favored over Sam Burns despite Burns owning five PGA Tour wins including a WGC Match Play triumph over Young in the final in March.
Bradley's bounceback season that includes two PGA Tour wins didn't quite resonate as well as Fowler's comeback, with our pollsters feeling Fowler is the better fit of the two former Ryder Cuppers to flesh out Captain Johnson's team.
"Chemistry is sometimes as important as talent in these things," said GWAA member Thomas Bedell. "Fowler would be a positive presence, and Bradley would bring some fire."
Is it better to take a proven international team veteran off his game like Justin Thomas or a hot player with no team experience like Lucas Glover?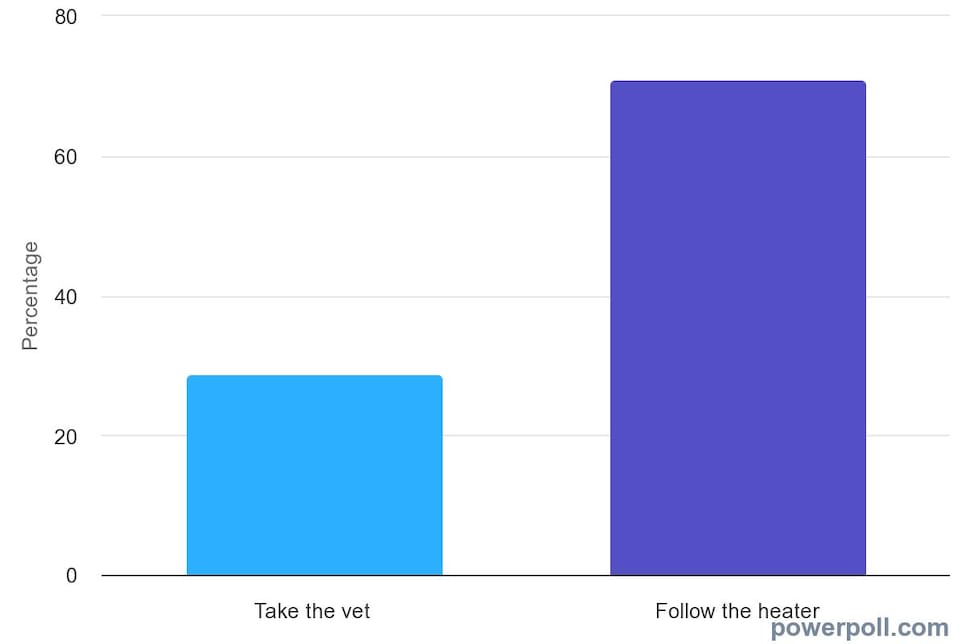 The top-six selection breakdown effectively answered question 3 in the survey regarding whether it is better to take a proven international team veteran off his game like Thomas or a hot player with no Ryder Cup experience like Glover. Our pollsters were strongly in favor of taking the hot hand (91 votes, 71%) over the struggling veteran (37, 29%).
"Team USA needs good putters and that's why I like Denny McCarthy, Lucas Glover, rejuvenated by the long putter, and Rickie Fowler," said Terry Moore, the founding editor of Michigan Golfer.
Not everyone agrees that hotter is better, and Thomas' past contributions as one of the most emotional American leaders in international team events has a value that goes beyond his current form.
"Justin Thomas has earned the benefit of the doubt," said Sean Fairholm, a senior writer for Global Golf Post. "He's 6-2-1 in the Ryder Cup and has just as much success in the Presidents Cup. He will rise to the occasion. How many years did Sergio (Garcia) bumble around during the summer only to find his game at the Ryder Cup? The match is not played on paper."
Said Dove Jones, senior sales consultant for Premier Golf: "The US has a terrible habit of forgetting more than half this event is played with a partner, so a player a little off but that has tremendous chemistry with a partner – think Seve & Jose Maria or Freddie & Raymond Floyd – can make the difference and just because you have an extremely hot and talented player doesn't mean they will partner well with anyone."
Brooks Koepka nearly earned an automatic spot on points. Should Zach Johnson pick him or other in-form LIV golfers such as Dustin Johnson and Bryson DeChambeau?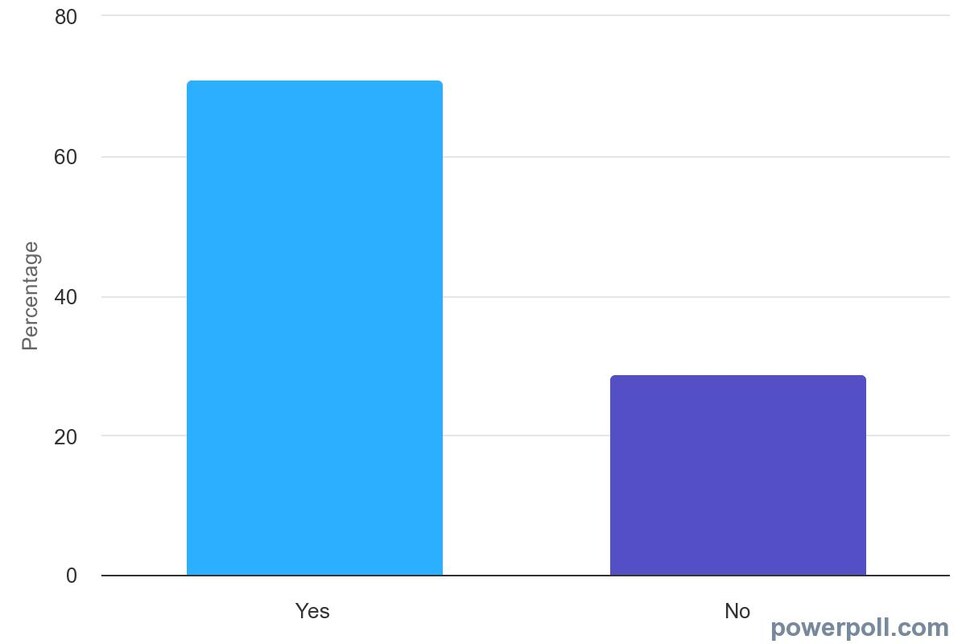 That 91-37 voting breakdown was precisely the same in favor of Captain Johnson picking in-form LIV Golf players, which was also evident in the ranking of selections. Koepka, who won the PGA Championship and only got knocked out of automatically qualifying on points at the deadline, received the most first-choice votes (56) ahead of Spieth (42).
"A Ryder Cup team without Koepka would be like Lucky Charms without the marshmallows. He should be there," said Sports Illustrated writer Gary Van Sickle.
"If Brooks Koepka isn't on this team, it deserves to lose," said Stan Awtrey, editor of Golf Georgia.
Dave Perkins, the retired golf writer for the Toronto Star, offered some interesting hockey context in regards to Koepka's inclusion.
"There's something of a hockey precedent for the LIV-Koepka situation," Perkins said. "In 1972 Bobby Hull was left off Team Canada for the huge series against the Russians because he had defected from the NHL to the World Hockey Association. The country was (mostly) outraged that one of the very best Canadian players was left off the team whose sweaters said Canada on the front. There were billboards and buttons that said simply 'To Russia With Hull.' … Does it say USA or PGA Tour on the shirts and hats now?"
As has been the case for much of the last year, the subject of LIV Golf generates the most passion from our pollsters.
"We'll learn a lot about whether the Ryder Cup is an ultra-competitive sporting event or a political exhibition based on Zach Johnson's selection," said Guy Cipriano, editor-in-chief for GIE Media, Inc. "Players who give the United States the best chance to win should be headed to Rome regardless of tour affiliation."
"Captain Johnson should pick the strongest possible team regardless of what tour they compete on," said industry contributor Rick Woelfel. "If Koepka is left off the team for political reasons it would completely undermine the fabric of the competition."
"While I'm not a big fan of the LIV Tour per se, my belief is that the USA Team should select the strongest field possible in order to compete against the strongest European field and if that means selecting players from the LIV Tour, so be it," said retired UPI writer Howie Smith.
"The LIV issue needs to be taken out of the Team USA selection equation entirely," said J. Roger Graves, senior writer-editor for PGA Magazine. "Brooks Koepka, on the basis of his runner-up finish in the 2023 Masters followed by his victory in the PGA Championship, should unequivocally be part of the U.S. Team. Traditionally, if the PGA Championship winner is an American in a Ryder Cup year, he is an 'automatic' selection for Team USA. The fact that Koepka finished a few points out of the six automatic qualifiers despite playing a very limited PGA Tour schedule (the four majors) speaks favorably to his excellence in 'major' events – which the
Ryder Cup certainly is. All four champions during a Ryder Cup year should be part of the Ryder Cup if hailing from the United States or Europe. Case closed!"
Emotions are even stronger on the opposite side.
"Under no circumstances should any player from LIV be included on this team," said Leonard Shapiro, former Washington Post golf writer and Golf Digest contributor. "They have all taken blood money from a murdering regime, and should not represent the U.S."
Dustin Johnson, who went 5-0 for the American team at Whistling Straits two years ago, did not fare quite as well. But the 33 pollsters who did want DJ on the team felt more strongly about him as his weighted value (106) fell just short of Thomas' 110 despite being picked by 15 fewer voters and was ahead of Tony Finau (97 points) even though Finau was picked on five more ballots and well ahead of Sam Burns (71) who also received 33 votes.
The third LIV candidate, Bryson DeChambeau, was selected by only 24 pollsters and only finished ahead of longshot Denny McCarthy, who only received four fifth-place votes.
What American rookie, if given the chance, do you think has potential to be a breakout star in the match-play team event? (Pick one)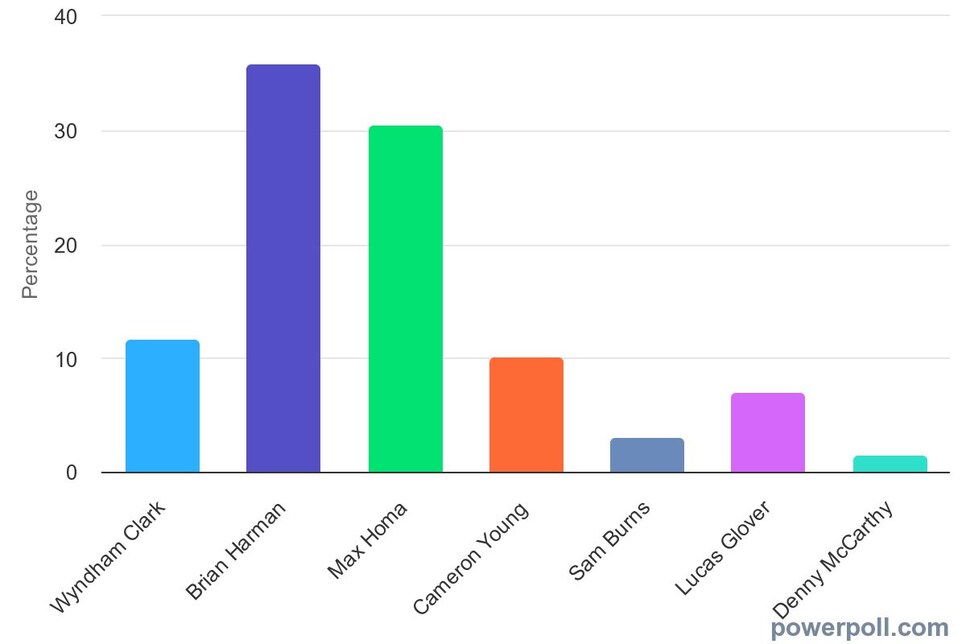 The team our pollsters would send to Marco Simone in Rome would include five American Ryder Cup rookies. Of those first-timers, our pollsters believe Open champion Brian Harman (46 votes) and six-time PGA Tour winner Max Homa (39) are the mostly likely rookies to become breakout stars.
Harman, 36, is a gritty former Georgia Bulldog who was one the youngest American ever picked to compete in the Walker Cup. It took a long time for him to live up to his junior golf pedigree, but his dominating performance in front of less-than-encouraging crowds at Royal Liverpool has made believers that the "Butcher of Hoylake" can handle the environment in Italy.
Homa already proved to be a valuable asset for the U.S. Presidents Cup team at Quail Hollow last year, so he'll get the chance to prove he is capable of similar results on the road.
U.S. Open champion Wyndham Clark (15), Young (13) and Glover (9) each got support that they will be able to contribute to the U.S. cause.
"The only way a Zach Johnson-led team wins in Rome is to bring warriors (rookies or vets) who can shut out the noise like Brian Harman did to win the Open Championship," said Bob Denney, Historian Emeritus, PGA of America.
In Rome, will the U.S. team win its first road Ryder Cup since 1993?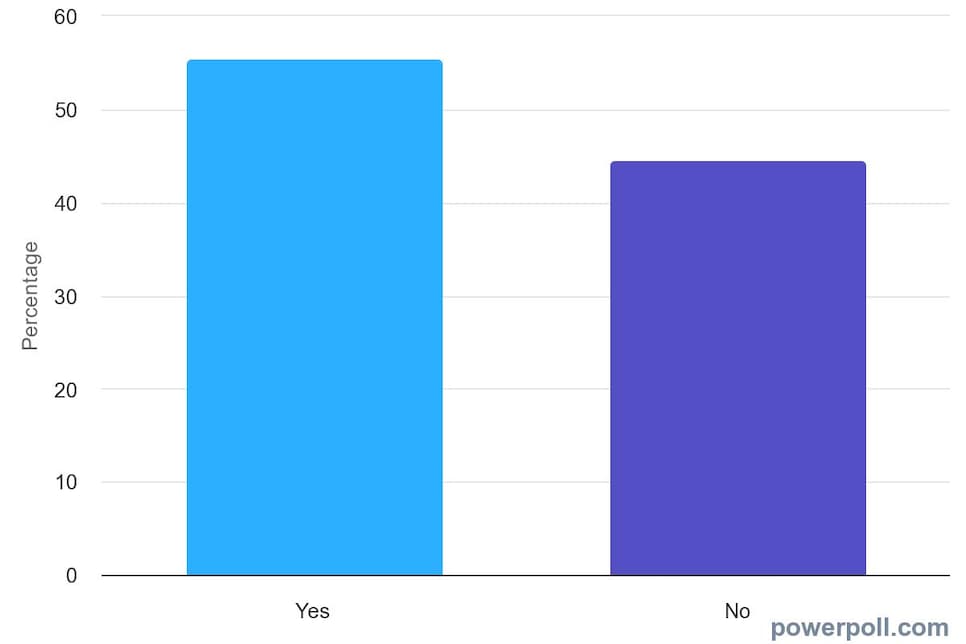 As far as how things will turn out for the Americans in the end, our pollsters believe that Zach Johnson's team will be able to end a 30-year losing streak on European soil and win the first road Ryder Cup for the Yanks since 1993 at The Belfry.
Seventy-one voters (55%) believe the U.S. team will get the job down while 57 (45%) think European captain Luke Donald's team can hold serve at home and win back the Ryder Cup. It that voting percentage were representative of the final score in Rome, the U.S. team would prevail 15.5-12.5.
"Can the U.S. win in Rome? Yes," said Keith Jones, Tee It Up! radio host. "Will they pull it together to win, is the real question."
That question has plenty of folks leaning the other way.
"The Euros just seem better suited to this format," said Herb Gould, former Chicago newspaper writer and co-founder of TMGcollegesports.com. "Maybe they're more used to grinding under pressure. And players like Hovland and Rahm are flat-out good in any format. Plus, the LIV BS is more of a distraction for Team USA. That said, if some American newbies rise up …"
Said Steve Habel, owner and publisher of GolfDaily.com: "I love the American team but I love the potential for the European team even more. Winning the Ryder Cup on European soil is just uber-important for the Euros, and I think that – and the play of the likes or Rahm, Hovland and McIlroy – will allow the Europeans to increase their home streak."