News
Poulter and Chamblee clash, Horschel clarifies controversy and Holmes' rough day: 5 things you need to know for May 15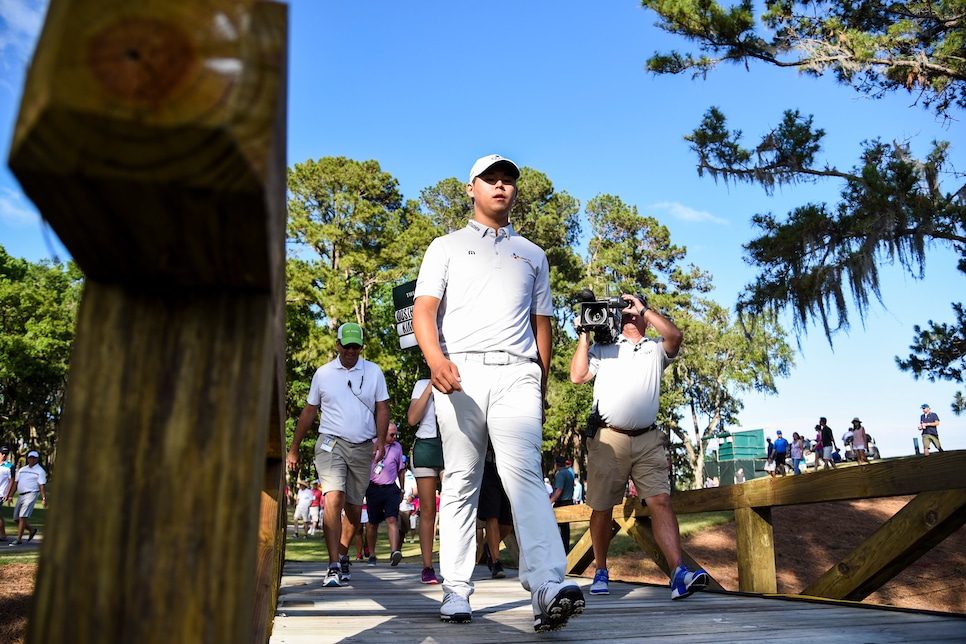 Welcome to the Dew Sweeper, your one-stop shop to catch up on the weekend action from the golf world. From the professional tours, trending news, social media headlines and upcoming events, here's every golf-related thing you need to know for the morning of May 15.
Sawgrass was angry on Sunday, my friends. The field's collective performance was far from graceful;, let's just say the broadcast won't be rerun on ESPN Classic anytime soon. Yet Si Woo Kim managed to avoid this 10-car pileup, submitting an impressive bogey-free 69 to capture the Players Championship by three shots.
Like much of Sunday's action, Kim's play wasn't pretty, hitting just eight greens on the round. He also missed in the right spots, and a creative short game kept him afloat while the competition gasped for breath.
At 21 years old, Kim is the youngest winner in tournament history, and becomes just the fourth player to have won twice on the PGA Tour before age 22. The other three? Tiger Woods, Sergio Garcia and Jordan Spieth.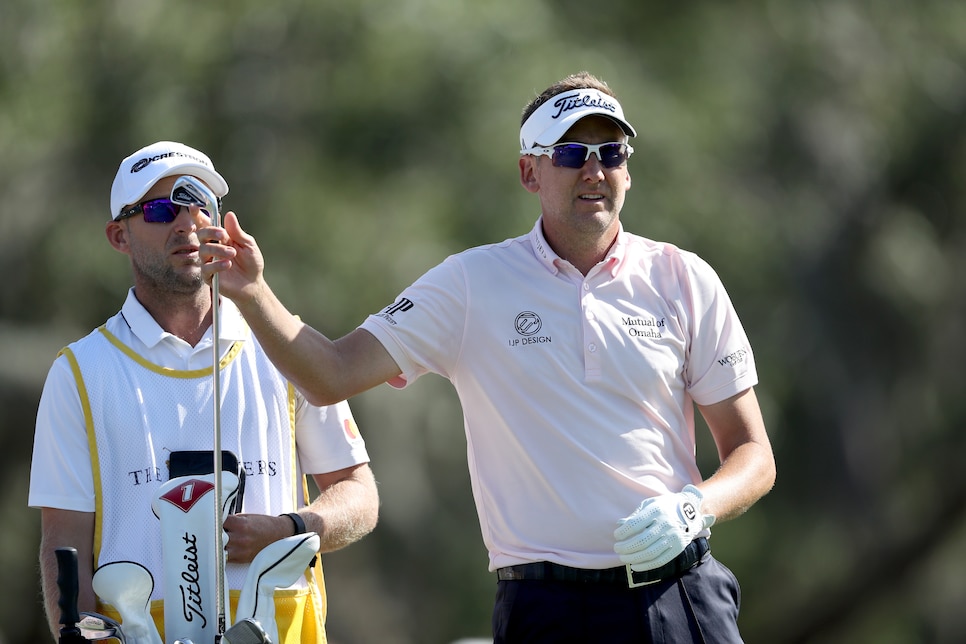 Poulter and Chamblee clash
Brandel Chamblee has never shied from sensitive matters. On Sunday night, the Golf Channel commentator called out Ian Poulter for laying up on the 16th hole, with the Englishman behind two strokes at the time. Poulter's lie didn't appear conducive to giving it a go; that didn't stop Chamblee from taking the Englishman to the woodshed, calling Poulter's approach "the worst shot of the day." Chamblee also criticized Poulter's ball on the 17th.
"Look where he's lining up (on No. 17)," Chamblee said. "He's lining up in the middle of the green. The person he is trying to beat is playing a par-5 behind him, and he's got two shots to make up, and he plays to the middle of the green. It's a fine shot, didn't cost himself any money, didn't cost him any world ranking points, but he clearly did not play to win...and he didn't.
"Money matters, world ranking points matter, and I get it," Chamblee said. "I have hit that shot. I have done that. I have done exactly what Ian Poulter did. No one is ever going to call me a good player. We reserve the right to call great players and great shots. This is why we don't laud (Poulter's shot). We laud the shot David Duval hit, the shots that Tiger Woods hit. That's why we laud those, that's why we stand up and go 'Well done, great shot.' (Poulter's shot), was not that."
Given his ambiguous future just weeks back, it's noteworthy that Poulter's runner-up finish secures his tour card for 2018. In this perspective, a less-aggressive approach checks out. Nevertheless, Poulter fired back:
It's worth noting that Chamblee had previously blocked Poulter on Twitter, and wasn't being reactionary. (A sentence I'd never thought I'd write.) Anyway, there's already enough hostility in this cruel, cruel world. Hate to see golfer-on-golfer animosity add to this ill feeling.
Is Sawgrass "superstar proof"?
Chamblee wasn't done fanning the flames Sunday night, directing disapproval towards the layout of TPC Sawgrass.
"Because of the distance constrictions, the very best players cannot play their best game," Chamblee said. "It's not Tiger proof, it's superstar proof." As evidence, Chamblee cited Kim's poor driving marks on the season, saying the tournament had become a "scrambling contest."
To be fair, Kim entered the Players ranked 205th in strokes gained: off-the-tee. However, he finished the week second in the category. Moreover, it's not like superstars are bad at scrambling; what makes a player a star is a soundness in all facets of the game. The recent roll call of Players winners -- Jason Day, Rickie Fowler, Martin Kaymer and Tiger Woods -- further counters this opinion.
Make no mistake, TPC Sawgrass has its quirks and faults, but an aversion to star players isn't one of them.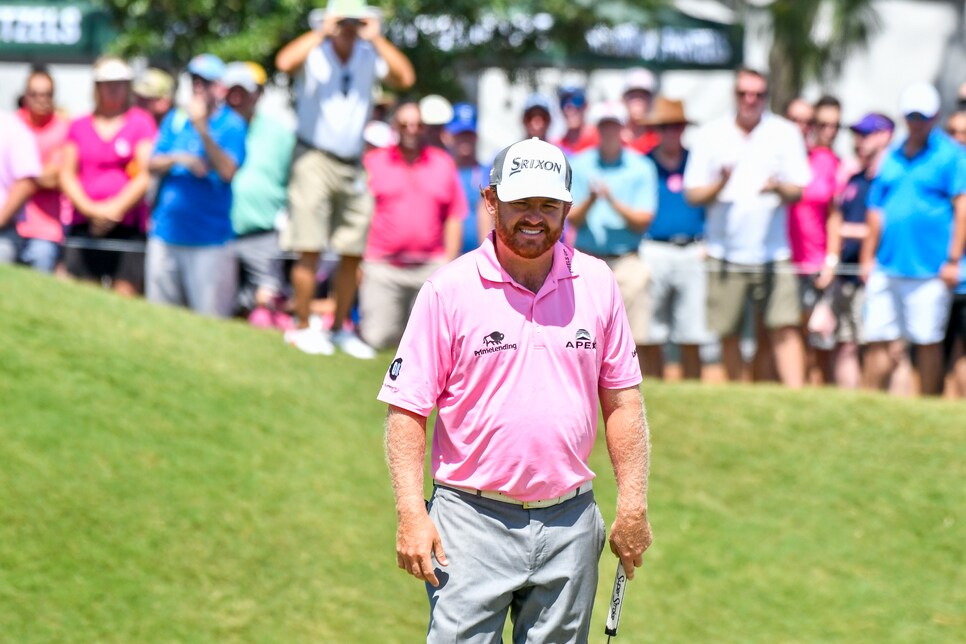 Holmes' terrible, horrible, no good, very bad day
J.B. Holmes needs a hug. Starting the day as co-leader, the two-time Ryder Cup member failed to finish inside the top 40 after turning in a 12-over 84. It was the highest round at Sawgrass since 2009.
"I'm going to have to digest it. Right now, I don't know," Holmes said. "I'm pretty disappointed. I'll have to think about it. I'm sure there's something to learn, but right now it's just not off the top of my head."
His trek actually featured four birdies on the day. Alas, they were undone by seven bogeys, two doubles and quintuple-bogey 8 on the 17th. Oh, and he hit somebody on the head with a drive.
We don't point this out to embarrass Holmes; he was not the only Sawgrass victim on Sunday. Rather, it shows that if a bad round can happen to one of the best players in the world, there's no hope for us average hackers.
Horschel clarifies caddie controversy
On Friday afternoon, Billy Horschel ruffled some feathers by tossing his wedge at his caddie Josh Cassell after a chip-in, walking off the hole and forcing Cassell to retrieve the ball from the cup. Though Horschel said the move was in jest, after reviewing the video, he admitted it wasn't the greatest of looks.
"I was just sort of chuckling to myself, laughing the whole time, like you got to be kidding me. Golf gods take it and they give it at the same time," Horschel said. "So I tossed my club at my bag. Obviously I didn't think I tossed it that hard. I've seen the video. It was harder than I wanted it, but it was not at my caddie Josh. He knows that. We've had a conversation. He actually reached out to me to talk about it, to say he was cool with everything."
There are certainly instances of bad behavior on tour (or any sports realm, for that matter). However, Horschel is a standup guy, and though he may have got caught in the moment, this is not a target that warrants your scorn.