News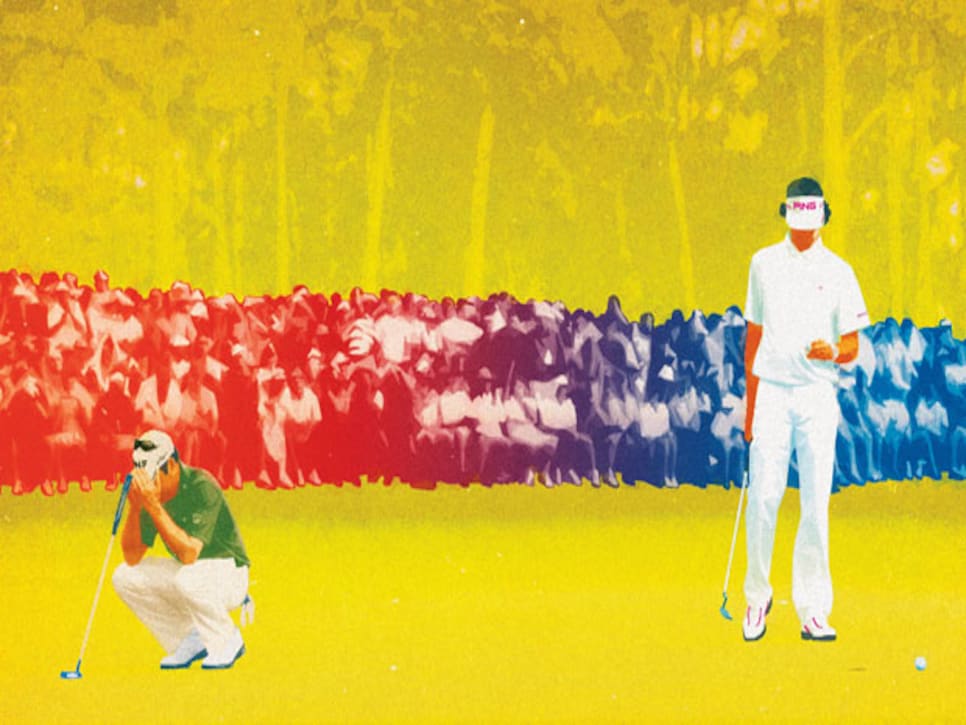 Bubba Watson was the last man standing in a playoff victory last year over Louis Oosthuizen.
The Masters has long been the major with the most pleasingly predictable leader board. The golf course and the way it was prepared clearly favored marquee names —almost by definition the most physically talented golfers—more than golf's other championships.
Augusta National's wide fairways encouraged unfettered power play without much demand for precision off the tee. At the same time, its firm greens favored high-trajectory approach shots most easily attainable by fast-swinging long hitters. The Masters became known for classic duels between bombers with soft hands. From the 1930s right through 2002, Augusta's succession of multiple winners was a neat continuum of de facto world No. 1s —Nelson, Snead, Hogan, Palmer, Player, Nicklaus, Watson, Ballesteros, Faldo and Woods —with only Faldo a shortish hitter. Among the Grand Slam events, it has been the potency in those names and games that has given the Masters the most oomph.
But in the last decade, things have changed. For one thing, the golf course was lengthened, a cumulative 460 yards from 2002-'06, so that the equation for winning became more complex than simply dominating the par 5s. Pars became tougher on the par 4s because they require straighter driving and longer approaches. Even without real rough, the Masters has become more like the U.S. Open, the only major Nicklaus conceded even he couldn't win unless he was playing very well. "You can't fake it at the U.S. Open," he says, and the same has become increasingly true at Augusta. A tight tolerance approach has been the way of the most recent winners, although Phil Mickelson and Bubba Watson have earned green jackets with some retro swashbuckling.
Still, power remains the big ticket at Augusta. But whereas power players were more rare and stood out more easily in previous eras, the advances in equipment and an influx of better athletes to the game has made the style less a separator and closer to the norm. The biggest reason the Masters had fewer upsets than other majors was that yesterday's most gifted players could usually overcome a big week by a less-talented shorter hitter. Now there are so many talented power players that winning more than ever comes down not so much to who is better, but who happens to be hot.
Bottom line, in today's global game, more players —on their week —are capable of winning. Which means that though the top names might still deserve to be favored, picking the winner at Augusta is probably harder than it has ever been. With that caveat, here are our six top picks, with some wild cards thrown in.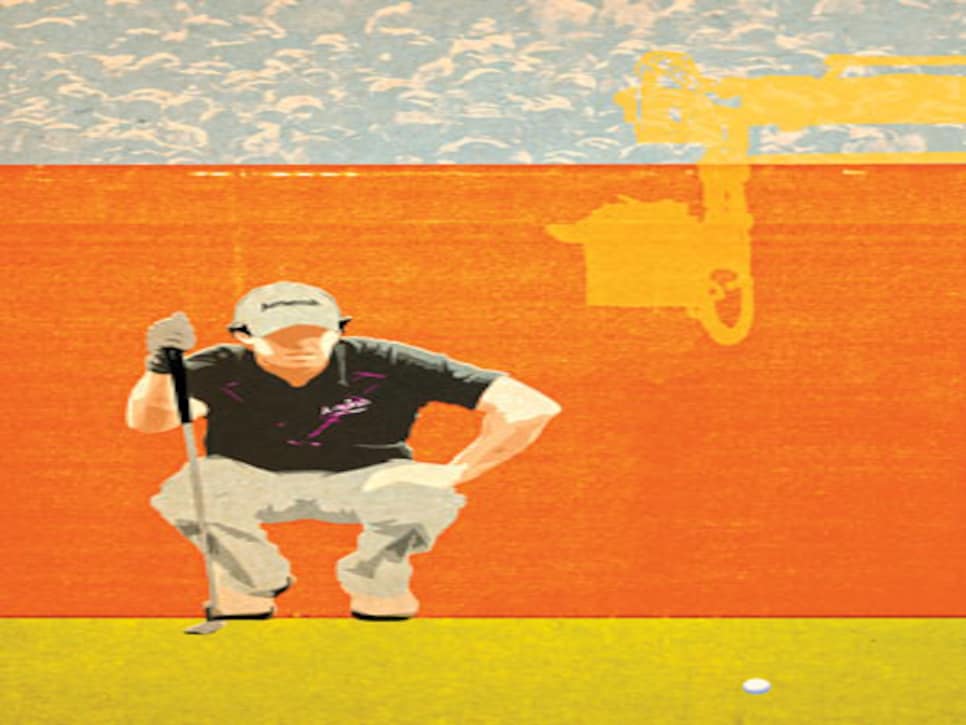 The young Irishman is coming off an eight-stroke victory at the PGA in the last major, and he entered the new year as No. 1 and playing for a new club company. Throw in what will be perceived as the unfinished Masters business from his fourth-round collapse in 2011, and he will be facing potentially suffocating expectations. But he answered the post-meltdown scrutiny with an eight-stroke victory in the U.S. Open at Congressional. If we are indeed entering the McIlroy Era, nothing would validate it more emphatically than his making this Masters the third leg of the career Grand Slam at 23.
Woods has four green jackets but hasn't won at Augusta since it was stretched to its present length, suggesting that the increased driving demands have made it less of a Tiger Track than it used to be. He has been consistently close in this period, a T-40 last year being the only time he has finished out of the top six, but slow starts have been a pattern, with a 68 in 2010 the only time he has broken 70 in the first round. In his January victory at Torrey Pines, Woods showed a restored short game, perhaps the key to solving his 2012 pattern of poor weekends at majors.
When the pure-swinging South African is on, he looks like a perfect golfer. Such was the case when he won the 2010 British Open at St. Andrews by seven, and nearly so last year at Augusta until Bubba Watson came out of the dogwoods to steal the playoff from him. Perhaps to increase the focus that he has been accused of lacking, Oosthuizen has set up an American base in Florida. If his sometimes-balky putter behaves —he missed the cut in his first three visits to Augusta's slick surfaces before solving them last year —Oosthuizen, 30, has a great chance to join the several Masters winners who avenged a bitter defeat the previous year.
Watson's right-to-left power fade gives him the most devastating weapon in the field. It underlines the fact that Augusta has been won by a left-hander five times since 2003, strong evidence that a hard cut is the money shot with titanium-headed drivers and multilayer balls. But it also points to Bubba's touch of genius. When his driver is on, as it was last year —regularly landing 320-yard, dogleg-shortening bombs in the fairway —Watson can reduce Augusta to a relatively easy course. His challenge remains a career-long battle with the putter and a jumpy temperament. As defending champion, Watson will be under the kind of attention that he has never welcomed, but the way he performed last year suggests that the Masters will become his friendly confines.
At 39, Westwood is putting together a determined run at corralling the major that has maddeningly eluded him. He moved his family from England to Florida last year, split with longtime coach Pete Cowen, and started practicing his short game more in the better climate. He hopes his more America-centric schedule will get him more prepared for Augusta, where he was T-3 last year and second in 2010. If the new regimen can improve Westwood's subpar chipping and putting, it might provide the key to finally finishing off a major.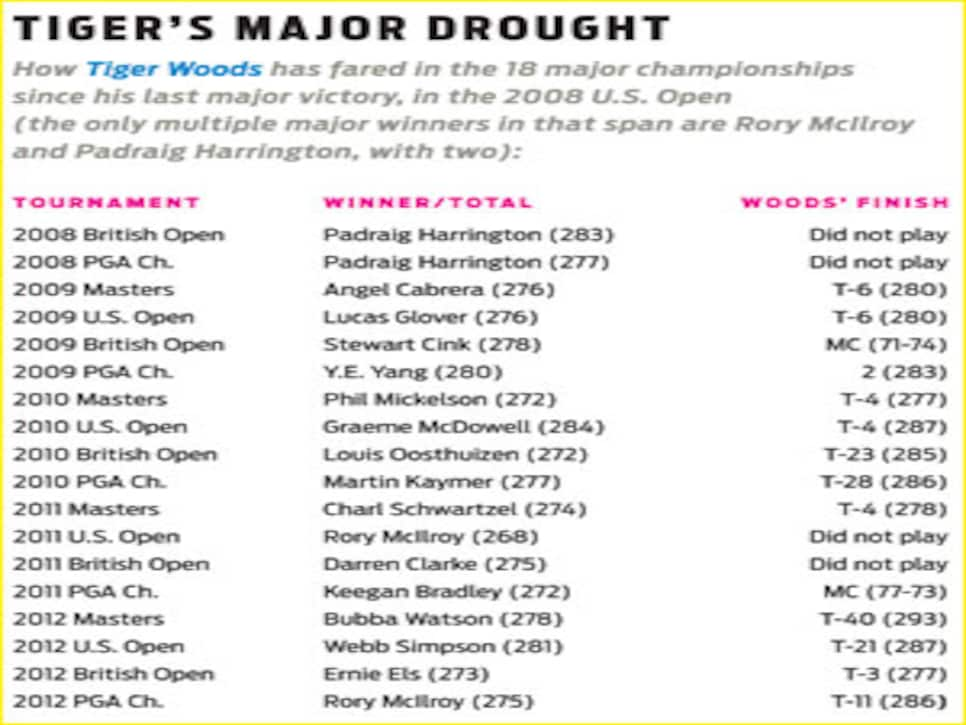 With three green coats since 2004, it's impossible to discount Mickelson at Augusta. He was in deep in the mix last year until a final-round triple bogey at the par-3 fourth. Even being inducted into the World Golf Hall of Fame couldn't lift him out of a funk that lasted the rest of the year, and at 42 and beset with psoriatic arthritis, 2013 wasn't projecting as a comeback year for Lefty. But then Mickelson had an explosive win at Phoenix in February using a lower-spinning, higher-lofted driver that suddenly gave him the length and accuracy that the new Augusta demands. He also putted beautifully, proving that Phil's good is still really good.
Then there is Ernie Els, whose British Open victory got him back into the Masters, where he has been second twice before failing to qualify in 2012. Though the number of other "usual suspects" has probably dwindled, there are more potential dark-horse winners than ever. Adam Scott, Justin Rose and Brandt Snedeker have all contended at Augusta in recent years. Dustin Johnson and Nick Watney haven't, but their games say they should. Bo Van Pelt closed with a 64 last year, and freewheeling Masters rookie Nicolas Colsaerts showed his Augusta-suited abilities at the Ryder Cup. Meanwhile, 2011 winner Charl Schwartzel put himself into the conversation with 12- and 11-stroke victories in December.
The most intriguing dark horse is Keegan Bradley, who finished T-27 in his first Masters last year and has been eager to get back. At 26, Bradley has shown a precocious knack for performing in the biggest moments, as he did in taking the 2011 PGA Championship, and in his explosive play while partnering with Mickelson at the Ryder Cup.
"Keegan was probably too up at Augusta last year and got a little overloaded," says his instructor, Jim McLean. "He'll be a lot better prepared this year. I'd like him to get there early, sort of calmly peak the way Hogan did, and Tiger does, and Jack probably did best of all. Think about his game plan, play some practice rounds with some past champions and watch how they hit some of the different shots you need around that course. I think that extra work and concentration at a major increases a player's chances.
"There are some special things about Keegan. He's got a big-league game that starts with being maybe the best all-around driver in golf, and at the Masters you've got to hit the driver. He's amazing at understanding the right way to do something, and then being able to do it. He improves quickly at whatever we focus on, especially in his pitching technique, where we've put in a lot of time. Most important, he comes from that different gene pool that loves to perform when the pressure is highest. That is not normal, and it's a huge advantage."
The stuff of marquee Masters leader boards, past and future.