The Loop
Point/Counterpoint: Debating where Tiger ranks
Tiger Woods' third win of 2012 moved him to No. 4 in the Official World Golf Ranking, but as John Strege already asked, isn't Woods really back to being No. 1?  Below, two writers take opposing views on that very topic.
Arkush: Woods can't be No. 1 until he proves it in majors
Tiger Woods is definitely back -- back to playing exceptional golf on some of the game's most demanding layouts (Bay Hill, Muirfield Village, Congressional). In each of those marquee events, when it mattered most, Woods was his old self. No wonder many observers are rushing to put him once again on the throne he occupied for well over a decade.
Not so fast. While Woods certainly deserves the praise -- there were some who were skeptical that he would come back this far -- he does not deserve to be considered the best player in the world. Not yet. Not till he wins a major or, at the very least, comes close.
Despite his recent success, there is some lingering doubt about Woods, which is what distinguishes this particular version from the one we took for granted. There was no doubt about the earlier version. That version would not bogey the par-5 16th at Congressional with the tournament hanging in the balance. That version would not go eight over on the weekend at Olympic.
Are we perhaps establishing a higher standard for Woods than we did with Luke Donald, Lee Westwood and Rory McIlroy, the three most recent players to occupy the No. 1 spot? Yes, and justifiably so. It is Woods, after all, who set such a high standard, with his play and his demeanor. He judges his status in the game by his performance in the majors. We must judge him the same way.
Woods could win the Greenbrier Classic this week by five strokes, and it would not matter. What matters is what he does at Royal Lytham and St. Annes, and at Kiawah.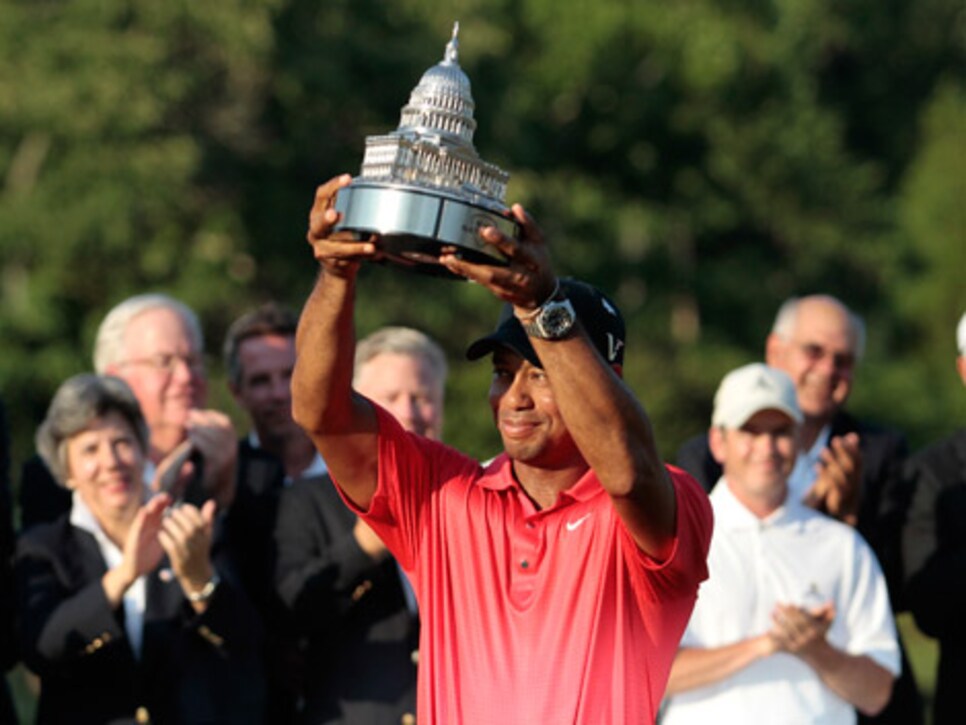 __Myers: If Woods isn't No. 1 in golf right now, who is?
When it looked like Tiger Woods' 20-foot putt for birdie on No. 15 during Sunday's final round at the AT&T National would miss, the 14-time major champion simply gave his golf ball directions with his left hand -- and it cooperated. Fittingly, he then pointed one finger to the sky, fully knowing what would happen next as the ball took its final few rotations before tumbling into the hole.
That guy who always seemed to conjure up magic at the right time? Well, he seems to have returned. And no matter what the computers say, he's No. 1 again.
Seriously, who's better? If you had to bet your life on the winner of the upcoming British Open, who would you take? Rory "MC"ilroy? Luke "Wake me up when he contends at a major" Donald? Lee "Top-3 finish" Westwood?
Strictly on talent, McIlroy has the strongest claim to Woods' throne. But whether it's a high-profile relationship or increased scrutiny, he's also struggled to maintain the same consistent level he enjoyed earlier this season. Westwood, with a bunch of high finishes in majors the past four years, is the safest argument. But his major "drought" is even longer than Tiger's -- as in, it has lasted his whole life. Also, it's tough to take serious someone who has fewer PGA Tour wins in his career than Woods has in his last seven starts.
That's three high-quality wins in seven tournaments. Since Tiger won six PGA Tour events in 2009, only one player, Jim Furyk in 2010, has even matched that total for an entire season. And he hasn't done it with smoke and mirrors. Woods has been near the top or at the top in total driving and greens all year and he even ranks 14th in strokes gained-putting. Most importantly, he leads the tour in scoring average. At this rate, winning more majors shouldn't just be expected, it's inevitable. After all, that's what the best player in the world is supposed to do.