The Loop
Podcast: Jerry Rice Talks About Golf Again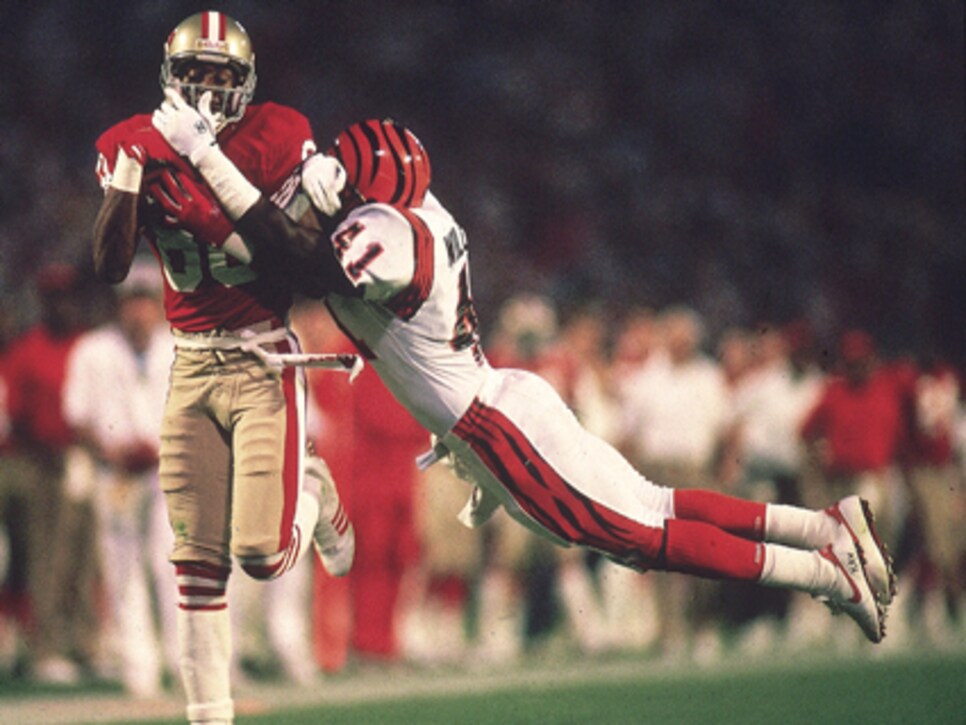 I'm an avid 49-er fan, which makes me a Jerry Rice fan. Last week I got an e-mail from Zack Smith, who's working with Rice to promote Proctor and Gamble's sponsorship of the NFL. Rice is promoting a program he referred to as, "Take it to the House." Click here for more information: facebook.com/TakeItToTheHouse. Originally Smith offered me 15 minutes with Rice. That's not a lot of time, but I wasn't going to pass up the opportunity to speak to one of my sports idols about football. (I sprinkled in a little golf and travel because that's what I do.) Due to Rice's schedule, I ended up getting closer to 10 minutes.
Here's the audio of our interview:
Here's a summary of what you're missing if you don't listen:
Let's start with your first memory of golf?
Back in '87, I was training with my trainer at the track and he brought out a couple of clubs and a couple golf balls . . .
Why would you say you love it so much?
Because it's a game you can't master . . .
____[#image: /photos/55ad7290add713143b42404c]|||Rice_2.jpg|||After your recent run at the Nationwide Tour, I know you got frustrated. At one point you said, "I don't want to talk about golf." Here you are talking about golf again by the way, but how long was it before you played again? Note: Rice is ranked no. 5 on [our ranking of Top 150 Athlete Golfers]
[Laughs.] I never stopped. I continued to play because I needed to. Because this is a passion that I really love . . .
If you could only play one course for the rest of your life--what would it be?
Oh my God! Where golf originated . . .
If I gave you an all expenses paid trip to Pebble Beach, Bandon Dunes or Pinehurst, which would you choose?
I have played Pebble Beach . . .
Do you take an annual buddies trip?
No. I'm always working, just like I'm doing right now. I'm working with Proctor and Gamble right now . . .
Speaking of which, the first time you took Terrell Owens to your hill, how did he do?
TO never ran the hill. He did not train with us. He had his own regimen . . .
As a mentor to a lot of wide receivers, do you feel like you failed with TO? Do you wish you could've had more impact on him?
[Laughs.] I don't think I failed with TO, I just think he had his own mindset . . .
I've got to go with . . .
I've got to go with . . .
Steve Young or Joe Montana.
[Laughs.] I knew you were leading up to that . . .
Let me put it another way: two minutes left, Super Bowl, you have to have one of those guys in the huddle, you're down by five . . .
I'm going to break it down for you . . .
So two minutes, down by five, Super Bowl, if you had to pick one?
If I had to pick one, I would have to say . . .
You have a three-foot putt for your life, do you take it or do you call Tiger and say, "Hey bro, I need you to take this for me."
[Laughs.] Come on, that's easy . . .
If you could only have one movie for a long flight, which one would it be?
"The Greatest Game Ever Played."
Are you the greatest football player? And if not, who do you put ahead of you?
Come on--you would never hear me say I'm the greatest football player . . .
Then who would you put ahead of you?
There's a lot of guys, but I'd say . . .
](http://www.golfdigest.com/golf-tours-news/2009-11/topathletegolfer_rankings)*
*(Photographs courtesy of Getty Images.)