News
Plenty to see as Golf Channel to air more than 100 hours of NCAA Championship-related coverage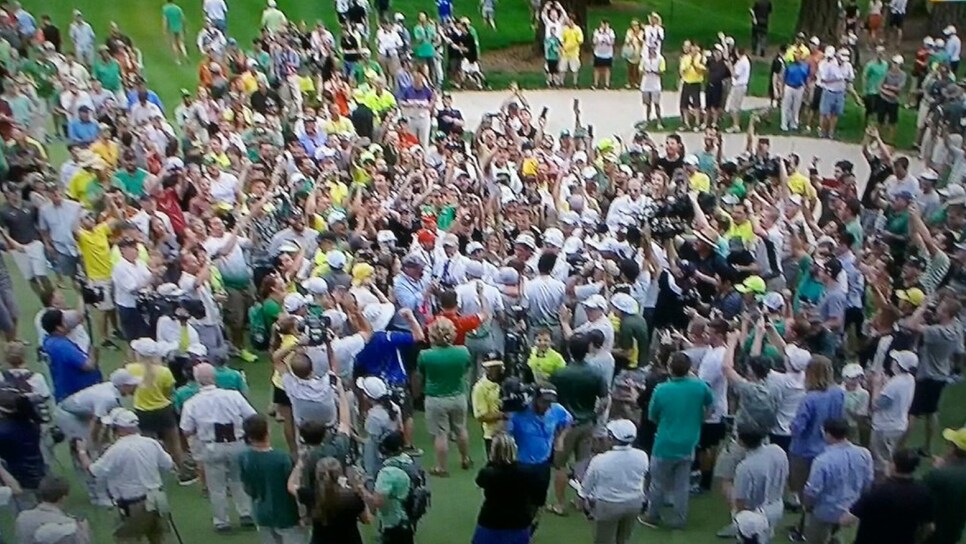 The exciting conclusions to the women's and men's NCAA D-I Championship a year ago at Oregon's Eugene Country Club remain fresh memories for many involved in college golf, moments when their niche sport managed to attract new fans thanks to the dramatic victories of Washington and Oregon in back-to-back weeks. Not surprisingly, many wonder as the postseason approaches again whether it's possible to reproduce the same drama in 2017.
Ask Mark Rolfing and he'll tell you yes, thanks largely to this year's venue for the championships, Rich Harvest Farms.
Located in Sugar Grove, Ill., 50 miles west of Chicago, the course offers college golf's best players a stern challenge, but one that Rolfing feels can produce its own set of thrills, as was the case in 2009 when the United States squad claiming the Solheim Cup in a 16-12 victory over Europe.
"There's decision-making on nearly every shot. Each individual hole offers its own unique challenges," said Rolfing, who'll join Golf Channel's broadcast team for its exhaustive coverage of the NCAA events.
Counting "Morning Drive" and "Golf Central" along with live tournament play and re-airings, Golf Channel will show more than 100 hours of news and competition from the back-to-back championships, the women playing May 19-24 and the men following May 26-31.
Rolfing's involvement with the telecast is personal. The veteran Golf Channel and NBC analyst grew up in Illinois and got his Master's degree at Northern Illinois, the host school for this year's championships. His familiarity with Rich Harvest Farms, which opened in 1999, will give him a unique perspective for both the women's and men's events.
Having played his college golf at Division III DePauw University in Indiana, Rolfing recalls his first college victory at the Great Lakes Invitational during his junior season in 1970 as being a seminal moment in his career. "It did so much for my confidence," Rolfing said. "I became instantly a better player."
Rolfing believes the same holds true for today's generation of collegians, who not only become more self-assured through victory but also through competition held on such grand stages. It's Rolfing's contention that the rise of the Golf Channel's coverage, not just of college golf but amateur and junior events, explains the quick transition top young players such as Jordan Spieth, Justin Thomas and others have on the PGA Tour.
"They're competing in front of large crowds with the cameras all around them," Rolfing said. "They're used to that kind of environment, that kind of pressure, much more so than players of my generation let alone the one that followed me."
To handle Rich Harvest Farms, Rolfing believes players will need to do their homework on the proper angles to take into the tricky green complexes, understanding that the aggressive play in some instances is to actually lay up. When the venue hosted the NCAA men's regionals two times previously, the victorious team score was 29-over (Tulsa, 2005) and 16-over 880 (Illinois, 2014). Look for similarly high team scores in the 72-hole stroke-play portion of the event
"You have to be able to curve the ball here," Rolflng said, likening the course to the Players Stadium Course at TPC Sawgrass because of the eclectic variety of the holes everybody can enjoy.
Golf Channel's coverage begins on Thursday at 11 a.m. when they air the NCAA D-I Women's Regional selection show that will name the 72 schools and 24 individuals competing in four locations. The NCAA D-I Men's Regional selection show takes place the following Thursday.