The Loop
Plenty at stake in season finale in Atlanta
ATLANTA -- On the outskirts of Atlanta there is a nexus of interstate highways affectionately referred to by the locals as, "Spaghetti Junction." It has a lot in common with the threads running through this week's Tour Championship.
So, what's at stake at East Lake?
First, there is the Tour Championship itself. For the last guy in the field, Bo Van Pelt, to win the FedEx Cup the 29 players ahead of him would have to be struck by an asteroid. But Van Pelt can still win the Tour Championship and all the rights and privileges attached thereunto, which at this point is a handsome check and a trip to Hawaii to start out next year. It's worth doing.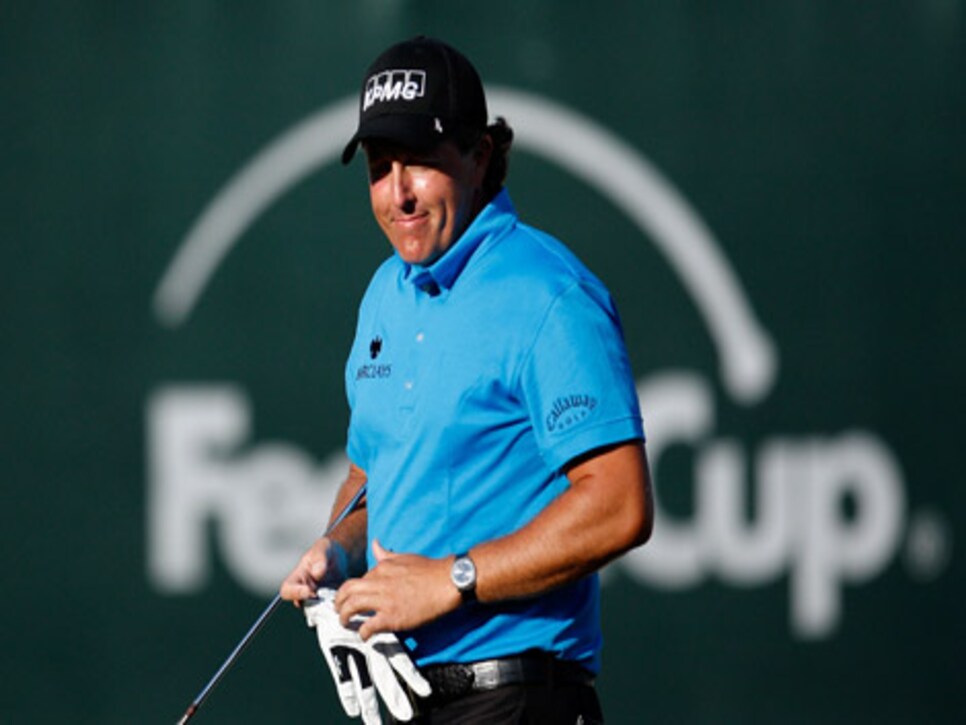 (Phil Mickelson is looking to repeat in the Tour Championship, and claim his first FedEx Cup title. Photo by Kevin C. Cox/Getty Images)
Then, of course, there are all those zeroes attached to the check that will be written to whoever wins the FedEx Cup. The top five in points, Matt Kuchar, Dustin Johnson, Charley Hoffman, Steve Stricker and Paul Casey, are in the enviable position of needing only to beat everyone else to grab a fist full of naughts, commas and decimal points. Below the top five, bad stuff has to happen in various degrees to combinations of players that only Hal from "2001: A Space Odyssey" could completely comprehend. Look at it this way, the closer you are to the top in points the less misfortune needs to befall the guys above you for you to pocket the naughts, commas and decimal points, which works out to something in excess of $11 million, which is a pretty stout figure to exceed. This gives the financial consultants for Jason Day, Luke Donald, Ernie Els, Martin Laird and Phil Mickelson reason to keep their cell phones handy.
There are, of course, various individual honors up for discussion, too. Mickelson can, yet again, take over as World No. 1. Els was announced as the most recent addition to the World Golf Hall of Fame and he could put an exclamation point on that proclamation. Then, there are considerations for Player of the Year. A win would certainly boost the claims of Dustin Johnson, Mickelson or Kuchar, just to name a few. A hundredth of a stroke currently separates Stricker and Kuchar for the Vardon Trophy. And, when it comes to personal satisfaction, what would it mean to Paul Casey, bypassed for inclusion on the European Ryder Cup side, reputedly because he's not devoted enough to their tour, to finish off his year by putting a stick in Captain Monty's eye before he goes mountain biking next week in the Canadian Rockies?
Lastly, even if they're completely out of the running for anything whatsoever come the weekend, there are nine Americans -- Kuchar, Stricker, Mickelson, Jim Furyk, Hunter Mahan, Bubba Watson, Jeff Overton and the Johnson boys, Dustin and Zach -- who will be honing their games in anticipation of the charter flight leaving Atlanta on Sunday night headed for Wales and the Ryder Cup. Who knows, they may even let Luke Donald, the lone European team member in the field, hitch a ride.