The Loop
Playoff fever? The antidote was a 15-year-old girl
Playoff fever was not particularly gripping on Sunday, unable as it was to deliver -- even with a delivery company footing the bill -- the more compelling golf story.
This is not to suggest that television viewers of the FedEx Cup playoff opener moved en masse from CBS and the Barclays to the Golf Channel and the CN Canadian Women's Open, only that they should have.
A 15-year-old girl, an amateur from New Zealand, was making a historical pass through women's golf with a performance that is best summed up in the texting vernacular of her age group: OMG.
Lydia Ko, 15 years, four months and three days old, to be exact, won the LPGA's Canadian Women's Open by three strokes at the Vancouver Golf Club to become the youngest winner in the history of the tour. Ko also was the first amateur to win on the LPGA since JoAnne Carner in 1969, and Carner was 30 at the time.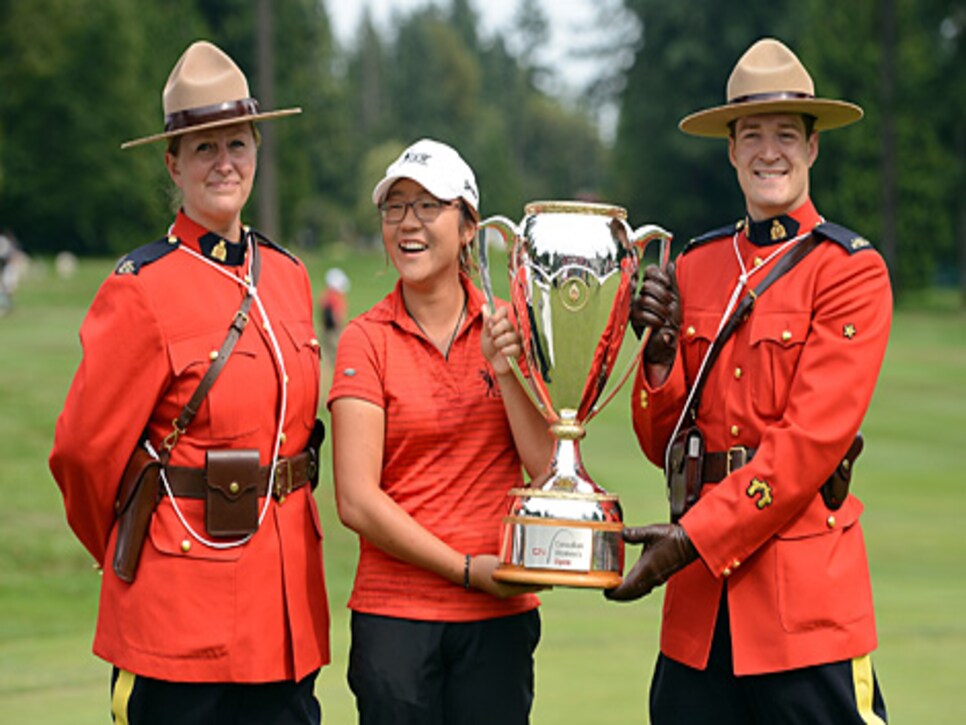 "This is making me feel old," Jiyai Shin, one of those in pursuit at the outset of the final round, told the Golf Channel in the midst of Ko's back-nine assault that included four consecutive birdies and five in a six-hole stretch.
Shin, it should be noted, is 24.
Two days earlier, Suzann Pettersen, 31, took note and said, "It feels like you're being beaten by a kid."
She along with the rest of the field indeed were beaten by a kid, who already had conquered the amateur world, winning the U.S. Women's Amateur two weeks earlier.
Kids making headlines is not a novelty on the LPGA. Another precocious teen, Michelle Wie, was doing likewise when she was 15, but as good as she was -- and a case could be made that Wie was better then than she is now -- she was not winning an LPGA event. And in 2000, Aree Wongluekiet (now Aree Song) was 13 when she tied for 10th in the Kraft Nabisco Championship, a reflection of the lack of depth in women's golf at the time.
Ko's victory had nothing to do with a lack of depth. She was playing head to head with Stacy Lewis, the LPGA's leading money winner and the second-ranked player in women's golf, and outplayed her by five shots, closing with a five-under par 67 that was borderline flawless.
"I can't see anything she does not do well," Judy Rankin said on the Golf Channel.
Pettersen made the argument that Ko's age allowed her to play carefree, providing an advantage against those for whom this is a livelihood. "She's too young to understand where she's at," Pettersen had said. Moreover, Ko had nothing to lose, notably money. The $300,000 first-prize money went to runner-up Inbee Park. Ko received only a trophy for her effort.
The counter argument suggests that this was less a fluke than North America's introduction to the future of women's golf. Ko, in fact, has won on the professional level before -- in January, while still 14, she won the Women's NSW Open on the Australian Ladies Professional Golf tour.
Ko, meanwhile, said that she wants to attend college, an admirable goal that is likely to be tested in the heady aftermath of her historical victory on Sunday that earned her the admiration of the women left in her wake.
A few of them ran onto the 18th green and showered her with water, cognizant of the fact that dumping champagne or beer on her would be inappropriate for one who is still six years away from reaching the legal drinking age.
Shin was right, as it were, and could have been speaking on behalf of all of us. Anyone watching Ko on Sunday should be feeling just a little bit older.