Courses
A Scalping at St. Andrews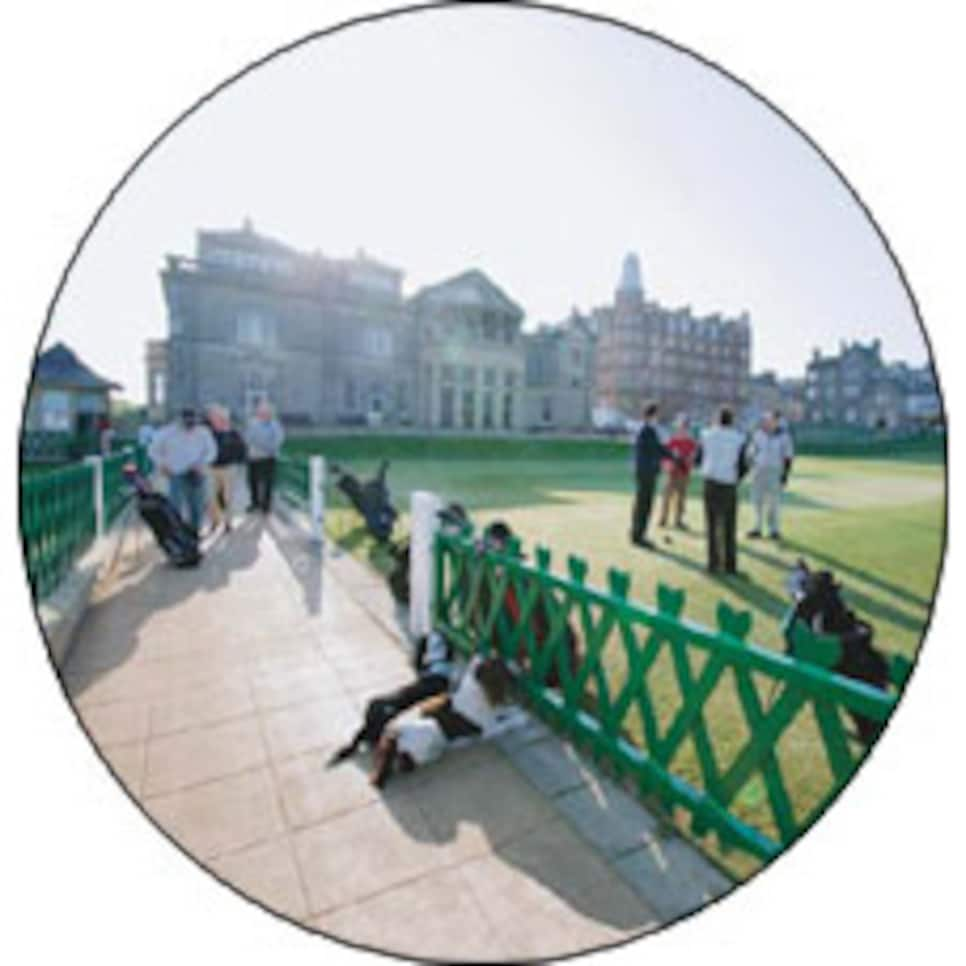 You and your golf buddies have always dreamed of visiting St. Andrews to play the Old Course, and now, inspired by this year's British Open, you're finally going to do it. So you call up a tour operator and ...
There's a right way to book this trip and a vastly more expensive way. Do it the right way and your round on the Old Course will cost you about $219 at recent exchange rates. Choose Door No. 2 and it will set you back as much as $1,800.
Think about it -- up to $1,800 for one round of golf.
This two-tiered pricing system for tourists, with one group paying eight times more than the other, is the handiwork of a company called Keith Prowse Ltd. The London-based corporate hospitality firm has an exclusive deal with the people who run the Old Course to purchase about 3,200 rounds a year (or roughly 7 percent of the total). Bundled with hotel rooms, meals, van transportation, food vouchers and various souvenir knickknacks, most of these tee times are marketed by Keith Prowse as the Old Course Experience.
This summer, one Old Course Experience package includes three nights at the Old Course Hotel and three rounds of golf -- one of them on the Old Course -- for $3,500. What tourists are really paying for, though, is that guaranteed time on the Old. To figure out what the tee time costs, we priced all the other components of that $3,500 package if they had been bought separately. These figures are based on an exchange rate of $1.90 per £1:
Two rounds of golf in addition to your Old Course round: 1. New or Jubilee course, $105; 2. Kingsbarns, $277.
Three nights at the Old Course Hotel (double occupancy): $797.
Two lunches in the Links Clubhouse: $76.
"Official souvenir merchandise and souvenir photograph": $191.
Van rides from the hotel to the golf courses and back: $40.
So that's the a la carte price of everything but a round on the Old Course. Subtract $1,658 from the package price of $3,500 and you get what your Old Course Experience round on the Old Course is costing you: in this case, more than $1,800.
You don't need to pay anywhere near that much to play the Old Course. Indeed, most visitors can play the world's most famous links for $219. But the Old Course Experience does have many tourists over a barrel -- specifically, those who want guaranteed tee times and who (a) have more than eight players in their group or (b) haven't reserved their times in the previous calendar year.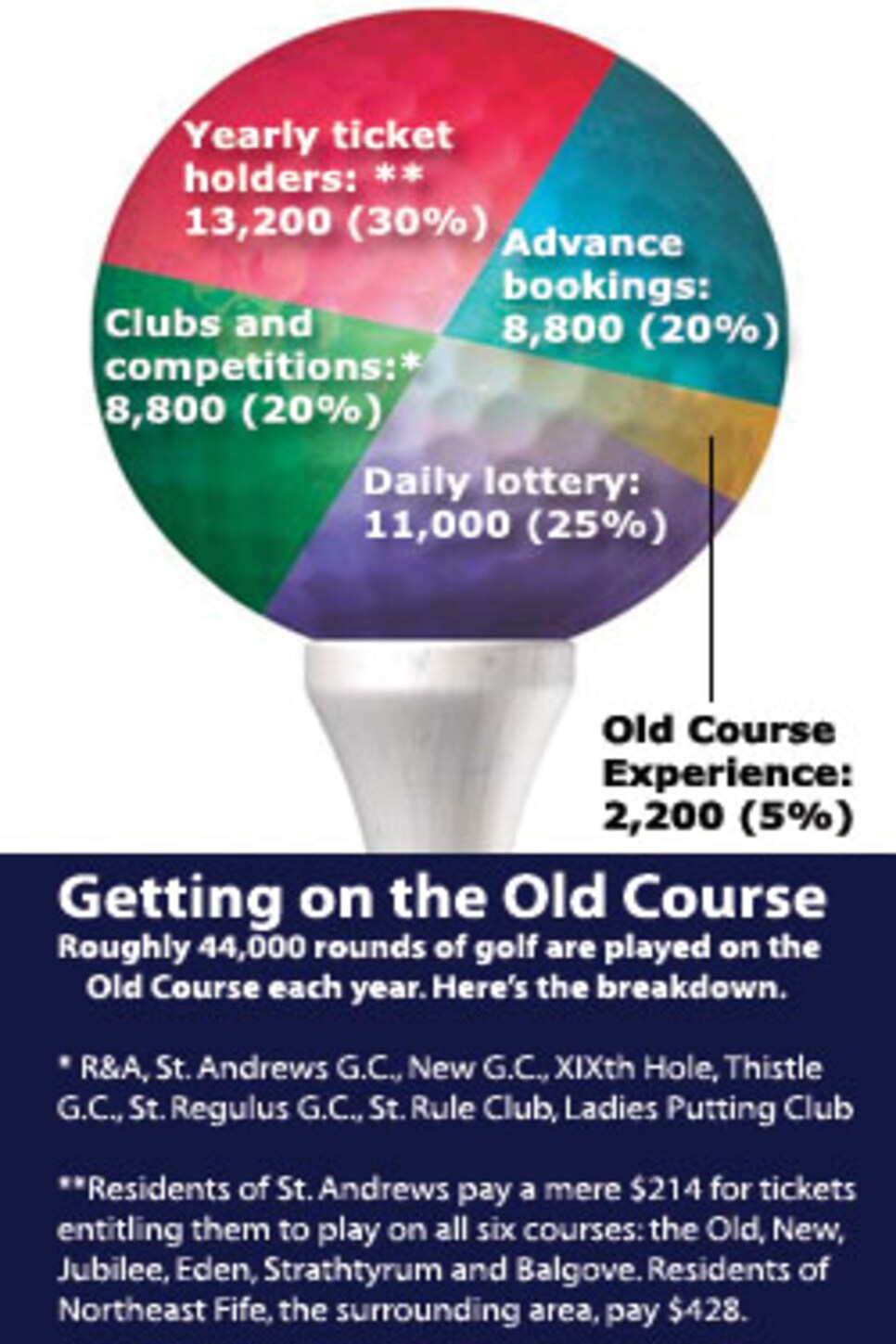 If you're the typical American golfer, your trip to Scotland revolves around the Old Course. You want to play in the prime time of summer, but you probably book the trip no more than six months in advance, not in the previous calendar year. You doubtless have a list of other great "rota courses" in the area you want to play as well. Pinning down exact tee times on the Old Course is critical because it allows you to book other choice courses around those times. Otherwise, your whole itinerary is up in the air.
Big group? Didn't book way ahead? You'll almost certainly have to pay a huge premium. It's a bit like paying for "scalped" tickets at a major sporting event or concert. The difference is, the scalping at St. Andrews is officially sanctioned. Naturally, Old Course Experience officials don't care for that comparison. They argue that the premium is no different from paying extra for a first-class seat on an airplane or a ticket to the Super Bowl. But again there is a difference, and it's a big one: The airlines and National Football League teams are profit-making enterprises. The Old Course is public-owned, not-for-profit, and open to all.
Golfers might feel better about spending that kind of money if most of it went to the Old Course or the charming old town of St. Andrews. But it doesn't. St. Andrews Links Trust, the nonprofit organization that manages the town's six courses, including the Old, New, Jubilee, Eden, Strathtyrum and Balgove, generates only about $1 million a year in revenue from the Old Course Experience. Most of the money from those premium tee times is going not to the Trust but to Keith Prowse, a unit of the publicly traded British food-service conglomerate Compass Group PLC. Consider that $3,500-a-person Old Course Experience package. By Golf Digest's calculations, the Links Trust will see only $455 of the $1,800 premium paid by tourists. The remaining $1,345 or so from this package, minus expenses, goes to Keith Prowse.*
"Breaking down the costs is not something we'd want to get involved with," says Robin Dugmore, London-based general manager of the Old Course Experience. "As an organization, we sell deluxe programs. It's first-class. That is our philosophy -- and I don't think that is something you can break down into pounds sterling and pence."
The idea that some tourists pay so much money for a tee time on the Old Course, and that so much of the cash is going to Keith Prowse, does not seem to faze officials of Links Trust. Asked if it's fair that some visitors should pay such a big premium to play the Old Course, Links Trust general manager Alan McGregor replies that he doesn't know how much the premium truly is. "I'm not privy to the breakdown of [Keith Prowse's] costs. We don't get into that." He adds: "At the end of the day, it's up to you whether to pay it. Nobody's twisting your arm."
Until the mid-1970s, all decisions about fees at the Old Course were made by the town of St. Andrews and by the Royal and Ancient Golf Club, whose clubhouse sits directly behind the first tee. All that changed when the Town Council was disbanded in 1975. Not wanting management of the links to end up with the Fife County officials who were now to oversee St. Andrews, residents and other links supporters lobbied for creation of the Links Trust, a self-financing charitable organization. Its aim, designed in the Scottish tradition of golf as a sport that is open to all, is to "hold and maintain the Links as a public park and place of public resort and recreation."
The R&A technically has nothing to do with the courses' day-to-day operations anymore (though three of the Links Trust's eight trustee positions are nominated by the R&A). Peter Dawson, secretary of the R&A, says he has only a "limited understanding" of the Keith Prowse deal. But he believes the agreement is "an economic success" that allows the Trust to "invest in the courses while making golf extremely inexpensive to locals." (St. Andrews residents pay a little more than $200, and that covers their green fees for an entire year.) Dawson describes the club's relationship with the Links Trust in glowing terms. "We're totally supportive of the Links Trust," he says. "They've done an absolutely astounding job."
There's no disputing that the Trust's six courses are in far better condition than they were before the deal with Keith Prowse, but not everyone agrees that the Trust has done such an astounding job off the course. Indeed, many who care about St. Andrews are quite critical of the Links Trust and the nine-year-old Old Course Experience deal in particular. "I would have fought tooth and nail to stop the Links-Prowse contract," says Alec Beveridge, who was general manager of the Links Trust from 1984-'92. "The Old Course should be considered a national monument. ... It should not be a course just for the townspeople, the R&A and the wealthy tourist."
"Quite frankly, it is disgraceful that an American friend of mine has to call London [Keith Prowse headquarters] to get a tee time at the Old Course at an outrageous price," says Sandy Rutherford, a former St. Andrews Town Council member and a principal architect of the Links Act of 1974, which created the Links Trust. "It is a farce."
To some, the Old Course Experience is symptomatic of a shift within the Links Trust. The people running the Trust, these critics complain, are focused on empire-building and have lost sight of the true St. Andrews experience. In the past decade they have spent several million dollars building two clubhouses and, on the outskirts of town, they have staked out a seventh course that will cost $15 million, even as other non-Links Trust courses in the area struggle with limited demand. With their Old Course Experience package deals, they are herding visitors into big, American-style hotels and essentially forcing them to dine in the mass-market food emporia of the Links Trust clubhouses, because it's all prepaid.
Even the storied St. Andrews caddies are feeling put-upon by the Trust. It has started demanding they pay $10 a day for the privilege of working there. This has caused some of the more experienced ones to move to other courses in the area, where caddies don't pay a fee.
Links Trust management has a word for these complaints: ridiculous. McGregor says the Trust had to start the $10 charge to make it clear to tax collectors that the caddies are independent contractors, not employees, and a recent survey showed that most visitors are satisfied with their caddies. The new clubhouses are vital to the future of St. Andrews because, without them, visitors would still be changing their shoes in the parking lot, he says. The seventh course is essential, Links Trust officials contend, to keep up with demand from local players as the town of 16,000 grows. And the Old Course Experience packages are bought by only a fraction of the people who play the Old Course; for most it is still very affordable, says McGregor.
It is true that most people pay far less than $1,800 for their round. But exactly how many tee times are used by the Old Course Experience -- and when? This is a matter of much debate, and it reflects how difficult the Links Trust can be to pin down on specifics. Peter Mason, the Trust's spokesman, says the Old Course Experience accounts for 5 percent of all tee times annually. This would equal roughly 550 tee times (or 2,200 rounds) per year. Yet when the deal was first announced a decade ago, the official number was approximately 800 tee times. Has that changed? No. Keith Prowse still has access to about 800 times a year, Mason explains, but the company doesn't always sell them all. (He says the unsold times are placed back into the daily ballot, or lottery, for play on the following day. That's good news for people who show up and want to make a next-day tee time, but it's bad news for tourists who plan ahead. If Keith Prowse hadn't controlled those 250 or so times that go unsold each year, they would have been available to visitors as $219 advance bookings.)
Though Mason might be correct in saying that only 5 percent of total play is sold by the Old Course Experience, that number is a bit misleading. "Total play" includes the wintry months of November through March, when reservations are generally easy to come by. Surely the Old Course Experience isn't selling many of its premium-priced packages then. Mason concedes that more like 10 percent of the commercially available tee times in the high-season (April through October) are sold by the Old Course Experience. Still, even that 10 percent number sounds low to some hoteliers and tour operators.
The Links Trust could clear up the confusion if it would open its books and let everyone see who is paying what. It might also patch up some rocky relationships with tour operators, many of whom would rather send tourists to destinations other than St. Andrews than buy tee times through Keith Prowse. Yet Links Trust management guards that information. "We obviously know [those figures] but we've agreed it's not to be bandied about," says McGregor, who calls them "commercially confidential" and adds, "This is a contract with a tour operator in a very competitive marketplace."
Wanting to find out more specifics about Old Course tee times, Golf Digest filed a formal request for the details under the U.K.'s new Freedom of Information Act. But this, too, was denied by the Links Trust. Mason replied in a letter, "The Trust is not a public authority and is not covered by this legislation, so it has no relevance." Not a public authority? Technically, this is true, says Jonathan Barnes, a London-based lawyer and an expert on the Freedom of Information Act. "U.K. law looks at an organization to see which functions it performs are truly public, as opposed to performing a public function," he explains. "If it sells ticket packages, it will have private, commercial contracts. U.K. law can easily see that as a private arrangement that ought not to be open to public scrutiny."
Critics, however, are unmoved. "They operate public lands turned over to them by the city of St. Andrews," says Bob Millar, longtime St. Andrean and owner of Auchterlonies Golf Shop, just around the corner from the 18th green. "They pay no taxes and are supposed to maintain the courses for the town's citizens, for the public good, under an Act of Parliament. It sounds like a public authority to me, and to most of the town."
The animosity between some St. Andrews townspeople and the Links Trust senior management isn't helping matters. Many locals are suspicious of anybody connected with the Trust. Speaking out against it in public, they say, could hurt them. Hoteliers fret that they could have their already small allotment of advance tee times reduced or eliminated; shop owners worry that the Trust could decide to compete with them more aggressively. Whether that is true or not, there is obviously little love lost on the Links Trust side. Mason told Golf Digest last December that he considered many local critics "loonies." Sheelagh Walker, director of operations at the Old Course Experience, similarly does not hide her contempt for townspeople who question the Keith Prowse deal. They're driven "by jealousy and insecurity," their complaints about the Old Course Experience are "laughable," and they "make things up when they don't know the facts," Walker says.
Yet many of the people who criticize the Links Trust are anything but loony. In researching this article, we interviewed more than 30 townspeople who expressed their displeasure with the Trust. They are hoteliers, pub owners, tour operators, clubmakers, shopkeepers, professors, mail carriers, plumbers, caddies and photographers.
Yes, each has a self-interest. Some hotel keepers don't like the way the Old Course Experience steers visitors into only a few hotels, for instance. Some pub owners don't like the way prepaid meals encourage tourists to use the Trust's restaurants. But what they all have in common is respect and pride for their famous town -- and concern for its future.
Ann Moffat, a St. Andrean and well-known amateur golfer for many years, doesn't like what the Trust is doing to the Home of Golf's image. For more than a century, getting on the Old Course "was always fair to all," she says. "But it no longer is." The daily ballot, or lottery, for tee times "is not a true ballot, as the rich can buy their way on through the Old Course Experience." The Trust is "ripping the heart out of St. Andrews," adds Bryan Anderson, proprietor of the Tom Morris Golf Shop, which must compete with the Links Trust's retail operations.
There is no question that Links Trust management is in a difficult position. It is being tugged in many directions by a handful of demanding, argumentative, sometimes unreasonable constituencies. It can't possibly please everyone. As McGregor says, "It's a hell of a balancing act." Still, if all the Links Trust wants is an extra $1 million in revenue each year, surely there are better ways to generate it.
We recommend the Trust cancel the Old Course Experience program when the contract gets its annual review next spring. The Links Trust could instead sell all its advance tee times itself. Adding an extra $91 a head to the 11,000 pre-booked Old Course rounds each year would bring in $1 million for the Trust, assuming demand remains steady. Most visitors would rather not pay another $91, but if it meant a guaranteed time -- and avoiding the $1,800 Old Course Experience -- they could probably live with it.
True, tour operators and other speculators would buy up times and sell them at premium prices. But competition would determine the true market value, versus the cartel-like situation today. At a minimum, the Trust should put the luxury package out to bid. Allowing it to remain in one company's control, unchallenged, is neither fair nor a smart way to do business.
McGregor says the Trust and Keith Prowse will continue to review their Old Course Experience deal every spring and decide whether they wish to carry on another year. But for now, the answer is almost certainly yes. "It may be, at some point in the future, that we decide to say, 'Right, let's do it differently,' McGregor says. "But for now we are very satisfied with the arrangement."
Until that changes, here are two alternatives: If you're planning to visit in 2006, book your tee time as early as the first Wednesday of September 2005 (Sept. 7), or simply show up at St. Andrews and put your group in the drawing at the Old Course for the next day's play. You and your foursome are all but certain of getting on that way, if not the next day surely within a couple of days. While you wait, enjoy the town's considerable charms: its history, its people, and all the other great golf courses of St. Andrews. They will welcome you with open arms -- and far more reasonable green fees.
Contributing editor Dean Knuth, former senior director of handicapping at the U.S. Golf Association, is a 10-year member of the R&A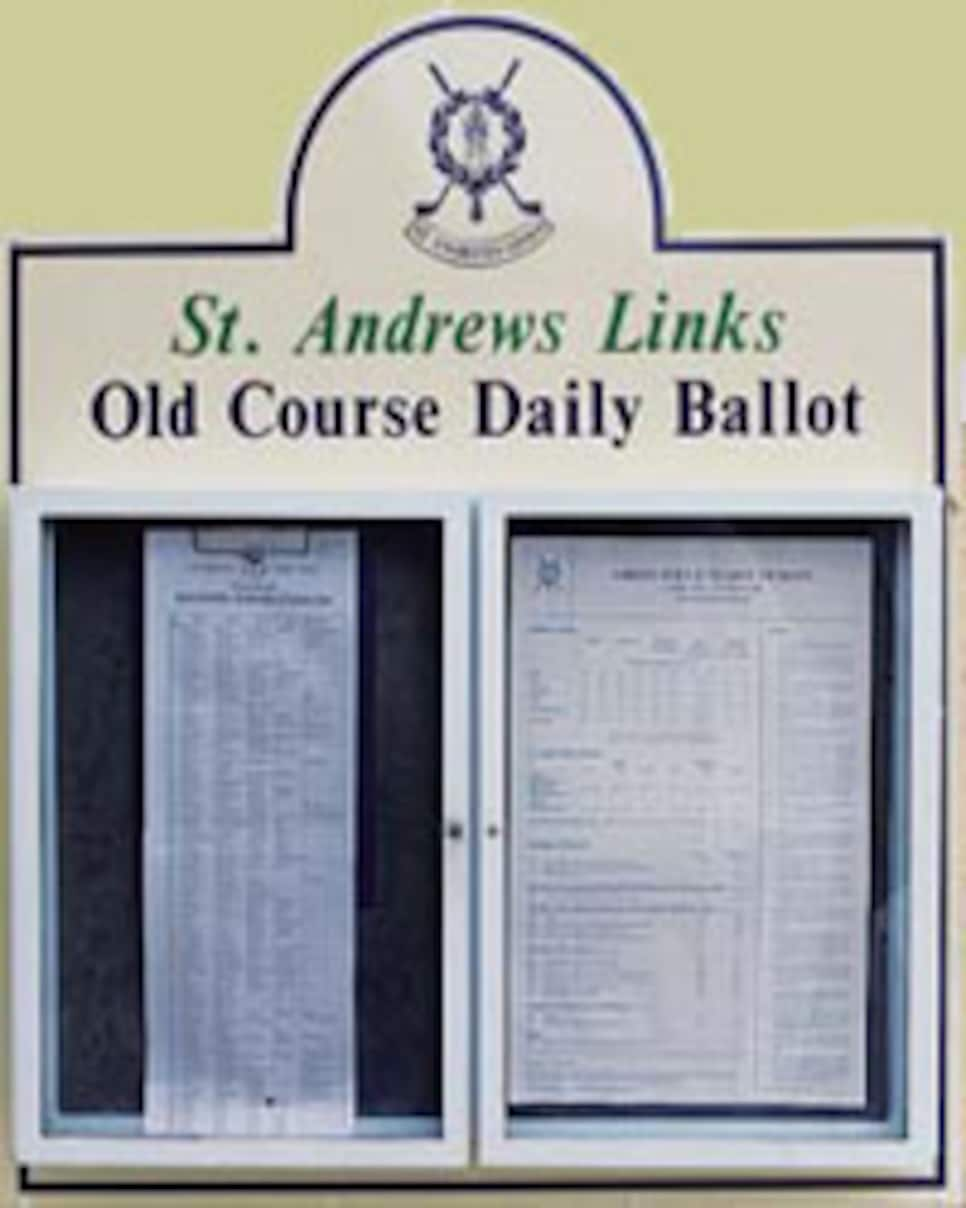 HOW TO PLAY THE OLD COURSE FOR LESS
One could get the impression that buying a high-priced "premium" tee time at St. Andrews is your only option. In fact, a round on the Old Course can easily be had for $219. There are two main ways to get on: (1) by ballot (a lottery), and (2) by advance booking.
The St. Andrews Links Trust says about half of its 44,000 rounds a year are sold via lottery. To be considered, you and your group (minimum of two, maximum of four) must sign up in person or over the phone by 2 p.m. the day before you want to play. The winners and their tee times will be announced by 4 p.m. at various points around town and on the Internet. If you are playing as a single, show up at the starter's hut and put your name on a list. The starter will match you with a twosome or threesome.
Jack Willoughby, owner of the nearby Dunvegan Hotel, says 100 percent of his customers last year got on either using the ballot or by queuing up as singles. Sometimes it took two tries to get on using the ballot. In that case, his guests merely played another of the fine local courses and tried again for the Old Course the next day.
To book a tee time in the following calendar year, you may send a request to the Links Trust the first Wednesday in September (e-mail: reservations@standrews.org.uk Fax: 011-44-1334-477036). The Links Trust promises you will hear back within four weeks. Peter Mason, the Trust's external relations manager, says it's best to be flexible in dates and times. But even if you have only a small window in which you can visit, it's worth a try. If your requested time is not available, reservationists will reply with an alternative. Keep in mind that the course is closed on Sundays, when it is used by the town as a public park.
The times are doled out on a first-come, first-served basis. Must you send your request exactly on the first Wednesday in September or lose any hope of getting a tee time? It depends on when you're coming, says Mason. "If you were contacting us in November for a late-April time, I suspect you'd still have a pretty good chance. But if you're requesting a time in August, no, you would not have such a good chance."
Note: To book an advance time, you have to buy a time on one of the other courses in the Links group, such as the New or the Jubilee. Their tee times go for about $105. Though they are not as famous as the Old, they are historical in their own right, and well worth playing.