Playing Through Pain: How did Tony Finau finish the Masters?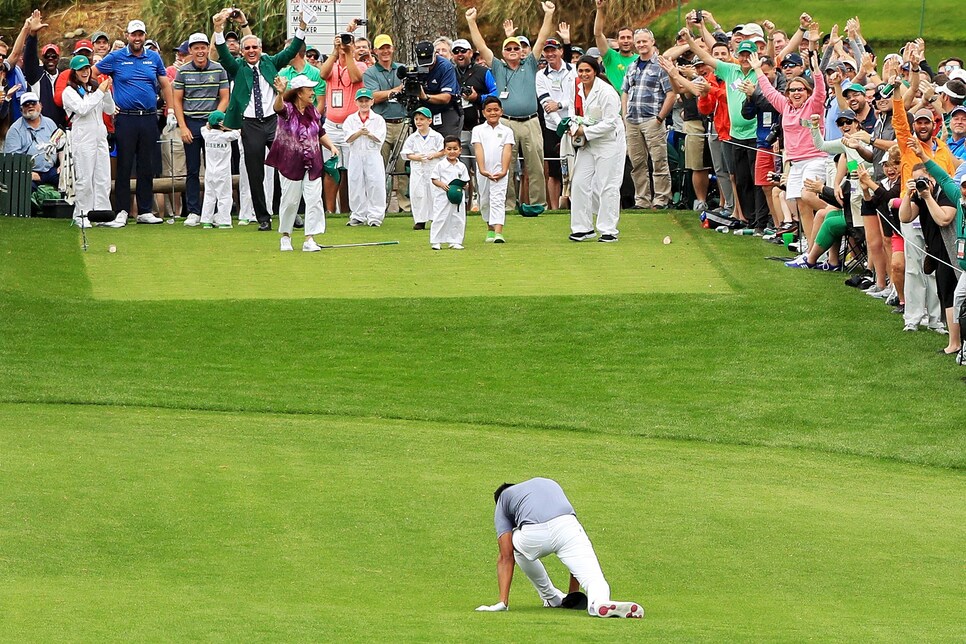 Photo by Andrew Redington/Getty images
Watching the video of golfer Tony Finau partially dislocating a left-ankle bone—and then reorienting it—while playing in the Masters Par-3 Contest might be as fascinating as it is macabre. Especially knowing what we know now. It was one thing for Finau (above) to stand up and hobble off the course after hurting himself celebrating a hole-in-one; it was a whole other thing to come back the next day and shoot a four-under-par 68 in the first round of the tournament.
Finau returned for the final three rounds, too, and somehow finished tied for 10th on an ankle that looked like it was hobbled by Kathy Bates in "Misery."
"Honestly, I don't know how I did it. It was a miracle," Finau says. "Three weeks after the Masters, I was still struggling with that ankle. My trainer [Stuart Love] deserves a lot of credit for keeping the swelling down."
Like most trainers would do, Love stabilized Finau's ankle with tape. But not just standard trainer's tape. Finau is among a growing number of pros who have tried the adhesive patches from StaminaPro. Its makers say that the patches are charged with electrons captured from 200 natural ingredients such as Omega-3 fatty acids, antioxidants and Vitamin D—all believed to reduce inflammation and help speed recovery from injuries. Justin Rose is listed on the company's website as an endorser along with Tiger Woods' former coach Sean Foley and PGA Tour trainer Craig Davies.
"I can't think of a therapist on tour who isn't using it," Davies says. "It works amazingly on acute conditions like ligament sprains, arthritis, muscle strains. It's less quick on tendon issues, as older injuries don't draw out the electrons as fast."
Finau says he had never tried the tape before the Masters but has used it nearly every day since. "I'm a big believer in it," he says. "It really keeps the soreness down. I feel different when it's not on my ankle."
One patch, which adheres to the skin at the site where you feel pain, is supposed to last 24 hours, the website says. A package of 24 medium-size patches is $36, and a package of 48 in various sizes is $90.
"I had to make a lot of adjustments to play that week," Finau says. "I was hitting more off my back foot and getting ice and compression for the ankle as much as I could. But there's no doubt the tape helped."
STUDY SUGGESTS A BETTER WAY TO WARM UP
If you want to make a better backswing and hit more greens in regulation, a dynamic warm-up is better than long-hold stretches, a study published in Physical Therapy in Sport concluded. The University of Witwatersrand in South Africa tested 100 elite male golfers (ages 16 to 25) and found that those who performed dozens of reps of an exercise with a medicine ball that mimicked a wood-chopping motion before playing had better mobility in their backswings and were more accurate with their shots than those who did long-hold stretches. Both groups also used a type of massage known as trigger-point therapy to prep their muscles.
"My experience has shown this study is on the right track," says Golf Digest fitness advisor Ralph Simpson. "Before you play, foam-roll key areas of the body involved in the swing, and then do some dynamic, golf-performance exercises."
Try this one from Simpson (below): Hold a med ball next to a hip in a semi-squat stance. Quickly lift the ball high over the opposite shoulder as you straighten your legs, and rotate your upper body toward the opposite hip. Then chop down swiftly back to the start position, squatting again. Do 30 to 50 reps from each hip. — Ron Kaspriske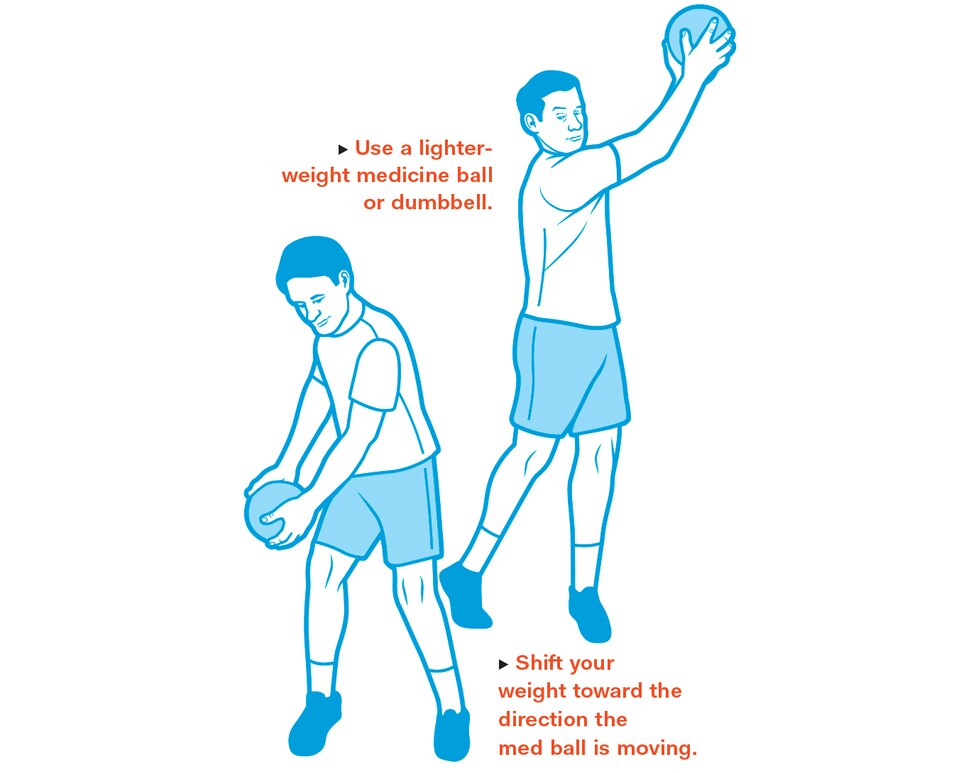 Illustrations by T.M. Detwiler