Playing an old golf course is like walking through history. Who's teed it up there before you? What memories have been made there before your own? How have architects and Mother Nature shaped and changed the golf course over time?
Playing Hyannisport Club offers a heightened sense of such history. You see, the golf course is located in Hyannis Port, a small residential area on Cape Cod, and it's where Joseph P. Kennedy decided to base his family's summer getaway back in 1926. According to Joe's grandson, Ted Kennedy Jr., it's the golf course that lured him to the area.
When Joe's sons, John F. Kennedy, Robert F. Kennedy and Ted Kennedy, bought homes near their father in the late 1950s, the Kennedy Compound was born. Today, the Compound consists of three homes on six acres right on the Nantucket Sound and less than one mile from Hyannisport Club.
There are about a dozen images of John F. Kennedy playing golf during his presidency, and a few of those were snapped at Hyannisport. I found myself wondering, as I lined up my putt on the par-5 16th, whether the former president had ever read the same line. He probably had. And when I walked off the 18th green and up to the clubhouse, I appreciated that Kennedy had made the same trek, and that he'd had post-round cocktails on the same porch that sits high above the course and offers expansive views of several holes and the Sound.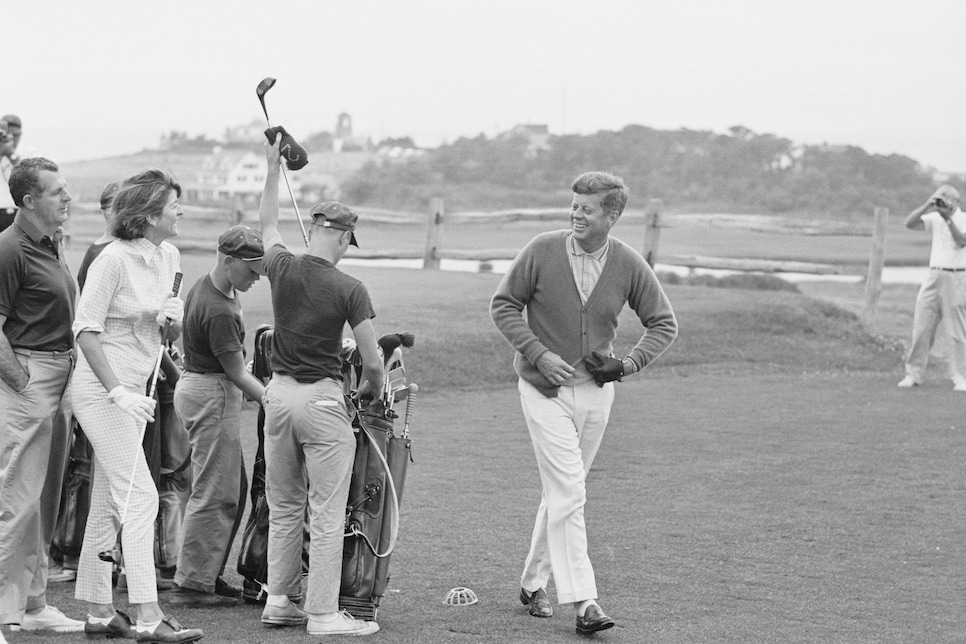 Hyannisport, a low-key club established in 1897, offers unobstructed views of the water, and the tidal marshes that line the Sound also weave through several holes, creating a peaceful backdrop that encourages you to forget about the world beyond the Cape. The Scottish-born Alex Findlay built the course in 1901, and Donald Ross redesigned it in 1936. The par-71 track tips out at 6,257 yards, which is quite short by today's standards. But what the course lacks in length it makes up for in charm, offering holes that range from the straight, drivable par-4 13th, to the risk/reward par-5 16th that swoops right and plays along a dramatic left-to-right hill.
Rumor has it that because JFK was following the golf-obsessed Dwight Eisenhower, he played played most of his rounds with little pageantry. He'd even shorten his rounds to just five holes—nos. 1 and 2, then 16 through 18.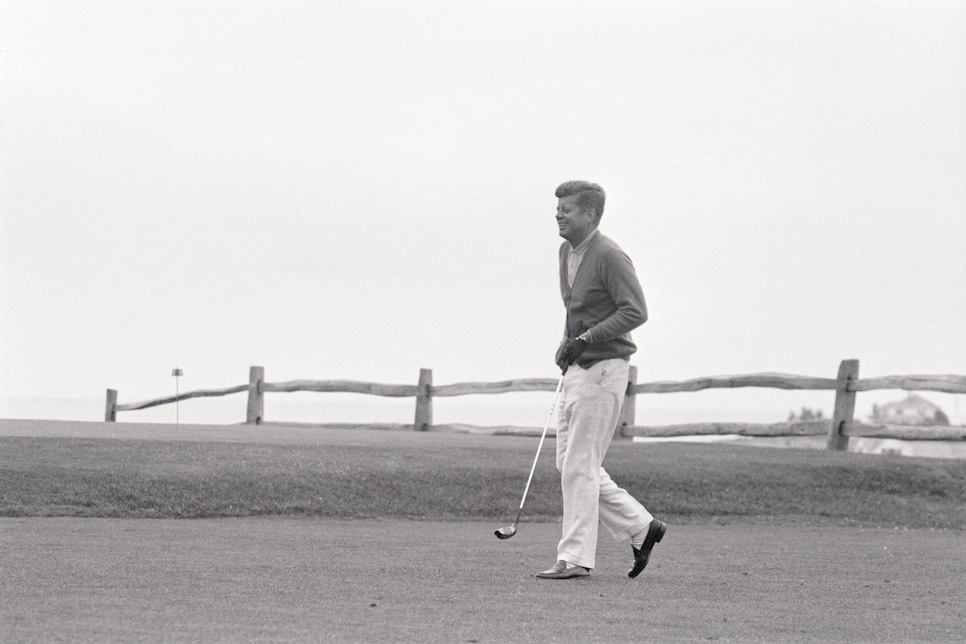 Hyannisport intentionally keeps its membership fairly small, so playing there is an honor few golfers can enjoy. I had the opportunity because Golf Digest was invited to compete in the 28th annual Robert F. Kennedy Human Rights tournament, which is held at Hyannisport every year. Sponsors and supporters of the RFK foundation are invited to compete in the tournament, and earlier in 2017, Golf Digest partnered with Chrysler as a sponsor. The tournament and the foundation are now led by Kerry Kennedy, a lawyer, a human rights activist, and RFK's daughter.
The tournament in 2017 raised more than $675,000 for the RFK Human Rights foundation, and in its 28 years it's raised more than $10 million. It's a fabulous event that includes a kick-off dinner at the Kennedy Compound, 18 holes of golf the following day with prizes up for grabs on every one of those holes, a halfway house complete with music and a bountiful buffet, and a post-round silent raffle along with post-round libations.
The event consistently draws a few marquee celebrities, the most notable of which is Bill Murray, a longtime friend of the Kennedy family. Murray couldn't compete in 2017 because his grandson was born just a few days prior, so his good friend Bobby Farrelly (yes, one of the Farrelly Brothers) headlined the 2017 event. Farrelly, who's understated, approachable, and even funnier in person than you'd hope, has now competed in eight-consecutive RFK Foundation tournaments. What keeps him coming back year after year? Ethel Kennedy. Everybody loves Ethel, RFK's widow, who's devoted most of her life to philanthropy.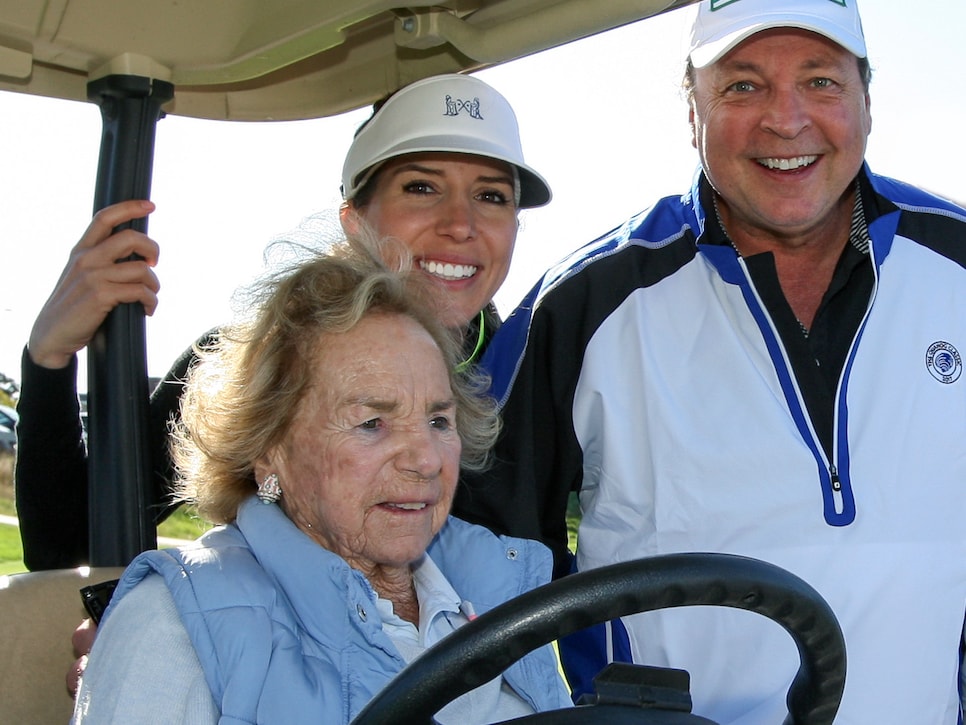 Stephen Haines Photography for The Robert F. Kennedy Foundation
"It's heartwarming to see many old and new friends tee off on the course Jack, Bobby, Joe, Pat, Eunice, Jean, and Grampa and Gramma enjoyed for decades," says Ethel. "I love that no matter their ability, the golfers' shots reach far beyond the fairways to help support human rights around the globe."
As soon as the tournament wrapped up, Ted Kennedy Jr. gave a small group of us a tour of the Kennedy Compound. He rushed us over to ensure we could watch the sun set over the Compound, and he recounted priceless stories as he walked us through the property's six acres. We stood right next the house where JFK found out he'd become president, and wandered across the boardwalk that so many Kennedys have enjoyed over the years. Walking the grounds and teeing it up at a course where JFK, RFK and so many other Kennedys have enjoyed many moments is something I'll cherish for a long time. But really, it's not unlike playing any old golf course. Knowing it's a spot that has made people (including JFK!) stop, strategize and take risks for hundreds of years is just a small part of what separates golf from any other sport.