The Loop
Playful Adrian Beltre moves on-deck-circle to him, miserable umpire ejects him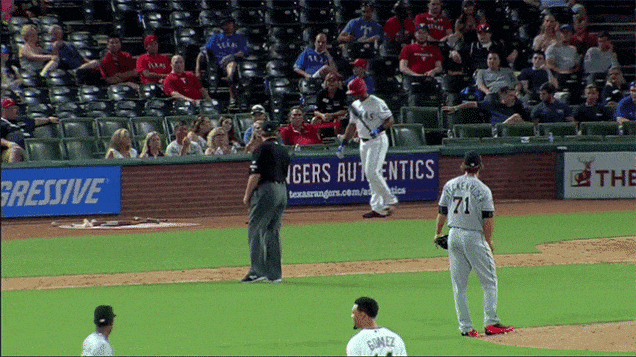 And we though the NFL was the "No Fun League." On Wednesday night, MLB showed how overly serious it can be too with one of the most ridiculous ejections you'll ever see.
In the eighth inning of an 18-6 blowout, Texas Rangers third baseman Adrian Beltre was on deck and told to move a few feet to his right to take his practice cuts. Beltre, a future Hall-of-Famer mind you, has a reputation for being playful, and instead dragged the on-deck-circle a few feet toward him. And miserable umpire Gerry Davis tossed him. Check it out:
It wasn't quite as bad as when NBA referee Joey Crawford ejected Tim Duncan for laughing, but this was pretty bad. Davis also ejected Rangers manager Jeff Banister for arguing his decision to throw Beltre out of the game. Davis seems like the kind of guy who spends his free time going around telling young kids Santa Claus doesn't exist.
On the bright side, it happened in a meaningless situation with the Rangers four outs away from being routed. Well, almost meaningless. I have Adrian Beltre on my fantasy team.