The Loop
Players starting on par-3 10th get off to a rocky start
BETHESDA, Md. -- A player's first swing at the U.S. Open is typically full of tension and nerves, even when it doesn't involve a 195-yard carry over water. But for the (un)lucky fellows who had to tee off in a cold drizzle at Congressional CC's par-3 10th hole to start the first round of play Thursday, the shot took on an added level of fright.
Chad Campell and Harrison Frazar managed to hit terra firma in the 7 a.m. group, but Marc Turnesa wasn't quite so successful. Hitting his iron shot thin, the ball splashed into the water en route to a double bogey.
Welcome to the U.S. Open!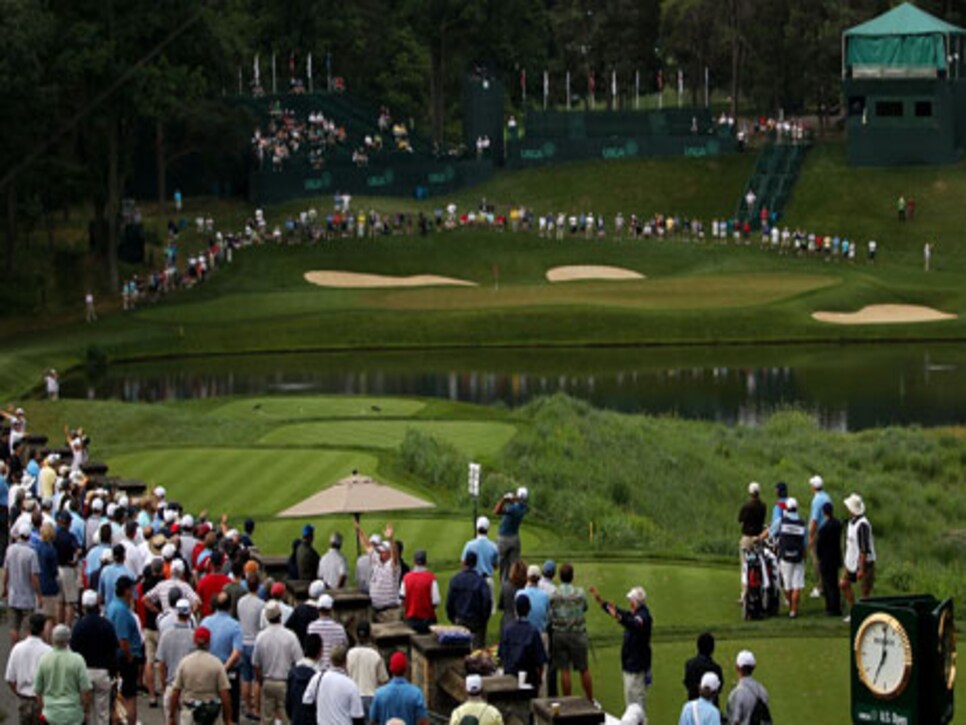 Marc Turnesa hits his tee shot on the tenth hole. (Photo by Andrew Redington/Getty Images)
It didn't get much better in the groups that followed. In the 7:11 a.m. group, Germany's Marcel Siem pulled his iron shot left of the green. As Siem yelled "Fore left" from the tee box, the ball proceeded to hit a spectator and then bound back toward the tee, into the water. Siem also had to take a 5 on the hole, as did Heath Slocum in the 7:33 threesome when his ball hit the slope just beyond the pond only to roll back into the water.
With three water balls in the first four groups, play already was being delayed on the hole. The third group off hit their tee balls four minutes after its original starting time.
Those who successfully hit the green of course were able to breathe a sigh of relief. When amateur Russell Henley's ball landed, his caddie Adam Henley offered up a small fist pump.
A generous hole location in the middle of the green did yield some good scores for the first groups playing through. Nicolas Colsaerts and Stewart Cink both managed to hit their shots inside 10 feet and converted their birdie putts, as did Luke Donald and Martin Kaymer in the day's premier pairing.
Now that's the way to start the Open.