The Loop
Players primer: 5 Sunday showdowns to follow at TPC Sawgrass
PONTE VEDRA BEACH, Fla. -- We've reached the final round of the 2014 Players. Here are five key match-ups to watch as Sunday unfolds:
1. Martin Kaymer vs. Jordan Spieth
For a second straight day, these two will be in the final pairing. Spieth edged the German by a shot on Saturday despite making just one birdie (and 17 pars) to pull even at 12 under heading into the final round. After, the two gushed about playing golf with each other for the first time. "I'm very excited about being paired with Martin again. Great guy, class act," Spieth said. So yeah, don't expect these guys to be staring each other down on Sunday.
2. Martin Kaymer vs. the crowd at TPC Sawgrass
Kaymer and Spieth also both compared the atmosphere during the third round to that of a Ryder Cup, with the crowd clearly favoring the American. "Everyone has been very respectful to Martin, but they've definitely been partial," Spieth said. "It's not easy, but I know what's going to happen," Kaymer said. "I know what I can expect, and therefore, it's OK." Stay classy, Ponte Vedra Beach.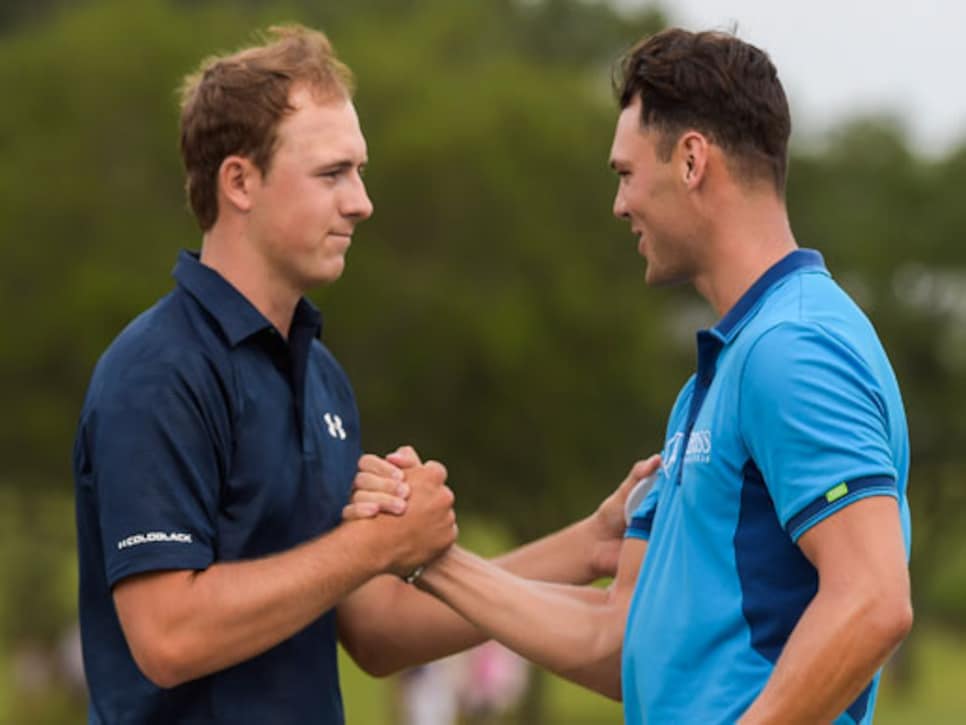 3. Martin Kaymer/Jordan Spieth vs. the rest of the field
Spieth was quick to say he wouldn't treat Sunday like a Ryder Cup singles match and for good reason. Despite the two leaders' cushion on the rest of the field, both know there's a crop of world-class players within range on a course where anything can happen -- especially on a certain island-green par 3. Most notably, the two will probably have their eyes on Kaymer's Ryder Cup teammate and fellow BBQ lover, Sergio Garcia, who will be playing in the group ahead and looking for a second Players title.
4. Jordan Spieth vs. Old Man Par
So far, it's been a total blowout with Spieth failing to lose once this week. Remarkably, through his first 54 holes as a pro at TPC Sawgrass the 20-year-old has yet to make a bogey on the tricky Pete Dye track. The course hasn't been at its hardest this week, but no one else in the field has fewer than four Spieth is closing in on Greg Norman, who went 66 consecutive holes without making a bogey here in 1994. Of course, he cares a lot more about matching Norman's result that year and taking home the crystal trophy.
5. Tiger Woods vs. the Official World Golf Ranking
At the start of the week, it appeared Woods would lose his hold on the top spot, but none of his pursuers have taken advantage of his absence at TPC Sawgrass. A least, not yet. Adam Scott, Henrik Stenson, Bubba Watson and Matt Kuchar have all played OK, but all would need a big Sunday to become No. 1 for the first time. Scott has the best chance since he needs to do the least by getting to a T-16 or better. Not that he seems too excited. "I'm not going to study leader boards just to do some math on rankings." We don't think anyone expects you to do the math, Adam, but we get the point.