The Loop
Players on the W I D E Open: "Absolute fun!"
What's it like playing 18 holes with a massive, 15-inch hole in each green instead of the usual 4 1/4-inch model? "Absolute fun!" in the words of Steven Hahn of Spartanburg, S.C.
Easy for him to say. He shot a six-under 65 at Pine Needles Lodge & GC in Southern Pines, N.C., Friday to win the gross division of Golf Digest's inaugural W I D E Open Championship.
Truth is, the 15-inch-cup event was a lot of fun even if you didn't shoot 65. You often could recover from a couple of wayward shots on a hole by chipping in. Three-putting was next to impossible. And there's no denying it: It's pretty invigorating to look at a 45- or 50-foot putt and figure, "I'm going to make this."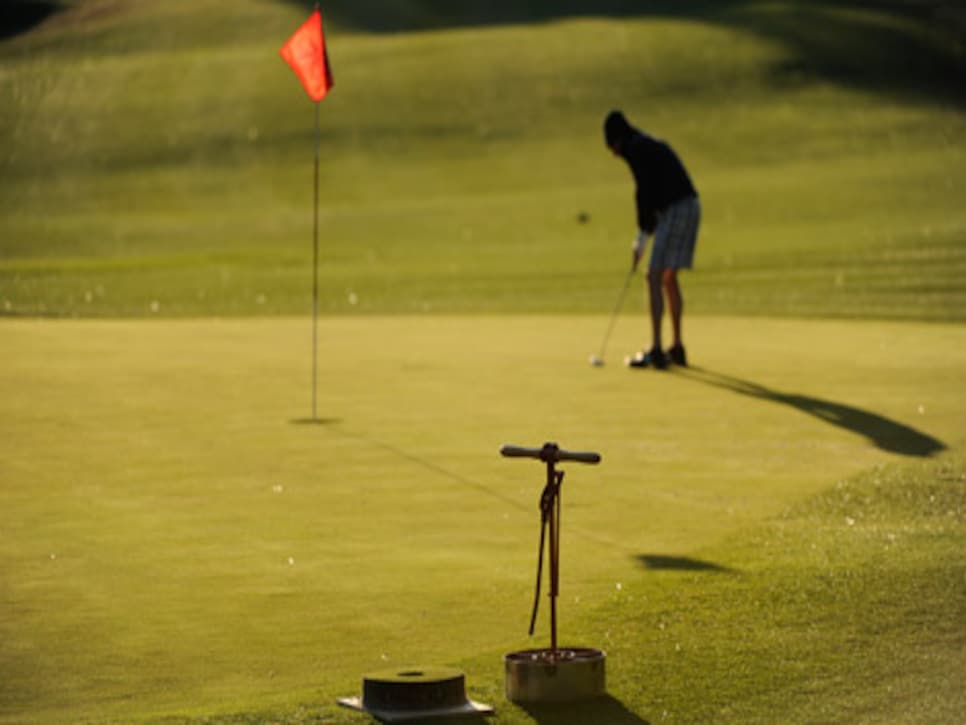 Like a lot of the 60 competitors, I found it was easy to get a little TOO aggressive. Midway through the round, I twice ran putts way off the back of the green after slamming a putt from the front. Once I recovered by chipping in. The other was a routine up-and-down from a collection area 15 feet below the putting surface.
I finished with a 77 -- about eight strokes better than my average score. We haven't crunched all the numbers yet, but a cursory look at the tournament scorecards suggests that was typical for many competitors.
One player who did a lot better than usual was net-division winner David Sidden of Mocksville, N.C. Carrying an 11 handicap, he shot 68 for a net 57 on the Donald Ross-designed course. His round included a pair of 35-foot birdie putts, a 30-footer and a 20-footer.
The W I D E Open Championship was dreamed up by Golf Digest Editor-in-Chief Jerry Tarde. He was inspired by TaylorMade CEO Mark King's recent comments about trying a much-larger golf hole to make the game more fun.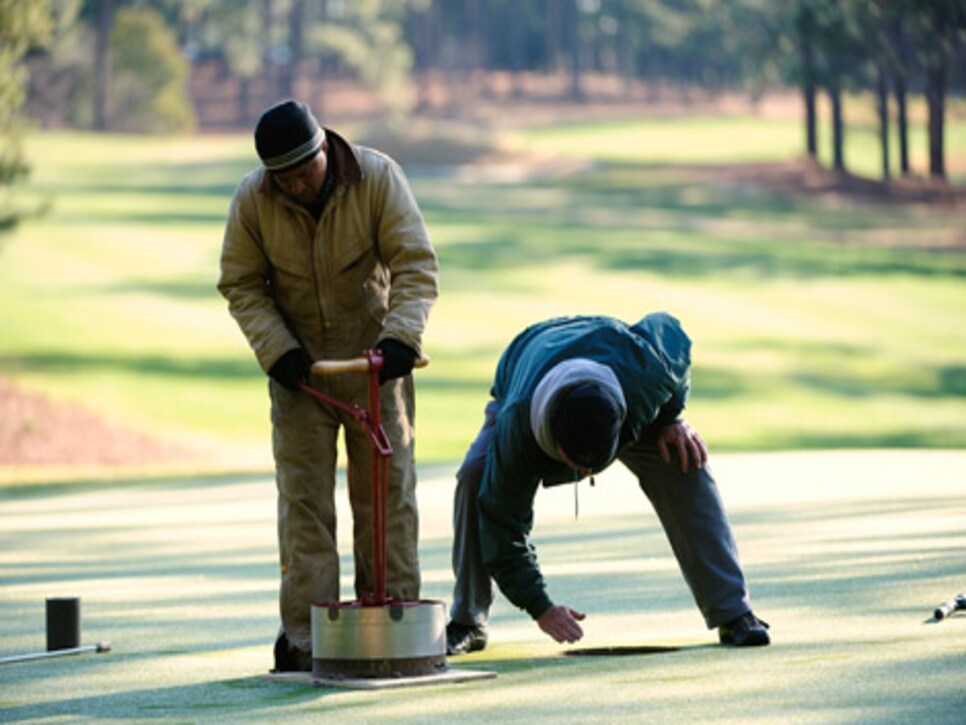 Prizes supplied by TaylorMade also went to John Caden for the longest putt (60 feet), Nathanial James for the fewest putts (15), and Bob Logan for the most shots holed from off the green (four). While Hahn was the gross-divison winner, the lowest score was actually posted by Tyson Pedacchio, a plus-1 handicap who works in the pro shop at Pine Needles. Pedacchio's 58, which featured four chip-ins, didn't count for the tournament because he works at the resort.
The 15-inch cup was popular with most players. Many of the participants said they would enjoy doing it again, although they wouldn't want to play that way every time out. I felt the same way. It would be a great alternative to the usual scramble format at charity events. Or I could see dropping one round of "big-cup" golf midway into a buddies trip.
The way it sped play was something many competitors liked. Most groups left the flag in while putting (it could not interfere with a ball rolling into the hole) and putted consecutively. The typical foursome got around the course in 3¼ hours or less. None took more than four hours.
But playing fast was only part of the equation. Birdies are fun, even when they come with air quote marks around them. Hahn, the gross winner, said he couldn't remember ever laughing so much during a round of golf. "This experience gave us amateurs a chance to play the way tour pros do," he wrote on his scorecard.
Note: Golf Digest's Jaime Diaz, who went eagle-birdie-birdie-birdie in his first four holes, will write about the event in the June issue of Golf Digest.