The Loop
Players express their frustration at Mother Nature -- and the USGA -- on Day 1 at Oakmont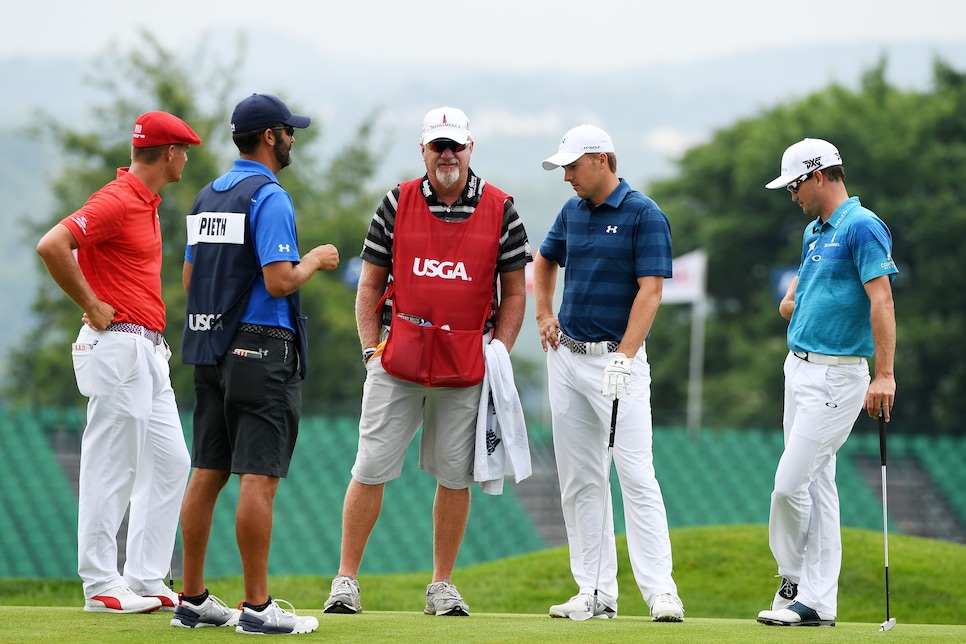 OAKMONT, Pa. -- As if a U.S. Open at Oakmont isn't difficult enough.
In Thursday's opening round, players had to deal with more than just the toughest tournament on arguably the world's toughest course. Heavy thunderstorms led to three separate delays in the opening round before play was eventually called for the day with just nine players having completed their round and half the field yet to tee off.
Though heavy rains overnight and again at various points throughout Thursday softened the course, the start-and-stop nature of play, combined with changing course didn't make things any easier.
"The hard part, it's tough to get into a rhythm, obviously," said Rickie Fowler, who was 6 over through 12 holes when play concluded for the day. "Probably about as easy as the course was going to play this morning when we went out."
Despite the soggy conditions, just seven players were under par when play was stopped.
Added Kevin Streelman: "It changes your preparation. That's the hardest part. . . . It's a different golf course now."
More than a few players were also not pleased with being sent back out without a warm-up following the first stoppage in play, which lasted an hour and 20 minutes. Typically, players get anywhere from 30-60 minutes to warm up following a long delay, depending on the circumstances.
But with more bad weather on the horizon, and players being held for just over an hour officials decided against it. Former USGA president Tom O'Toole said not letting players warm up after that length of delay was "reasonable under the circumstances."
Not everybody saw it that way.
"That was a bad one," Masters champ Danny Willett said. "We sat in a cabin for an hour and 10 minutes behind the seventh tee without being given a chance to hit any balls or do anything. You're in a U.S. Open, they don't give you a chance to even hit a few balls.
"Even the second time out, 1:47, and we were told to go back out again at 2:10, never hitting any balls. You can appreciate they're trying to get as many holes in as possible, but sometimes you just have to call it a day and come back."
Which is ultimately what happened after play was halted again just before 3 p.m. ET. Less than an hour later with storms still battering the area, it was stopped for the rest of the day.
"It's been a really long day," said Robert Streb. "It's tough to start and stop and I think it bothered most everyone that no one got to warm up after the first rain delay."
Then there was the matter of adjusting to what was a completely changing golf course than earlier in the week.
"Massively," Matthew Fitzpatrick said describing the difference between Oakmont in the opening round versus practice. "The ball is spinning back a lot. The first few days you're looking for it to spin. Completely different golf course."
Some managed OK. Little-known qualifier Andrew Landry got as low as 5 under through 13 holes before dropping two strokes. He has just a 10-foot birdie putt remaining in his round and he'll go to bed leading Bubba Watson and Danny Lee by one and a group of four others, including Lee Westwood, by two.
"Yeah, they frustrate everybody, don't they?" Westwood said of the delays. "We'd like it to just go smoothly, but sometimes it doesn't. You just have to be patient."