News
Players Championship 2019 live blog: Rory McIlroy catches Tommy Fleetwood with Friday charge at TPC Sawgrass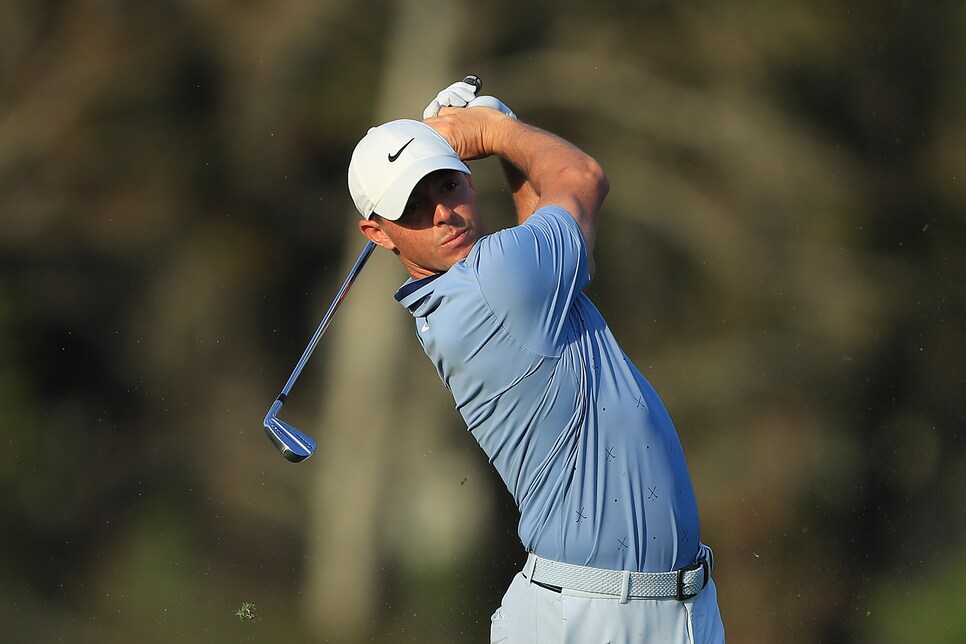 Golf Digest will be with you throughout Round 2 at the 2019 Players, keeping you up-to-date with the latest happenings from TPC Sawgrass.
7:15 p.m.: After hitting his drive through the fairway and into the pine straw, Rory McIlroy hits a spectacular recovery shot to the middle of the green. From there, his birdie putt comes up a couple feet short, but he gladly taps in for a closing par and a round of 65. McIlroy, in search of his first Players title, will head into the weekend at TPC Sawgrass tied with Tommy Fleetwood at 12 under. For a look at the entire leader board, click here.
7:08 p.m.: Dustin Johnson just comes up short on a final birdie attempt at No. 18. It's a 68 for DJ as he moves to seven under despite lipping out several good looks. Joining him at that number is playing partner Jon Rahm, who bogeyed the finishing hole. Sergio Garcia, the 2008 Players champ, rounds out this strong group at five under.
6:59 p.m.: OMG RORY IS STILL COMIN'!!!! After making eagle on 16, McIlroy rolls in a 20-footer for birdie on No. 17 to grab a share of the lead at 12 under with Tommy Fleetwood.
After bogeying his first hole on Friday, McIlroy has played his next 16 holes in a blistering eight under.
6:45 p.m.: RORY COMIN'!!! After a brilliant approach to nine feet on the par-5 16th, McIlroy drains the eagle putt. He's now 11 under and just one back of Tommy Fleetwood.
Of course, he's got a certain pair of holes to play. . .
6:18 p.m.: Tommy Fleetwood adds one final birdie on No. 18 to close out a second-round 67. That puts him in the lead at 12 under heading into the weekend. Playing partner Keith Mitchell makes par to cap a 65. He's four shots back.
6:02 p.m.: Tommy Fleetwood safely navigates the par-3 17th to remain at 11 under. Meanwhile, playing partner Keith Mitchell has moved to eight under par and in contention for a third consecutive week. Not bad for a "no-name," huh?
5:42 p.m.: It looked like Rory McIlroy would squander another glorious scoring opportunity with a poor pitch on the drivable par-4 12th, but he rolls in a 25-footer for birdie. McIlroy is now with Jim Furyk, Abraham Ancer, and Brian Harman in a group at nine under, one shot behind Ian Poulter and two shots behind Tommy Fleetwood.
5:37 p.m.: After avoiding a bogey following a bad tee shot on No. 14, Tommy Fleetwood wastes a good drive on No. 15. His approach is right at the flagstick, but it bounces over the green. From there, he plays a nifty bump and run with a 3-wood, but misses a five-footer for par. He drops back to 11 under, one shot ahead of fellow Englishman Ian Poulter.
A few holes ahead, Sungjae Im goes from the highest of highs to the lowest of lows. After making an ace on No. 13, he finds the water on No. 17, makes double bogey, and likely won't make the cut now.
5:21 p.m.: OK, this is getting ridiculous. Ian Poulter drains a 40-footer on No. 5 to get to double digits under par. Poulter is seven under over his last eight holes and he's now just two behind Tommy Fleetwood.
In other news, Rory McIlroy's momentum is halted with a missed eight-footer for birdie on No. 11.
5:00 p.m.: RORY COMIN'! McIlroy converts a three-footer for birdie on No. 10 for his third consecutive birdie. After an opening bogey on Friday, he's now three under on his round and eight under overall, four shots behind Ryder Cup teammate Tommy Fleetwood. McIlroy arrived at TPC Sawgrass as one of the co-favorites following five straight top-six finishes. However, he's only won one PGA Tour title (2018 Arnold Palmer Invitational) since the 2016 Tour Championship.
4:51 p.m.: Golf Channel notifies everyone that Tommy Fleetwood's group has been put on the clock. Not that it bothered Fleetwood, who promptly rolled in another birdie on the 12th hole. He now leads by three shots.
4:48 p.m.: Finally, another golf ball in the water on No. 17! Sorry, Kevin Streelman, but Tiger Woods will appreciate the company on this list. As Golf Channel's Will Gray pointed out, it took 100 shots for someone else to rinse one. Of course, Tiger is still the only golfer to deposit two golf balls in the water there. . .
4:40 p.m.: Another hole, another birdie for Ian Poulter, who is now five under over his past five holes. Poulter is now eight under overall, three shots behind Tommy Fleetwood. Meanwhile, Brian Harman dropped a shot on No. 1 after a bad drive, so Fleetwood's lead is back to two.
4:25 p.m.: Some Friday afternoon fireworks, courtesy of Sunjae Im! The 20-year-old PGA Tour rookie spins a 7-iron back into the hole on the par-3 13th for the 30th hole-in-one in Players history.
This just a day after Ryan Moore made an ace on 17 and Harris English made an albatross on No. 11. Im jumps to two under and is now in good shape to make the cut in his first Players appearance.
4:20: Ian Poulter, a surprising contender here last year, has caught fire. After shooting 33 on the back nine, Poulter birdies the first hole to get to seven under overall. Of course, it helps when you pitch in twice in a three-hole span:
4:15 p.m.: Tommy Fleetwood responds to his first bogey by making another birdie at the 10th hole. He's back to 11 under and one shot ahead of Brian Harman, who makes the turn after shooting 32 on the back nine. Byeong Hun An is the only other player on the course right now within three shots of Fleetwood. An is at nine under after birdieing the 12th, but he probably feels like he let a shot slip away after hitting his tee shot within 15 feet on the drivable par 4.
3:57 p.m.: Finally, a hiccup for Fleetwood. After a perfect drive on the par-5 ninth, the Englishman tugged his approach and drew a difficult lie in a bunker. From there he blasted across the green and then failed to get up and down. The bogey is his first of the tournament and it drops him back to 10 under. Fleetwood now shares the lead with a charging Brian Harman, who has birdied four of his first eight holes on Friday.
3:47 p.m.: Cameron Champ has withdrawn with a back injury after shooting an opening 78. Champ won his first PGA Tour title at the Sanderson Farms Championship in October, but his good play has not carried over into this year despite high expectations. A T-28 at Pebble Beach is his best finish in seven starts in full field events in 2019.
3:35 p.m.: Tommy Fleetwood just comes up short on a 20-foot birdie attempt on No. 8. It would have been the second day in a row he birdied the toughest hole at TPC Sawgrass. Still, he is in cruise control right now at 11 under and having gotten through a difficult stretch of the course.
3:31 p.m.: Brian Harman makes a third birdie in his first six holes to move to nine under. He's tied for second, trailing Tommy Fleetwood by two shots.
3:10 p.m.: Quick leader board update at TPC Sawgrass, where Tommy Fleetwood remains on top.
3:05 p.m.: Make that back-to-back double bogeys for Mickelson. So. . . he's done. Playing partners Rory McIlroy and Matt Kuchar both make par to stay at five under and four under, respectively.
2:52 p.m.: So much for some early momentum for Phil Mickelson. After missing the green on the par-3 third, he three-putts from inside of 10 feet for a double bogey to drop to three over. Maybe he should have just skipped this event. . .
2:47 p.m.: After opening with a pair of birdies, Dustin Johnson drops a shot on the par-3 third. Johnson's approach came up short and after a pitch to eight feet, his par putt slid by on the low side. Johnson remains in decent shape at four under, but incredibly, he has zero top-10 finishes in this event in 10 previous starts.
2:42 p.m.: Rory McIlroy bounces back from that opening bogey with a birdie on No. 2, which was set up by a beautiful pitch to about two feet. Meanwhile, playing partner Phil Mickelson made birdie the hard way. As usual. After blocking his drive way left, Mickelson punched one off the pine straw and through the trees to the greenside bunker and got up and down.
Still at one over for the tournament, the 2007 Players champ is going to need a few more of those to stick around for the weekend.
2:33 p.m.: DJ starts his round with back-to-back birdies with circles on the scorecard at 1 and 2. Not quite Tommy Fleetwood's birdie-eagle-birdie start—but Dustin Johnson will certainly take it. That moves DJ to T-13 and 5-under overall, currently six shots back of Fleetwood, who finally made a par at the fourth hole.
2:29 p.m.: It's a disappointing finish to Sung Kang's round, who was 9-under through his first 14 holes. He finishes up with three bogeys over his final four holes, dropping Kang back to 5-under after a bogey at the par-5 ninth.
2:12 p.m.: We've seen a bunch of players start their round off at the first hole with birdies. The 430-yard par-4 opener is playing as the fourth easiest hole this week. Don't tell that to Rory McIlroy, who just bogeyed the opener to get his second round started.
Rory drops back to 4-under, which is tied for 17th, after the missed 5-and-a-half footer.
2:05 p.m.: A rare 3-3-2 start on Friday here at The Players for Tommy Fleetwood! Fleetwood birdies the par-3 third hole by jarring a 25-footer. That follows up a hole-out for eagle from the bunker at No. 2, and a 12-footer at the first.
Fleetwood's lead now extends to 2 over Jim Furyk, as the Englishman gets to 11-under par. And four-under through his first three holes. WOW!
1:57 p.m.: 48-year-old Jim Furyk has the round of the day thus far, getting up and down at 18 for a bogey-free 64 second round. That leaves Furyk at 9-under with his second round wrapped up.
Golf Channel just displayed an amazing stat: Furyk just wrapped up his 215th bogey-free round on tour. Since that time, that's the most—by a LONG-SHOT. Charles Howell III and Bob Estes have the second-most bogey-free rounds at 154. That's more than 60 more bogey-free rounds than anyone on tour. That's some incredible consistency. And it's working well for Furyk here at TPC Sawgrass through two rounds.
And how about this stat, courtesy of the PGA Tour: That was Furyk's lowest score in 80 rounds at The Players. It's his best 36-hole position in 23 starts at TPC Sawgrass.
1:53 p.m.: Tommy Fleetwood, one of the overnight leaders, has a start to his second round that he could've only dreamed about: He birdied the first hole after a 345-yard drive. And now at the par-5 second hole, in a right greenside bunker, Fleetwood just holed out for an eagle. That's a 3-under through 2 start to his second round. Amazing. That propels Fleetwood back into the solo lead—now at 10-under par, with Furyk finishing up at 18.
1:39 p.m.: How about Jim Furyk and his Friday round at TPC Sawgrass? The Ponte Vedra Beach native is 8-under on his round—and he just got semi-robbed at the 17th hole. Furyk was 42 feet away from the hole and putted with the flagstick in at the island green. The flagstick ricocheted his putt out of the hole—leaving Furyk to settle for a 3. That would've put Furyk at 10-under overall, but he'll walk to the 18th tee still at 9-under, which is still good for a one shot lead.
That's one of the first examples we've seen of a flagstick NOT helping a player this year. Furyk's putt would've almost certainly rolled into the hole had the flag been out. He didn't hit the putt too hard, where it would've lipped out. We can't say for sure, but the 17th hole owes him one.
1:26 p.m.: Sung Kang is absolutely torching TPC Sawgrass right now and he has a legit chance of breaking the course record of 63. Kang, who started his day on the back nine, is nine under through 14 holes and is eight under overall. He's currently tied for the lead with Jim Furyk and Kevin Kisner.
1:23 p.m.: Woods finishes with a disappointing par, which stemmed from a poor tee shot. After laying up, he wedged one to about 15 feet, but didn't come close on his birdie attempt. It ends a wild round in which Woods managed to shoot one under despite making a quadruple bogey on the 17th hole. He is currently at T-26. He also finished third among his group with Patrick Reed (-5) and Webb Simpson (-4) securing later Saturday tee times.
1:05 p.m.: As expected, Woods two-putts for par on the difficult par-3 eighth. Playing partner Patrick Reed, though, had a bit of an adventure. His 4-iron clanged off the flagstick and rolled off the back of the green, but he drained the birdie putt from the fringe to move to five under. Woods and Webb Simpson remained at three under and four under, respectively. Onto the par-5 ninth to finish their second rounds.
12:56 p.m.: Here's a look at that spiffy Tiger shot on No. 7 where he took a trip to Twirl Town:
He tapped in for birdie and hit a solid long iron on the 235-yard eighth to about 30 feet so he has a great chance for a strong finish.
12:50 p.m.: Finally, a highlight to report from Tiger's round! After hitting driver just into the first cut of rough on the right on No. 7, Woods takes dead aim from 137 yards and just misses holing out for eagle just moments after playing partner Webb Simpson did the same. The two will have tap-in birdies as Woods moves to three under and Simpson to four under.
12:38 p.m.: Green. Two-putt. Par. Still two under. Meanwhile, Jim Furyk makes a third consecutive birdie while Kevin Kisner makes a first birdie of the day. The soon-to-be-49-year-old is now tied for the lead. In 22 prior Players starts, Furyk's best finish was a runner-up in 2014.
12:25 p.m.: Elsewhere, Jim Furyk has joined the fray at seven under after back-to-back birdies on 11 and 12. That gets last year's Ryder Cup captain and longtime TPC Sawgrass resident to six under on the day. Pretty impressive for someone who turns 49 in May.
12:23 p.m.: This is becoming a broken record. A missed fairway left, an approach to the front of the green, and a solid two-putt for par. Tiger will certainly take it on the difficult par-4 fifth as he tries to weather this tough part of TPC Sawgrass. He's got four holes left in his second round as he remains at two under.
12:07 p.m.: Another hole, another long two-putt par for Tiger. With a blind approach shot after finding the first cut of rough on No. 4, Woods had to be conservative with his approach shot. He's now missed three consecutive fairways after hitting all seven on his first nine holes. Woods remains at two under, where he started the day. But he's now seven shots off Kevin Kisner's lead.
11:57 a.m.: After driving the par-4 12th and two-putting for birdie from 30 feet, Kevin Kisner is now two clear of the rest of the field. Kisner is five under through 12 holes and nine under overall. At the 2015 Players, Kisner just missed a birdie on the 72nd hole that would have won him the title. He wound up losing to Rickie Fowler in a playoff.
11:52 a.m.: Tiger fails to take advantage of an accessible pin at the par-3 third, but still, you can't be upset walking away with par on that hole. Woods two-putts from about the same distance as on Day 1. The difference is he found the green in regulation today to remain at even on the day and two under overall.
11:45 a.m.: Revisiting Tiger's 17th hole disaster because that's all anyone is going to talk about for the next 24 hours, his two-Bridgestone donation remain the only golf balls to find the water there so far in four hours of play today. Also, check out this crazy stat from ESPN's Bob Harig:
Actually, I'm a little surprised Woods has ever made a quad on a par 3. But these guys are human. Even Tiger Woods.
11:42 a.m.: Woods gets one of those four shots he dropped on 17 back on the par-5 second. It wasn't his best drive or second shot, but he played a nifty bump-and-run third to about five feet and converted the birdie putt. Patrick Reed missed a birdie from inside of two feet so Woods is just one behind his Ryder Cup buddy now.
11:25 a.m.: Tiger makes the turn and pars the first hole. After missing his first fairway of the day, Woods found the front of the green and two-putted from about 30 feet. He remains at one under as he plays the more difficult front nine. He trails both of his playing partners, Webb Simpson (-4) and Patrick Reed (-3).
11:15 a.m.: In non-Tiger news, Kevin Kisner has broken out of that logjam at the top of the leader board with a birdie on No. 10. That moves the two-time PGA Tour winner and 2015 Players runner-up to eight under. Also, how about Russell Knox? On Thursday morning, his sister tweeted this:
And on Friday, Knox briefly held a share of the lead after birdieing five of his first 10 holes. Where was that prediction when I was making my pre-tournament picks, Diane?!
11:08 a.m.: Woods avoids further damage by making a six-footer for par on No. 18. He finishes his first nine with three birdies, five pars, and one quadruple bogey for a one-over 37. Tiger makes the turn at one under overall, six shots off the lead currently shared by five players.
10:49 a.m.: DISASTER strikes for Tiger on No. 17. Woods' tee shot takes a big hop and just trickles off the back of the green and into the water. As if that wasn't bad enough, he one-hops his third from the drop area into the drink as well.
And just like that, those three early birdies are wiped out. Woods played conservatively to the center of the green with his fifth shot, then two-putted for a quadruple-bogey seven. From five under to one under. Stunning.
__10:40 a.m.: Tiger hits a terrible second shot, but gets away with it as it catches the front-right portion of the green. From there, he two-putts for birdie to move to five under and just two shots off the lead. Tiger is officially LURKING! Of course, No. 17 is also lurking next. . .
10:25 a.m.: Tiger quickly picks up the tee after piping his drive down the left side of the fairway on 16. He'll have a great chance to attack this signature par 5 in two.
10:22 a.m.: Let's do a quick leader board rundown. The great news for Tiger is while he's picked up a couple early birdies, the lead is still seven under.
1t. Keegan Bradley (-7)
1t. Tommy Fleetwood (-7)
3t. Kevin Kisner (-6)
3t. Luke List (-6)
3t. Byeong Hun An (-6)
3t. Brian Harman (-6)
10:18 a.m.: After a solid approach to a back-right pin, Woods cozies his 27-footer to tap-in range. He was a bit upset his second shot didn't wind up closer, but he has to be happy with back-to-back 4s on 14 and 15 considering his history on those two holes. Now into that famous three-hole stretch. . .
10:01 a.m.: Woods' birdie lag falls four-five feet short, but cleans it up. Decent drive on the 15th, but nothing that should present an issue.
9:55 a.m.: From 208 yards, Woods' iron shot finds the green, but is nowhere close to the pin. Going to take some work for par.
Around the rest of the course, List, Jimmy Walker and Jason Kokrak are three under for their rounds. Keegan Bradley got it to nine under, but back-to-back bogeys have dropped him back to seven.
9:50 a.m.: With the logjam clearing ahead, Woods finds the fairway at the 482-yard par-4 14th. Same with Webb Simpson, who is also two under on his day and four under for the tournament.
9:44 a.m.: In spite of an awkward stance against the railroad ties, Woods' birdie try finds the bottom of the cup for his second straight birdie. Now up to T-12 on the board.
9:38 a.m.: At the par-3 13th, Woods shot barely clears the water and gets a fortuitous bounce on the green. Another makable birdie putt awaits.
9:33 a.m.: Woods knocks his chip to an inch from the cup. That's Woods' first birdie of the day, moving him to three under for the tournament. Now if he could only play the par 5s in such a manner: Woods is even par on the long holes for the event.
9:28 a.m.: On the drivable par-4 12th, Woods' tee shot stays safely to the right of the green, but another delicate up-and-down situation awaits.
9:25 a.m.: Almost an hour after teeing off, the Tiger-Webb-Reed trifecta finishes its second hole of the day. In a related note, J.B. Holmes is two groups ahead.
9:15 a.m.: A nice effort from Woods, leaving about 10 feet for his birdie attempt.
And the putt comes nowhere close to dropping. Woods converts a knee-knocker for the par. Onward.
9:10 a.m.: Woods takes out the fairway wood and smokes it, but stays well left of the green. Will have a 20-30 yard pitch ahead.
But it's better than the shot of Simpson, whose attempt finds the water.
9:00 a.m.: Not a good sign for pace, as the Tiger-Webb-Reed group waited 20 minutes on the 11th's tee box.
Despite the interval, Woods finds the fairway, and should be in the go-zone at the par 5.
8:52 a.m.: From the pinestraw, Martin Kaymer almost holes his second shot. The two-time major champ went around Sawgrass in one under on Thursday.
8:45 a.m.: Bit of a misread from Woods, as the ball doesn't break as he thought it would. Par at the first. Er, 10th. Patrick Reed makes bird, moving to four under for the tournament.
8:40 a.m.: Tiger's approach is on the green, but doesn't snug up to the pin. Somewhat disappointing given he was only 110 yards out. Has 15 feet or so for bird.
8:30 a.m.: Woods arrives to the tee. The group is going off the back today.
The backswing was barely finished and Woods was already picking up his tee. Beautiful draw with a fairway wood that finds the fairway. We are off.
8:25 a.m.: TPC Sawgrass doesn't look to be playing much harder in the early going, as Luke List is three under thru three holes and Vaughn Taylor and Patrick Rodgers two under.
8:07 a.m.: Historically, Friday has been Tiger's best day at this tournament, owning a career 70.59 scoring mark in Round 2 at TPC Sawgrass. To put himself in a position to contend this weekend, he'll likely need something in the 68-69 range this morning.