News
Players Championship live blog: Jon Rahm makes huge Saturday move to grab the lead as Rory McIlroy, other stars trail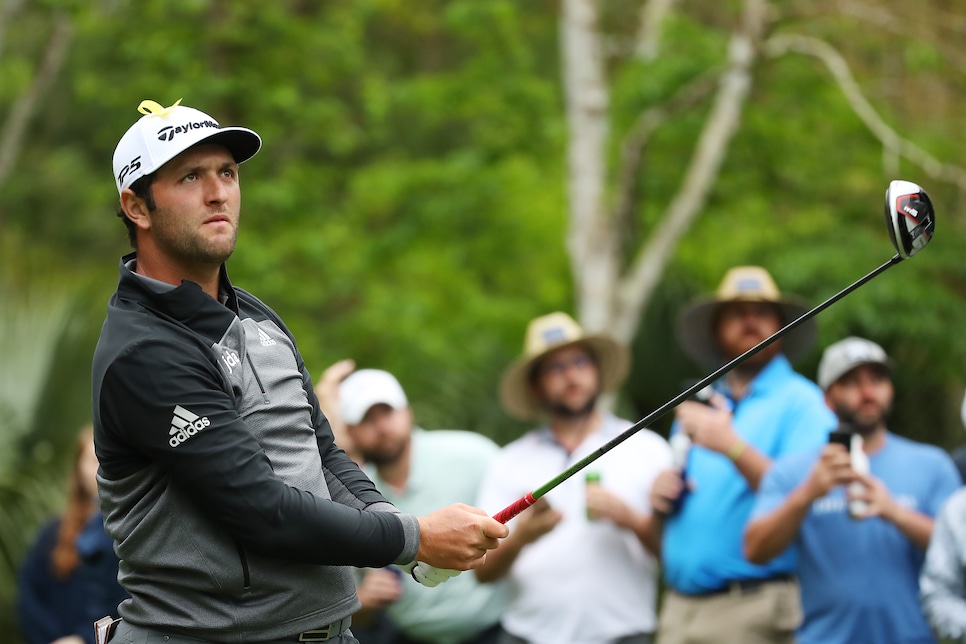 Oh, what could have been for Tiger Woods. The 14-time major champ had only one blemish on Friday's scorecard at the 2019 Players, but it was big one at that. His first quadruple bogey on a par 3 in nearly two decades dropped him off the leader board. And it turns out, he probably could have saved a few of those strokes if he'd taken a drop he wasn't aware was an option. In any event, Woods tees off at TPC Sawgrass with Kevin Na at 11 a.m., and trailing 36-hole leaders Rory McIlroy and Tommy Fleetwood by nine shots, he'll need to make a huge move on moving day to get back into contention. McIlroy and Fleetwood will play in the final pairing at 2:40 p.m. Keep it right here for all the latest news, scores and highlights from Day 3 at the Players. (All times ET)
6:44 p.m.: Rory McIlroy hits a sensational second shot into the 18th hole to 10 feet. But the Northern Irishman misses the birdie putt that would've tied Jon Rahm for the 54-hole lead. Rory will settle for a third-round 70, in which he hit just 4 of 14 fairways.
Rory's playing partner, Tommy Fleetwood, really rallied on the back nine to card a 70 as well. Fleetwood made four birdies on a back-nine 32 to get to 14-under, who will tee it up with Jon Rahm tomorrow in the final group.
This will be an awesome final round at TPC Sawgrass on Sunday!
6:37 p.m.: Jim Furyk found himself in a precarious situation at the 18th hole. His tee shot JUST missed going into the water—hitting off the wood planks but getting a fortunate kick staying dry.
After much deliberation with his caddie Fluff Cowen, he decided to just pitch it out to the right.
Given his lie, who could fault him.
Furyk would fail to get up and down and record a bogey—but at least his clothes will remain dry heading to the scorer's tent.
6:25 p.m.: How about Tommy Fleetwood? Despite all the ups and downs of his Saturday round, the Englishman just hit his tee shot at the 17th hole to inside 2 feet. He played the slope beautifully to the front hole location, as the ball nearly rolled to the hole.
Rory, meanwhile, just catches the green to the right, and will face a slippery 30-footer upcoming.
6:22 p.m.: Tommy Fleetwood plays a magnificent high pitch shot, with the water threatening behind the green, and sticks it to about 4 feet. He jars the birdie putt to get to 13-under, now alone in third and two back of Jon Rahm.
Meanwhile Rory McIlroy saves par, with his drop coming just behind the green and allowing him to use putter, to stay at 14-under and one back as that group heads to 17.
Jason Day risked dropping a shot at the 18th hole with his first putt from the front of the green coming up 12 feet short. But the Aussie, whose short game is so good, holes the par putt to stay at 12-under and three back. He'll be firmly in the mix tomorrow, just a week after withdrawing at the Arnold Palmer Invitational with an injury.
6:15 p.m.: Well, Rory McIlroy and Tommy Fleetwood did not execute their second shots the way they wanted to.
Rory got relief from the cart path to the left of the fairway and decided to give it a go from 220+ yards. His punch had way too much juice on it and it carried into the water beyond the green. Seems like a unforced error—when a layup would've still given him a chance for birdie. Now he'll be scrambling for par.
Meanwhile Fleetwood, from the middle of the fairway, hits his second shot way left—giving him a tough chance to get up and down. The Englishman has hung on today—despite being the only player in the top 23 on the leaderboard without an under-par round, he's just three back at current.
6:12 p.m.: Rory McIlroy will have a decision to make coming up on the 16th hole, whether he goes for the green or not. His ball had quite the adventure in the trees to the left of the fairway.
6:09 p.m.: Don't forget about Jim Furyk. The 48-year-old JUST misses his first-ever eagle at the par-5 16th hole in 80 career rounds. He's four back of Jon Rahm's lead at 11-under.
There will be one fewer player at -11 after Kevin Kisner draws his tee shot into the water at the 18th hole. That's a disappointing result for Kisner.
6:03 p.m.: Rory McIlroy holes a slick six-footer for par at the 15th hole to remain at 14-under, one back of Jon Rahm, as he heads to the par-5 16th.
6:01 p.m.: Jason Day and Kevin Kisner both had great looks for birdie at the 17th hole, but their bids slid by. Day stays at 12-under with the par, as Kisner stays at 11-under.
5:50 p.m.: Jason Day makes his two-putt birdie at the par-5 16th hole to get to 12-under, three back of Jon Rahm's lead.
How good is this leaderboard?!
Jon Rahm (-15) Rory McIlroy (-14) Tommy Fleetwood (-12) Jason Day (-12) Kevin Kisner (-11) Brian Harman (-11)
5:36 p.m.: Jon Rahm had a 13-footer for birdie at the 18th hole to tie the course record at TPC Sawgrass, but he misses and will settle for a 64, including a back-nine 30, which currently puts him one clear of Rory McIlroy. What a spectacular round for the 24-year-old Spaniard. He'll have an opportunity to take down the biggest title of his career with another solid day tomorrow. We'll see if he'll still have the lead at the end of the day, with Rory McIlroy on the 14th hole currently, having just missed a birdie try at 13.
5:25 p.m.: A missed opportunity for Tommy Fleetwood at the 12th hole after the brilliant tee shot. He misses the shortie for eagle, but the birdie still moves him three back of Jon Rahm, who would tie the course record with a birdie at 18.
5:18 p.m.: Tommy Fleetwood just nearly jarred his tee shot at the par-4 12th hole! Fleetwood is officially righting the ship—following up his birdie at 11 with a great look at the 12th—he's just about 5 feet away to get to 13-under and two back of Jon Rahm's lead.
Fleetwood's playing partner, Rory McIlroy, just sprayed his fairway-wood tee shot way right. So he'll need a special second shot to get a birdie and keep pace with Jon Rahm, who just tapped in for birdie at 17. Rahm is now 8-under on the day!
5:15 p.m.: Jon Rahm is on cruise control right now! He sticks his tee shot at the famous island par-3 17th to within two feet, setting himself up for an easy tap-in to get to 15-under as Rory starts his back nine.
5:10 p.m.: Jon Rahm's 13-footer for eagle at the 16th just slides by, as he taps in for the easy birdie to move to 14-under. And Rory matches him with a 3-footer for his birdie at the par-5 11th hole.
The lead is officially 14-under, which is now 3 over Tommy Fleetwood—who just birdied the ninth hole—and Abraham Ancer, who's working on three birdies in a row.
5:04 p.m.: Ancer makes it three birdies in a row on 10, 11 and 12 after bogeys at eight and nine to get it to 11-under. He's currently two back of the lead, but that deficit is likely to increase -- as co-leaders Jon Rahm and Rory McIlroy both have great eagle looks. Rahm is at the par-5 16th. Here's his drive ... which "Bones" Mackay just said is the farthest drive he's seen in his 20+ years coming to TPC Sawgrass.

Rory's eagle putt is upcoming at the ninth.
4:55 p.m.: Abraham Ancer has some solid momentum on his side with two birdies in a row, tapping in for a two-putt birdie at the par-5 11th to get to 10-under.
4:46 p.m.: Jason Day misses an opportunity to move two back of the lead at the par-5 11th hole, missing a nine-footer for birdie. He remains three back of Rory McIlroy and Jon Rahm. Meanwhile, Dustin Johnson quietly joins Jason Day and a host of others at 10-under with a sporty birdie from the fairway bunker at 14.
4:36 p.m.: Rory McIlroy just rims out the makable 14-footer for birdie at the par-5 ninth hole to cap off a roller-coaster opening nine. The bogey-bogey start was a surprising early stumble, but Rory added birdies at 3, 7 and 8 to get to 13-under par as he makes the turn. He remains tied with Jon Rahm, who just parred the 14th hole.
4:26 p.m.: Jon Rahm keeps recording birdies. The Spaniard adds one at the 13th hole to go to 6-under on the day—including five-under through his last five holes. He's now tied for the lead with Rory, who's playing the par-5 ninth hole.
4:20 p.m.: Tommy Fleetwood matches Rory McIlroy's birdie—a much needed birdie for Fleetwood—by pouring in a 28-footer at the par-3 eighth hole to get back to 10-under. He's now 2-over on his day and keeping pace with Rory, staying three back.
Take a look at this leaderboard:
Rory McIlroy (-13) Jon Rahm (-12) Ollie Schniederjans (-10) Brandt Snedeker (-10) Jason Day (-10) Tommy Fleetwood (-10)
4:13 p.m.: Rory McIlroy is righting the early struggles expertly. The Northern Irishman rolled in a 12-footer for birdie at the seventh hole, and he just put his tee shot at the par-3 eighth hole to within two feet. That's going to move Rory to 13-under, which will move him out of the solo lead by one over Jon Rahm.
4:06 p.m.: This leaderboard is getting better and better. Jon Rahm just made a tap-in eagle at the par-5 11th hole to leap two spots—into the SOLO lead. Rahm!
4:03 p.m.: Tony Finau had just made a stellar eagle at the par-5 16th hole—bringing him two back for the moment. That is, for a moment.
Finau rinsed his tee shot at the par-3 17th—the fifth shot of the day in the water. Rahm missed his bogey putt, which means he'll drop two shots, falling back to 7-under.
3:59 p.m.: What a par for Tommy Fleetwood! After that errant approach off the tee, the 16-footer goes down at No. 6 for the Englishman, which keeps him one back of Rory McIlroy's lead.
3:54 p.m.: Jason Day has made his third birdie in a seven-hole span to jump one stroke back from Rory McIlroy's lead. And Rory recovered from some potential trouble at No. 6 from a pot bunker after a tee shot into the pine straw. And Tommy Fleetwood's approach, from the middle of the fairway, hit a tree to the right of the tree, ricocheting the ball backward in front of the green. It's all happening!
3:43 p.m.: What looked like a potential two-horse race between Rory McIlroy and Tommy Fleetwood has turned into anything but. Jon Rahm just birdied the 10th hole to get one back. Ollie Schniederjans and Brandt Snedeker, on the heels of their 65s, are now one back, too.
Joel Dahmen is quietly putting together a great round, too, getting to -5 through 17 holes, so 9-under overall. Dahmen's playing alongside Eddie Pepperell, who also birdied the 17th hole to get to 8-under overall.
3:33 p.m.: Tommy Fleetwood continues to fall down the leaderboard. The Englishman got a terrible break when he missed the green to the right at No. 4 and his ball came to rest on a downslope on the edge of a bunker. The result was a bogey, dropping him to 10-under—one back of Rory, who made a routine two-putt par.
3:31 p.m.: Currently 10 players are within two of the lead, including Jon Rahm, Jason Day and Jim Furyk. Don't think we're going to see much separation on this day; more a matter of not playing yourself out of the rodeo.
3:27 p.m.: McIlroy bounces back with a birdie on the third hole to stop the bleeding.
Meanwhile, Ian Poulter is making a mess of things at the fourth, putting his third shot in the drink and taking a triple. That drops him to six under, five shots out of the lead.
3:24 p.m.: Adam Scott makes the turn in four under, moving to nine under for the tournament. A strong back nine could get Scott, a former Players champ, into the Sunday mix.
3:17 p.m.: If you're looking what wrong with Woods, you're about to hear something you've heard before: the flat stick. Woods finishing with a -2.725 strokes gained/putting figure on the round. "I struggled hitting the putts hard enough," Woods said.
3:10 p.m.: Sundays have been the bane of Rory McIlroy's existence the past two years. Saturday hasn't been too kind in the early going, with McIlroy bogeying the par-5 second—one of the easier holes on the course—with a series of short-game miscues. Fleetwood makes birdie, now jumping into the lead.
3:02 p.m.: Tiger's drive finds the fairway, but his approach goes long and left into the sand. A tricky up-and-down to finish at even for the day.
But he manages to do so, capping off a nice bounce-back effort on the second nine. That's a 72 for Woods, putting him up to T-41 on the board. Even if he drops, that's a score that will be good enough to play on Sunday.
2:55 p.m.: Well, Rory can't get up-and-down, and makes bogey at the the first. But he gains a shot on Fleetwood, who doubles after finding the sand and three-jacking from 10 feet.
2:47 p.m.: Not a great start for Rory. Blows his drive right, his approach further right.
Meanwhile, Tiger sticks his shot at the 17th to feet, looking for his third birdie on the side.
2:45 p.m.: Na makes the eagle, the lone bright spot of his day. After pulling the putter from 30 yards out, Woods puts his eagle attempt to seven feet...and is able to drop it to get to one over on the day. Still might have a shot at making the secondary cut.
2:42 p.m.: Kevin Na, who's had a brutal day, puts his second shot with 10 feet at the par -5 16th. Woods gives it a go from the rough, but his attempt comes up well short of the green. A tough up-and-down is coming up for birdie.
2:40 p.m.: Co-leaders Tommy Fleetwood and Rory McIlroy are moments from teeing off. Fleetwood is looking for his first PGA Tour victory, while McIlroy could join just Tiger, Henrik Stenson as the only guys to win the Players, a WGC, the FedEx Cup and a major.
2:34 p.m.: Goes SmokeWagon at the par-5 16th, but his drive fades went it needed to hook. Ball in the rough, and likely prevents Tiger from going for the green in two.
2:25 p.m.: Another nice approach the ends up 30 feet from the hole. Gives his attempt a nice effort but no go. Another par on the back for Woods.
2:20 p.m.: Big drive from Woods on the 15th, and more importantly it finds the fairway. Meanwhile, Sneds pars the 12th and 13th to stay six under on his round, while Schniederjans plays the final two holes without incident to finish with a seven-under 65.
2:15 p.m.: Just not his day, folks. The birdie putt just slides by, drawing an exasperated reaction from Woods.
2:05 p.m.: Not a bad drive—pretty damn far, actually—but falls to the right and into the rough. Not the worst of lies, but a long way to get home on the 487-yard hole.
Tiger hits a solid approach from the rough, but ball fails to spin. Looking at 25 feet for bird.
2:02 p.m.: Tiger's birdie putt rolls three feet by, but cleans it up for par. Needs to hold steady until 16.
1:58 p.m.: Tiger's tee shot at the par-3 13th finds the green, but has 25 feet or so remaining. Around the course, Brandt Snedeker is six under through 11 holes, jumping up 35 spots to fourth. Could really make some noise heading to the drivable par-4 12th. Rounds of Sneds and Ollie show the potential to go low on Saturday at Sawgrass, which makes Tiger's third round all the more frustrating.
1:54 p.m.: A two-putt from Woods for birdie, moves up to T-62. Needs a few more of those to make it to tomorrow.
1:51 p.m.: Ollie Schniederjans makes birdie at the par-5 16th to move to seven under on the day. Ollie, who started in 39th at the start of his round, is now 10 under and up to third on the board.
1:48 p.m.: Finally, some electricity at the 12th, as Tiger's drive lands 12 feet or so from the pin. Has to make a red number here, right?
1:43 p.m.: Oof; Tiger doesn't come close to converting. It's getting late early on the back side.
1:42 p.m.: Woods, in a greenside bunker, blasts his shot to nine feet or so. Will have some work to do to get that red figure.
1:40 p.m.: In the group ahead, Fowler's drive at the par-4 12th scoots just by the pin. Makable eagle putt for Fowler, who is two under on his day, awaits.
1:35 p.m.: Despite being in the bunker, Woods is able to take a big rip at it. Shot comes up just short of the green. Delicate chip remains but good chance to gain one back.
1:30 pm.: Issues on par 5s continue for Tiger. He pulls his drive on the 11th, and the ball finds the sand. No chance at getting home in two from there.
1:20 p.m.: The approach finds the grass face of a frontside bunker. No bueno. However, Woods makes a nifty shot out of the trap, and puts it to a few feet. Tiger cleans it up to remain at three over for the day.
1:12 p.m.: Small backup on the 10th tee, Woods' drive finds the right hand side of the fairway.
1:06 p.m.: Very real issue in play: the 54-hole cut. Woods will need a two-three under score on this side to make it to Sunday.
12:59 p.m.: In a fitting end to a rough front nine, Woods lips out a birdie from nine feet. He makes the turn in three-over 39 and is now 12 shots behind the leaders, who tee off in less than two hours. Woods, who earlier this week was working on his putting with Matt Killen, lost three shots to the field on the greens alone. Meanwhile, it gets even worse for playing partner Kevin Na, who three-putts for bogey from eight feet to shoot an opening 43.
12:49 p.m.: With a birdie on No. 10, Ollie Schniederjans moves to seven under and is now the low man on the course at the moment. After a promising rookie campaign in 2016-2017, the Georgia Tech product has struggled since, but he's put himself in position for his best finish of 2019.
12:46 p.m.: Woods bogeys the par-3 eighth hole. Considering it's the toughest hole at TPC Sawgrass, this isn't a big deal, but for a guy going the wrong way on moving day it's the latest kick in his Nike slacks. Woods drops to three over on the round and even overall. And yet, he's still two shots clear of playing partner Kevin Na.
12:33 p.m.: There's a backup on the 8th tee, which isn't going to help Tiger's mood. But before you blame J.B. Holmes, you should know he didn't make the cut. Rory McIlroy called slow play an "epidemic" on the PGA Tour after Friday's round. But we're guessing the weekend of the tour's flagship event won't be the time to start doing something about it.
12:29 p.m.: Tiger nearly makes his first birdie of the day from a bunker on No. 7. He'll tap in for par and head to the difficult eighth. In other news, Hideki Matsuyama has posted the (early) round of the day with a 66 that pulls him into a tie for 10th. For now.
12:15 p.m.: Perfect iron off the tee, perfect approach to 12 feet, lipped out birdie putt. It is officially NOT Tiger's day at TPC Sawgrass. At two over through six holes, Woods has fallen back to a tie for 64th place. He's in danger of not making the secondary cut, but at this point, would that really be a bad thing? In the NBA, they would call sitting one out "load management."
12:01 p.m.: Another wasted chance for Woods to get back one of those two dropped shots slides by on No. 5. After finding the right fairway bunker, Woods hit a beautiful approach to 12 feet, but missed. On the bright side for this struggling twosome, Kevin Na made his first par of the day. However, he missed an even closer birdie look.
11:48 a.m.: Tiger squanders a golden opportunity on the par-4 4th after hitting his approach to 10 feet on a difficult front pin. But a par at least gets him off the bogey train. We can't say the same for Na. Well, unless you count making a double bogey. His nightmare start continues as he falls to five over through four holes.
11:43 a.m.: OK, let's look and see what else is going on at TPC Sawgrass as we are inside three hours from the final tee time. The best rounds of the day right now belong to Daniel Berger and Richie Werenski, who are both three under. The highest people on the leader board right now is a group of four who has moved to five under: Brandt Snedeker, Jhonattan Vegas, Ryan More and Seamus Power. Moore made a slam dunk hole-in-one at No. 17 on Thursday, and Power made an ace of his own on No. 3 earlier today.
11:38 a.m.: You know how tour pros often talk about feeding off playing partners when they're playing well? Well, this is the opposite. Tiger and Na both bogey for a second straight hole. For Na, it's a third bogey to start his round. For Tiger, it's another missed par putt from about six feet after missing the green left off the tee. Add it all up and this pairing is five over through three holes. Yikes.
11:29 a.m.: It's not a 7 on a par 3, but a 6 on the par-5 second, especially when it's playing downwind, can't feel much better for Tiger. After pushing his drive into the right rough, Woods finds a bunker up near the green and is faced with an awkward third. From there, he barely finds a piece of the green and three-putts for bogey to fall 10 shots off the pace. Not the start he was hoping for.
11:13 a.m.: The breeze has picked up as evidenced by Tiger's tee shot only traveling 270 yards. From 170, he hits a sporty approach to about 15 feet, but misses the birdie putt. Playing partner Kevin Na fails to get up and down and starts with bogey. Time to flip around for the par-5 second, which will be playing dead downwind.
11:02 a.m.: OK, we are underway and it is vest weather in Florida. Woods is wearing grey over a green shirt and he pipes his drive off the first tee. Good start.