"I know you don't scare easy," a reporter said to Brooks Koepka, two weeks ago at the Honda Classic. "But it's generally accepted that the tee shot on 17 at TPC Sawgrass can be the scariest. I'm trying to figure out, what's the second scariest shot?"
"The drop zone from 17," he said.
The press room laughed, but it wasn't at all clear that Koepka was joking. As he went on to say, he's been in that drop zone with some frequency. He then offered the self-deprecating guess that if you looked at the stats of who has played the 17th hole at the Players Championship the worst over the last five years, it's probably him.
He's right: Since 2015, when he made his first start at the Players, Koepka is an astounding 15 over par at the island hole. In 18 rounds, he's found the water eight times, and made just two birdies compared to five double bogeys or worse. (UPDATE, Saturday, 3:25 p.m.: On Saturday, Koepka hit his tee shot in the water during his first and his second rounds, making a double bogey his first going around and a triple bogey the second time he played.)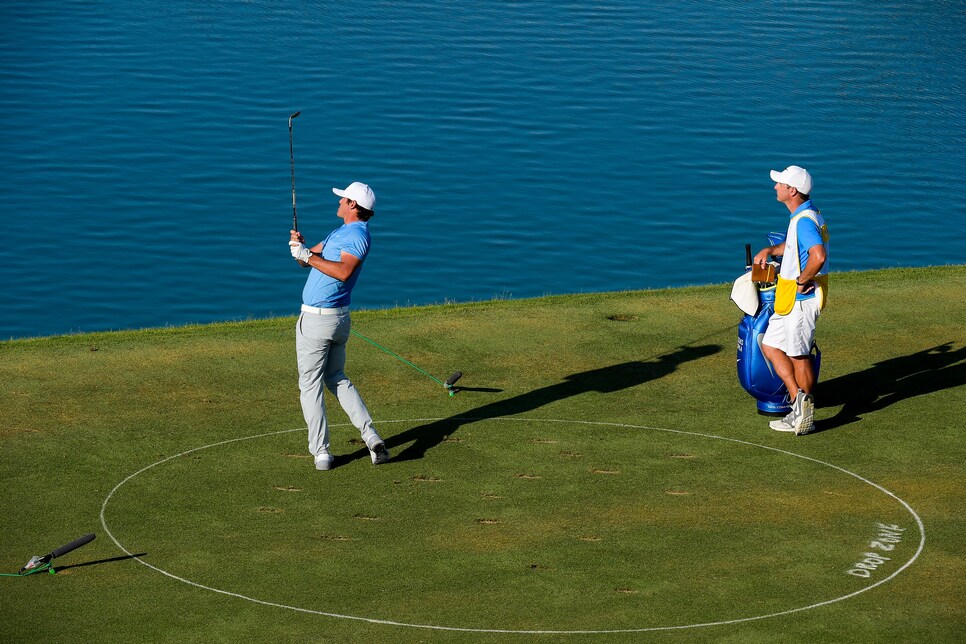 Brooks Koepka plays a shot from the drop zone on the 17th hole during the third round of the 2016 Players.
Stan Badz
In his defense, he's not alone—as we discovered in a deep statistical dive last year, the 17th at Sawgrass is the hardest par 3 that plays less than150 yards on the PGA Tour, with a brutal average score of 3.12. Even by those standards, though, Koepka's struggles are noteworthy. Phil Mickelson has hit nine balls in the water in 88 rounds, tying him for second all-time (Aaron Baddeley has put 13 in the water). Koepka is just one water ball behind him, and again, he has played just 18 rounds! At this pace, by the time he's Mickelson's age, he'll have 39 water balls to his name.
There's no way to explain this except to resort to that old cliche: It doesn't "fit his eye."
Despite the fact that players like Koepka and Mickelson (career average: 3.17) have suffered on 17, not everybody has been a lamb to the slaughter. Adam Scott and Ian Poulter have played 70 and 60 rounds on 17, respectively, and both are under par for their careers. Among younger players, Bryson DeChambeau has already notched 12 rounds without a single water ball (who knows, this may be the real source of the famous Koepka-DeChambeau feud). Rickie Fowler has been spectacular on 17, with a 2.84 average through 31 rounds and just two balls in the water. (He's also aced it in a practice round and—don't tell Koepka—can even find the green blindfolded and left-handed.) That kind of confidence leads to legendary shots like these:
Rory McIlroy, too, has fought his way to a sub-par career performance on 17 through 34 rounds, and it should be no surprise that the greatest iron player of his generation, Collin Morikawa, started his Players career last year with two birdies and zero water balls.
On the flip side, there are plenty of players with great reputations who play the island green worse than the average joe. Among them are Jon Rahm (3.2 career average), Justin Thomas (3.26), Dustin Johnson (3.14), Xander Schauffele (3.38), Hideki Matsuyama (3.17), Louis Oosthuizen (3.34), Bubba Watson (3.19) and Patrick Cantlay (3.17).
Then there's the goat himself, Tiger Woods. Tiger won the Players twice, which is actually a low number compared to what you might expect (he won all the majors at least three times), but clearly he had his share of solid trips to 17. One of those trips, in the final round of his first win in 2001, led to a call that has become iconic:
Which is why it may surprise you that overall, Tiger posted a 3.2 average over 71 rounds, with just nine birdies to 11 bogeys and six water balls. It's not Mickelson or Koepka bad, but it's certainly surprising to see someone like Woods comfortably behind the average PGA Tour pro at one of America's most famous holes.
Of course, troubles on 17 don't necessarily have to be fatal. Among the prominent players who have struggled, many of them, like Woods, Thomas, Garcia and Mickelson, have won at Sawgrass. It's a long, difficult course that rewards variety, and a visit to the drink on the penultimate hole doesn't have to ruin your week. But it certainly can, and it certainly has, as Sergio Garcia once found out to his detriment:
This kind of make-or-break power is what gives 17 its mystique—and makes it so intriguing and fun for the average viewer. Be warned, though: Use the word "fun" to describe the island green around some of the best players in the world, and you may be the next one in the water.