News
Players Championship 2018: Why a move back to March is the right call
PONTE VEDRA BEACH, Fla. — The Players Championship is bidding farewell to May at the conclusion of this year's tournament. Beginning next season, the PGA Tour's flagship event will return to its former March date.
It was a nice run but after a dozen years it's time. Here's why:
When the Players Championship moved from March to May in 2007, overseeding at TPC Sawgrass became unnecessary because dormant Bermuda grass returned with the warmer temperatures.
It also led to the course playing differently and not necessarily in a good way, according to some.
"I like the overseeded rye [in March]," said Adam Scott, who won the tournament in its "pre-Masters" era in 2004. "Not that you have to get stuck with tradition, but they've never set it up the way it was supposed to be in May. They didn't take a big enough chance to make it different. They should've done more."
"The greens are not really designed for run-up shots," Phil Mickelson added. "There's a lot of holes where we've got to fly it on and stop it. I think the way it played in March, I kind of preferred over the firm, fast. I don't think when it was designed, it was designed to be firm, fast the way it has played the last few years."
Not everyone agrees, of course.
"Personally, I like this grass type better," said Jordan Spieth, who has only played the tournament in May. "I grew up on this, Bermuda, not the overseed, having to judge firmer, faster greens, and then the biggest change will be within the rough. Around the greens, overseed becomes an easier grass to chip off of than this grainy Bermuda. But out of the rough, judging fliers and shots around the green, explosion shots, having that kind of feel, that goes away a little bit when overseed comes in. It becomes a little bit easier. I think the scores will potentially go lower with a change in grass type."
It's not only about how the course plays, though. It will look better, too.
"There will be more defined fairways, more defined rough lines, more defined green areas," said Brandt Snedeker. "Right now, it all blends together as this greenish brown Bermuda. Once you get that fairway bright green [and dormant rough], it'll be different."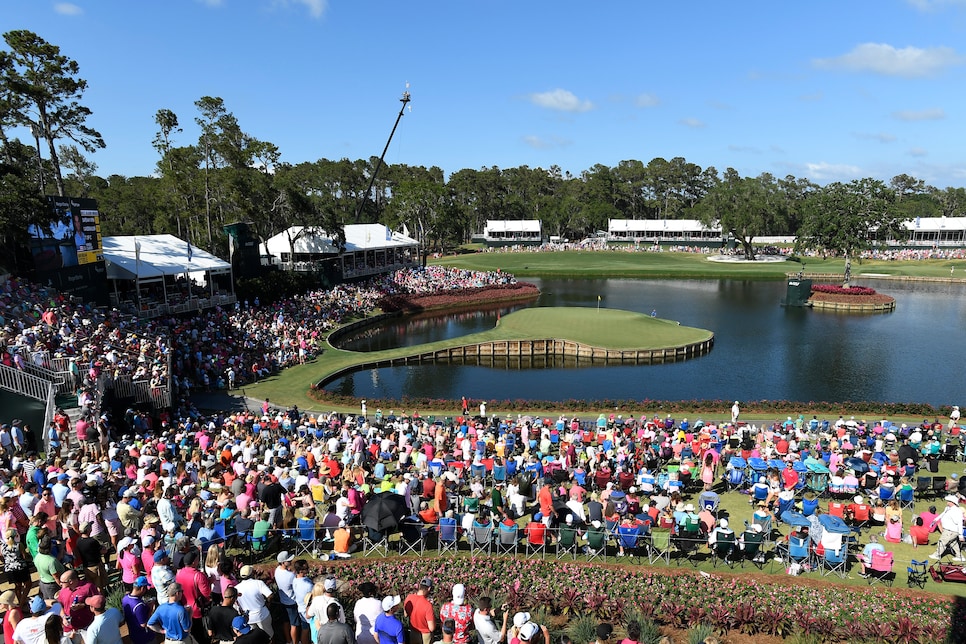 When the Players was moved to May it was done so to make it stand out. It was already a big tournament, but putting it after the Masters and before the U.S. Open made for nice symmetry with each month from April to August featuring a signature event.
During the last 12 years, though, the Players has only grown in stature, from boasting the game's most ostentatious clubhouse to one of its biggest prizes in the form of an $11 million purse, with $1.98 million of that going to the winner. Only the U.S. Open pays more.
"I think it's a good time to switch it back given where everything else is going," Scott said. "I think it will enhance this tournament even more.
"[In March] it signaled the start of big tournament golf for the year. It was often two weeks before the Masters and the world media gathered here and stayed over for the Masters. It was really this event that was the sign of big golf starting for the year and I think that'll happen when it goes back to March."
With the PGA Championship moving from August to May as the tour makes plans to finish its season by Labor Day weekend, the change was also necessary.
It still allows for a signature tournament each month, with the Players in March, the Masters in April, PGA in May, U.S. Open in June, Open Championship in July and the PGA Tour's Playoffs putting a bow on the year in August before the football season begins.
"It's better for our schedule," Zach Johnson said.