News
Players Championship 2018: Webb Simpson confident, not over-confident following a 'fun day' and five-shot lead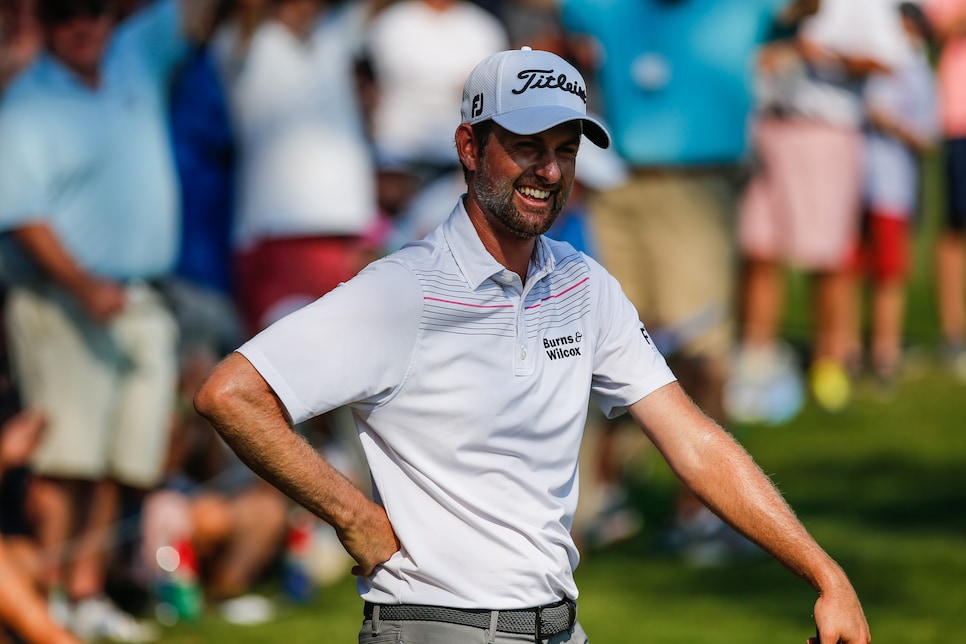 PONTE VEDRA BEACH, Fla. -- Webb Simpson was on pace Friday to go where no one ever had at TPC Sawgrass.
Then came the 17th, and he went where so many have: In the water.
Stuck between pitching wedge and sand wedge on the 147-yard par 3, he chose the latter and his shot came up short, the ball bouncing off the railroad ties fronting the island green and bounding across the putting surface into the water. He went on to make double bogey.
Instead of shattering the course record, Simpson had to settle for simply tying it with a nine-under 63.
"You're as focused as can be, but then at a certain point, maybe on 13 today, you start just -- like a kid, just kind of start laughing," said Simpson, who also tied the tournament record for consecutive birdies with six straight going into 17. "Everything is going in. You feel like no matter what, you're going to make it.
"I grew up on an easy golf course, so it reminded me of being back home, shooting low numbers. But at the same time you're at TPC Sawgrass, so you know that trouble is everywhere, as you guys saw with me on 17. But just a fun day. And it's rare as a golfer where everything is working well, driving, iron play, chipping and putting, and today everything came together."
The better consolation may be yet to come. Simpson takes a five-stroke lead into the weekend at the Players Championship. Charl Schwartzel, Patrick Cantlay and Danny Lee are tied for second. No player who has led by at least three through the first 36 holes of the Players has ever lost.
But Simpson, who is looking for his first victory since 2013 when he won in Las Vegas, knows there's a long way to go.
"If I can shoot nine-under today, a guy can go out and shoot seven-, eight-, nine-under [Saturday], and shrink it pretty quickly," he said. "I think it's a beautiful golf course in the sense that I could go shoot a few under [Saturday] because there's birdie holes out there, but if you're off a little bit, you make bogeys or double bogeys as easy as you can make birdies.
"I don't think any lead is safe."
Perhaps not with the way TPC Sawgrass has played, at least the first two days.
With soft conditions and smooth greens, 79 players made it to the weekend at one under or better. It marks just the fourth time in the last 20 years the cut has been under par. On Friday, 23 players shot four under or better.
Simpson was of course one of them and did so thanks in large part to a hot putter. Through two rounds he leads the field in putting and on Friday made 142 feet, 8 inches of putts.
It was a year ago at this event that Simpson, who had previously used an anchored putter prior to the ban at the start of 2016, switched to the claw putting grip at the suggestion of 2010 Players champ Tim Clark.
"Confidence is so big, and it can change the way you think," Simpson said. "Putting, there's so much -- there's read, there's grain, there's speed and then there's you. There's the stroke, the aimer, and so I think the best test for me -- like I didn't want to -- even with the short putter, I had tournaments where I putted well, but I never had stretches three months, six months, eight months where consistently I was a lot better.
"Once that kind of four, five, six months of really good putting hit, I started to believe again that I'm a great putter. It had been a long time since I've really felt that and believed it."