The Loop
Players Championship 2018: Watching caddies hit into the par-3 17th at TPC Sawgrass was … ugly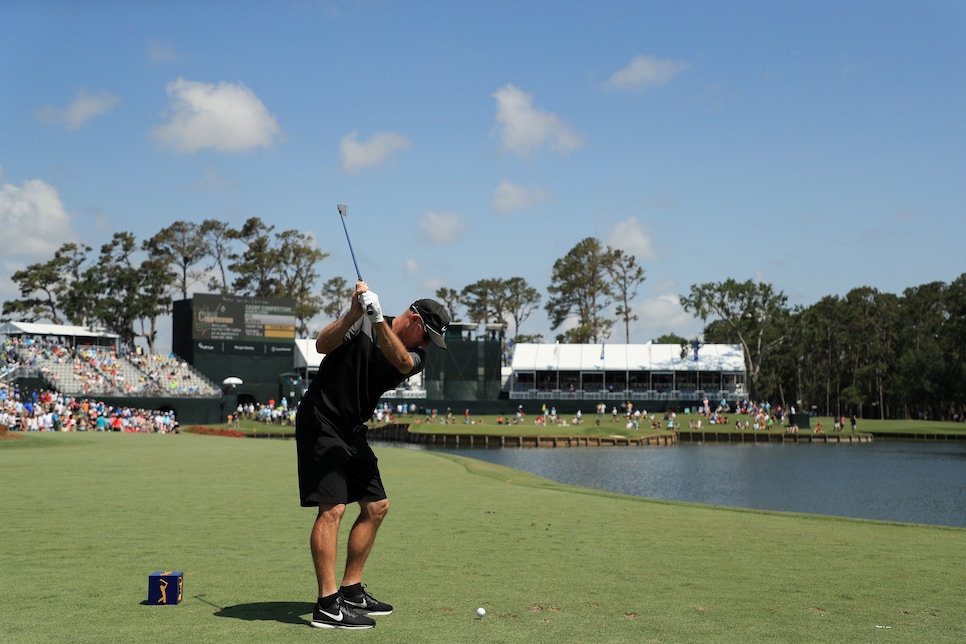 PONTE VEDRA BEACH, Fla. — Spend some time watching pros hit in to the par-3 17th at TPC Sawgrass during a Wednesday practice round and you won't see anything that exciting, save for an ace. We get it, it's an island green, there's water around it, big deal. For the world's best, it's a little pitching wedge, maybe a 9-iron if it's windy. Rory McIlroy was practically shaking in his boots over it during his press conference.
"I've always said, you put a bunch of grass around that hole and it's the easiest par-3 in the world," said McIlroy. "You just have to make sure you get the wind right."
Not exactly the 280-yard par-3 eighth at Oakmont we're talking about here. Take your 3 and move on.
As for the caddies, well, that's a completely different story.
One of the cool Wednesday traditions at the Players Championship is that the loopers get to take a swing on the famed 17th in the Caddie Challenge, offering them a rare opportunity to trade places with their bosses for a few minutes. I spent some time on Wednesday watching many of the caddies give it their best shot, if you could call it that. The results showed that for the rest of us mere mortals, the 17th is a torture chamber even on a Wednesday.
First to roll through was the duo of James Hahn and Si Woo Kim, and the defending champ's caddie went first, leaving it short right and in the water as his boss maniacally laughed in his face. Pretty ruthless, but not surprising from the confident, crowd-shushing young star who's not afraid of a little good-natured taunting. Hahn's caddie suffered an identical fate, short right and in the water. I blame myself. Bad mojo radiating off me, as is tradition.
On to the next, I thought, as the foursome of Phil Mickelson, Jon Rahm, Billy Horschel and Jason Kokrak made its way to the tee. Rahm's caddie, Adam Hayes, did the honor of going first, and he damn near missed it as one savage member of the gallery quipped:
Some pretty nice sauce with the one hand follow through, but a splash is a splash. Finally, the fourth and fifth times were the charm, as both Kokrak's and Horschel's caddie found the green. One fan, possibly the same savage, said of Horschel's caddie's snipe draw into the right side of the green: "See, that shot right there on Sunday, that's money." Watch out Brandel Chamblee, my man is coming for the analyst chair.
This group saved their best for last, as Tim Mickelson approached the tee with palpable tension in the air. A former college golf coach, and a solid college player in his own right, not to mention, Phil's brother? The people expected big things, and what they got was a borderline shank, and a hilarious reaction from Rahm, who let his former agent have it:
OK, so maybe not a shank, just the worst push in the history of pushes. Another angle from Golf Channel's Rex Hoggard:
Upon seeing the video, Tim gave a way-too-honest admission lesser men would have kept to themselves:
The funny thing was Tim was actually considering trying out one of his Phil's clubs and going lefty, but the gallery down the left hand side of 17 lived to fight another day instead.
The most-impressive looking shot of the day came from Dustin Johnson's brother, Austin, who sent a high draw at the pin that tailed off to the left and flew the green, which made sense considering he told ESPN's Michael Collins he was "going to take a little off a 9" iron. From where the caddies were playing it, it was in the 125-135 range. Not sure how much Austin plays, but with the way he struck it, 9 was always going to be too much. Not a great look for a caddie, but we're not judging.
Last but not least was the trio of Tiger Woods, Harold Varner III and Bryson DeChambeau, whose caddies had by far the most pressure-packed environment thanks to the massive group of fans following Tiger's every move. Varner embraced the caddie role more than any pro on the day, even offering his man a pre-shot butt slap, unprecedented:
The butt slap was enough to keep it dry, and after DeChambeau's caddie, Tim Tucker, knocked one on the green, it came down to Joe LaCava, who was working with an extremely dry grip thanks to Tiger meticulously toweling it off like a true pro. No excuses for Joey, right? Wrong. Might as well call him "Low and Left LaCava" after this one:
At least he connected on the fist bump with Varner, though we would have preferred a butt slap of encouragement. Better luck next year to all the caddies, and let's hope they don't over-club their players this week like Austin Johnson did on Wednesday, because they might not get another shot in 2019 if so.