News
Players Championship 2018: Patience, family help Webb Simpson handle tough times and become a winner once again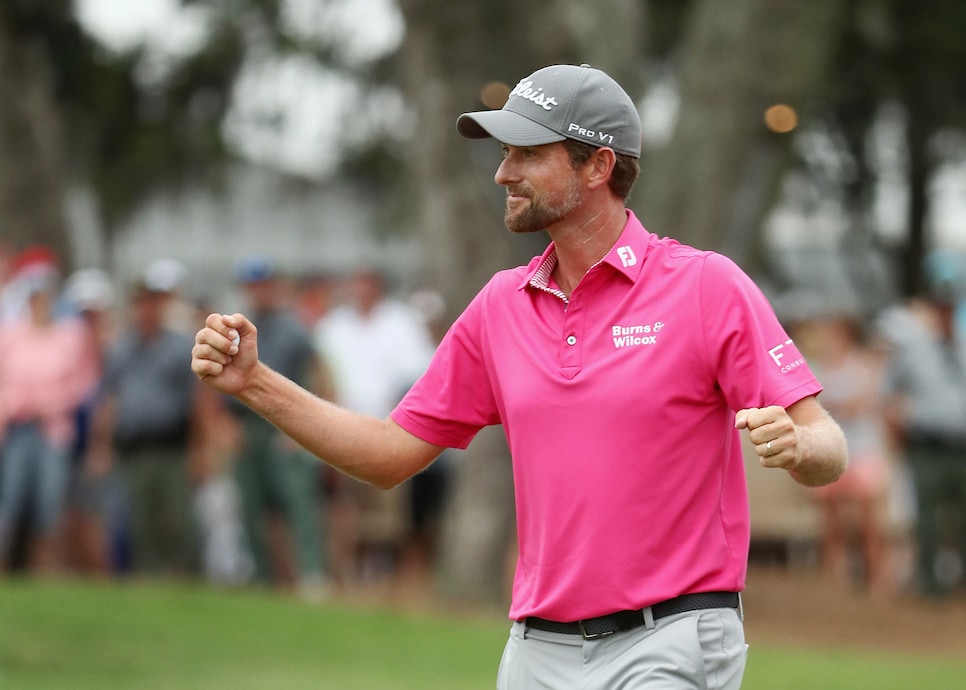 Photo By: Jamie Squire/Getty Images
PONTE VEDRA BEACH, Fla. — Debbie Simpson woke up to the faint smell of smoke in her Raleigh, N.C., home on Sunday. Worried because she was unable to locate the source of what she thought might be an electrical fire, she called the fire department, and two trucks and a half-dozen men showed up. They couldn't find anything, either, but she was glad they came anyway.
It had already been an emotional week for the mother of six. Last Thanksgiving, her husband, Sam, passed away at age 74 from Lewy Body Dementia, a crippling disease in which there abnormal deposits of a protein in the brain that affect certain chemicals and in turn can lead to problems with thinking, movement, behavior and mood. "I'm missing Sam of course," she said over the phone, fighting back tears as she woke up alone on Mother's Day for the first time in nearly four decades. "I wish he could see all of this. I'm nervous, and emotional, and I've cried so much, but I've felt so much love this week that it's been humbling."
It was a less stressful start to the day for the fifth of her six kids, son Webb, who began this morning like every other one he had this week, enjoying some quiet time at a Starbucks a few miles down the road from TPC Sawgrass. With a seven-stroke lead going into the final round of the Players Championship, he had plenty of reason to be relaxed.
Even so, the nerves proved more difficult to overcome than he thought.
"2:45 is such a late time," he said. "It's hard not to future cast and start thinking about 7 p.m. and what might happen." Or what might not. It had been 4½ years since Simpson's last victory, and no one had ever blown a seven-shot lead on the PGA Tour.
Despite a one-over 73 that included a double bogey on the 18th hole, Simpson coasted to a four-stroke victory. It was his biggest win since the 2012 U.S. Open Championship at The Olympic Club and his first since the USGA and R&A's ban on making an anchored putting stroke, a technique he'd used since his college days, that went into affect at the start of 2016.
"It means everything to me," he said. "I feel like it's my first win."
Golf had come naturally and at times easily to Simpson, one of Debbie and Sam's two boys and four girls. Webb got his start in the game by tagging along with his father at Carolina Country Club. When Webb was 8, Sam, a good twice-a-week player who usually shot in the high 70s, had director of golf Ted Kiegiel take a look at his boy's swing. By the time Webb was finished with high school, he was a hotshot recruit and the top-ranked junior in the country, earning the Arnold Palmer Scholarship to attend Wake Forest, where he went on to be a four-time All-American and was named ACC Player of the Year in 2008. He'd also reached the semifinals of the U.S. Amateur at Hazeltine National in 2006 (with Sam on the bag) and helped lead the U.S. Walker Cup and Palmer Cup teams to victory in 2007.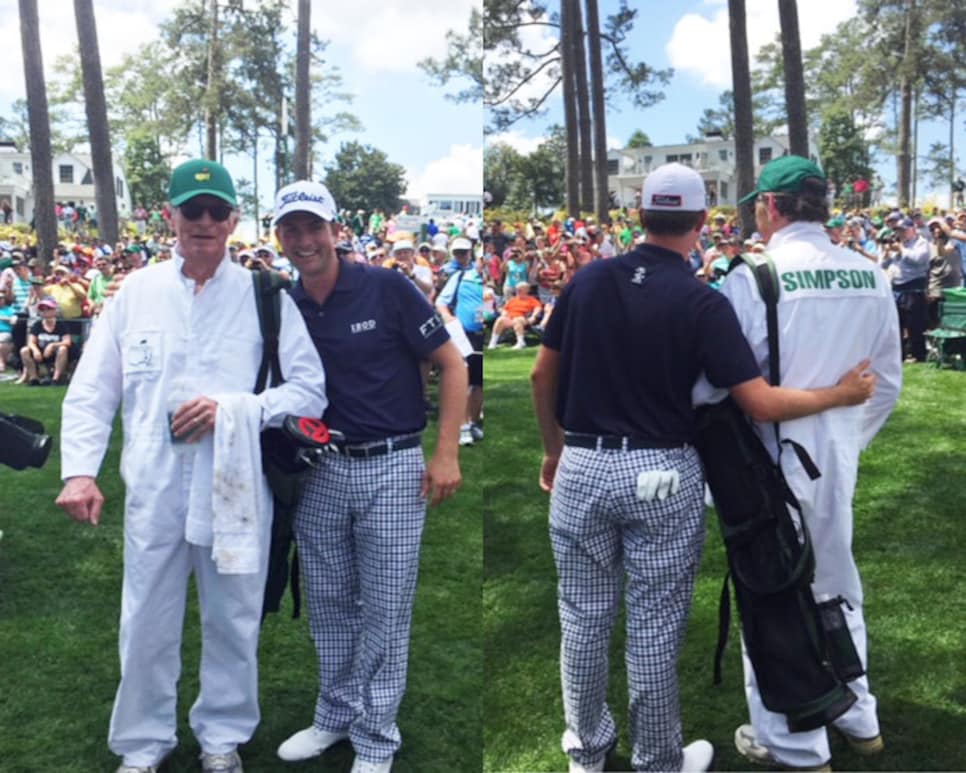 Success at the next level came quickly, too. After turning pro in June 2008, Simpson finished second in just his sixth start on the Nationwide Tour that year and three months later added another runner-up finish. That December, he tied for seventh at PGA Tour Q school to earn his card, and in his first two starts on the big stage finished in the top 10 in both.
Two years later, and after a couple of heartbreakingly close calls—a one-shot loss to Gary Woodland in Tampa and a playoff loss at the hands of Bubba Watson in New Orleans—Simpson broke through for his first career victory, cruising to a three-shot win in front of dozens of family members and friends at the Wyndham Championship in Greensboro, an hour west of where he grew up. He won again two starts later at TPC Boston in the second leg of the 2011 FedEx Cup Playoffs and in 2012 captured his first and only major on Father's Day before adding one more victory in 2013 at Sea Island.
"We all wanted it so badly for him," said Debbie of that maiden victory, adding that of all them, that was her favorite moment of her son's career. "Once he was on the green on the last hole everyone started crying. When people are cheering on your child it's such an endearing moment."
Not long after, though, he had to endure his share of tough ones.
In the years preceding the anchoring ban, Simpson ranked in the top 50 in strokes gained/putting all but once (he was 53rd in 2011) and was as high as 15th in his rookie year. In 2015, however, he tinkered with his stroke knowing the ban was coming, and the struggles began. Simpson had broken his broomstick putter, literally, to force himself to figure something else out, putting the busted club in the case that housed his U.S. Open trophy at home.
No matter what he did, though, nothing worked as an alternative. He finished the year ranked 174th in putting and was even worse in 2016. "I wasn't going in a good direction," Simpson recalls. "It was a couple years of struggle up and down."
Then came a chance meeting with Tim Clark early in the week of last year's Players. Clark, a winner at TPC Sawgrass in 2010 and a longtime anchorer who had endured his own hardships with the flat stick while trying to prepare for the ban, suggested Simpson give his modified claw grip a try.
"I saw him there and just asked him how his putting had been going, and he said he was struggling," Clark said from South Africa on Sunday. "I just showed him what I'd been doing back home and showed him how I gripped the putter and had him try it. Whether he does it exactly the same way, I'm not quite sure, but he's obviously worked hard at it and gained confidence.
"I tried lots of things leading up to the ban, and I'm sure Webb did, too. When you don't feel like you're putting good it changes your whole mindset and demeanor. The minute you see putts going in it can change everything."
To say it did for Simpson would hardly be an understatement. Since last year's Players, Simpson has 10 top-10 finishes, including Sunday's victory, and this season he ranks fifth on the tour in putting.
At TPC Sawgrass, he was even better than that.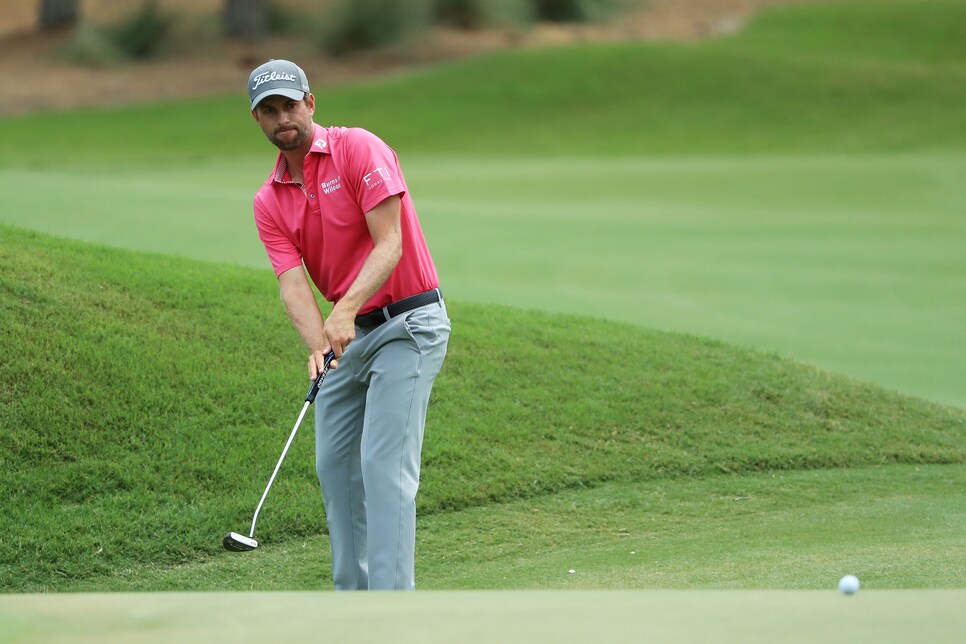 Sam Greenwood/Getty Images
Simpson led the field in putting for the week and in shooting a course record-tying 63 during Friday's second round, he made 142 feet, 8 inches of putts, taking just 23 in all on his way to nine birdies and an eagle, easily the best in the field. In all, he had just 108 total putts including 29 on Sunday.
"It starts to get at you," Simpson said of his prior putting woes. "I just kept telling myself that if I throw in the towel and if I give up I will never be successful, but if I stay at it, who knows."
The turning point for that motivation came at the 2016 Barclays, where he thought he'd missed the cut by one and gotten into an argument with his longtime caddie, Paul Tesori. After hashing it out in Simpson's car over the course of an hour, Tesori (who grew up just down the road from TPC Sawgrass, has played the course some 700 times and still lives in the area) convinced Simpson to quit whining and do something about his putting. The experimentation began.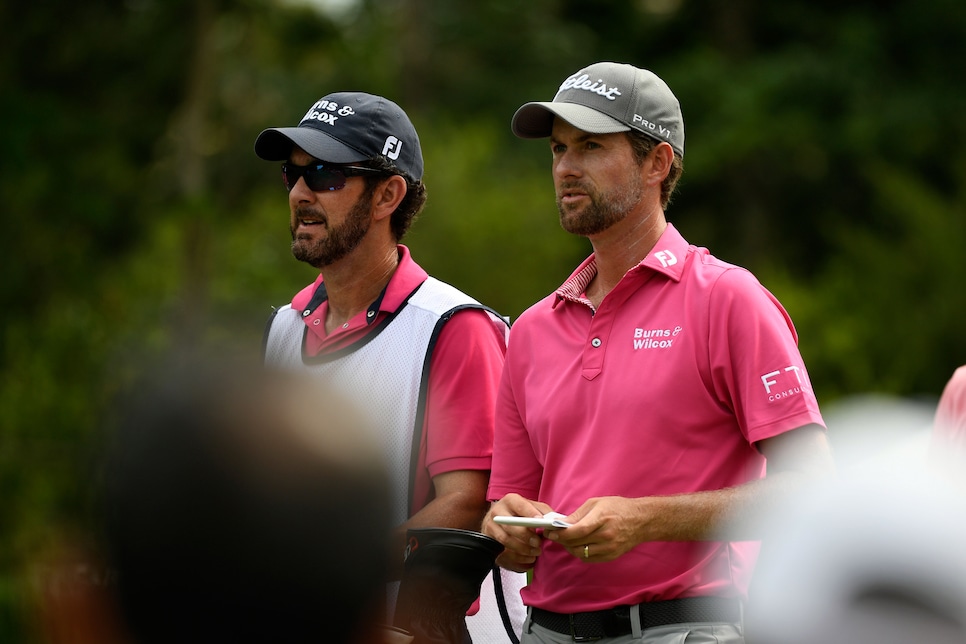 "It's what led to using the [Matt Kuchar]-style putter, and it's what led to me being open to listening to Tim Clark here a year ago," Simpson said. "I've never putted this well in my life, and I think if I had stayed with the belly putter—I think I maybe averaged 35th to 60th every year in putting, so very average—and this year I think I'm in the top 10. It's funny how those things happen, but, you know, this is probably the first time I can say I'm glad they banned it, because I wouldn't have ever probably swayed away from the belly putter."
Yet there were a few moments early on Sunday when he had to fight through some nervous energy. On the par-5 second, Simpson blasted his long eagle try 14 feet past the hole and missed the birdie coming back. He bounced back with a 30-footer for birdie on the seventh, but bogeyed the par-3 eighth after hitting into the bunker and missing a 14-footer for par.
Meanwhile, Danny Lee, playing with him in the final twosome, had birdied two of his first three holes to climb within five strokes. And then there were the roars emanating across the Stadium Course as Tiger Woods reeled off three birdies in a row. Woods was still a mile away in a mathematical sense, at eight strokes back, but his name loomed large when he knocked in another at the par-5 ninth to move into a tie for third. With two more birdies on 11 and 12 he was suddenly in second place and four back.
"I heard the roars," Simpson said. "His roars are definitely a different sound than everybody else's. But I knew he started 10 back or 11 back."
Simpson also knew how far he'd come and after bogeys on Nos. 8 and 10 a long two-putt birdie from 75 feet on the 11th helped settle him down. It also padded the lead again.
Though it was a day for moms, Simpson's dad was never far from his thoughts throughout. Sam was that one that introduced Webb not only to golf but his future wife, Dowd, whom the father paid $100 to go out on a date with his son when the two were in college at Wake. A mom of four herself, Dowd flew down to TPC Sawgrass on Sunday morning so she could be there for the final round.
As for Simpson's mom, she stayed behind in North Carolina. Even though she was Webb's biggest cheerleader when he was growing up, the one who shuttled him from one tournament to another and was there doing all the things that moms do, she and Sam decided long ago they'd let their son concentrate on work when he was playing tournament golf. She was never far from his thoughts, either.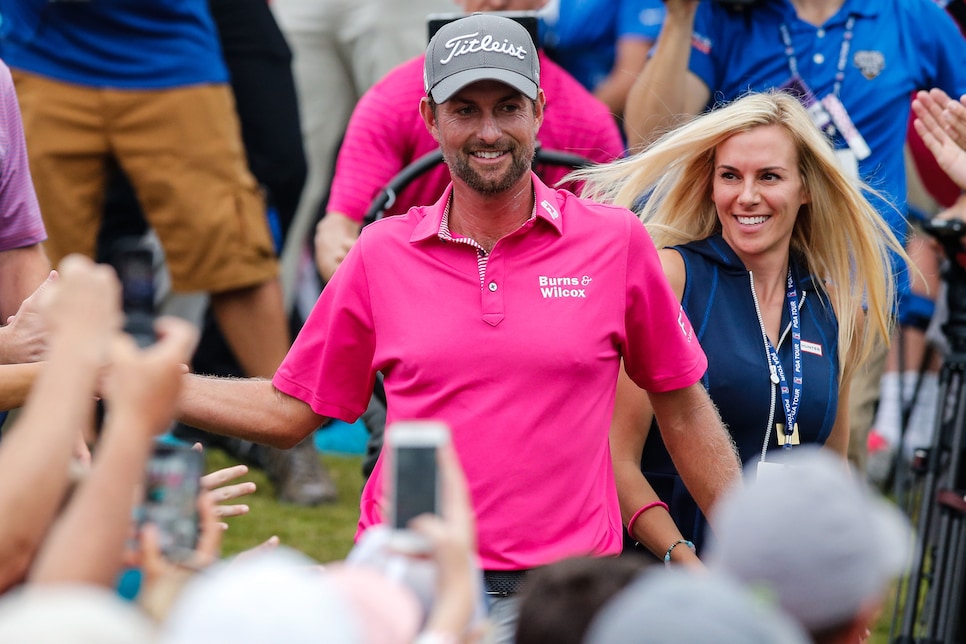 David Rosenblum/Icon Sportswire via Getty Images
"I always felt unconditional love and support from my mom no matter how I played," Simpson said. "She just wanted me to enjoy the game, and she didn't get wrapped up in the results and my junior rank and all that. I always felt the freedom when my mom was around just to play golf.
"To go through what she's gone through, losing [my dad] earlier than we all expected, you know, I think she's been maybe even more invested in my golf than before, which is hard to do because she's so invested before. But you know, to be on Mother's Day, and I know how much she prays for me and pulls for me and watches every putt and screams when I make long putts and hit good shots, I thought about her a lot today, and I knew she was watching every shot. It was for her, for sure."
And Simpson gave her the best present he could.