News
Players Championship 2018: Mackenzie Hughes finally introduces himself to Tiger Woods, enjoys 'hanging with him'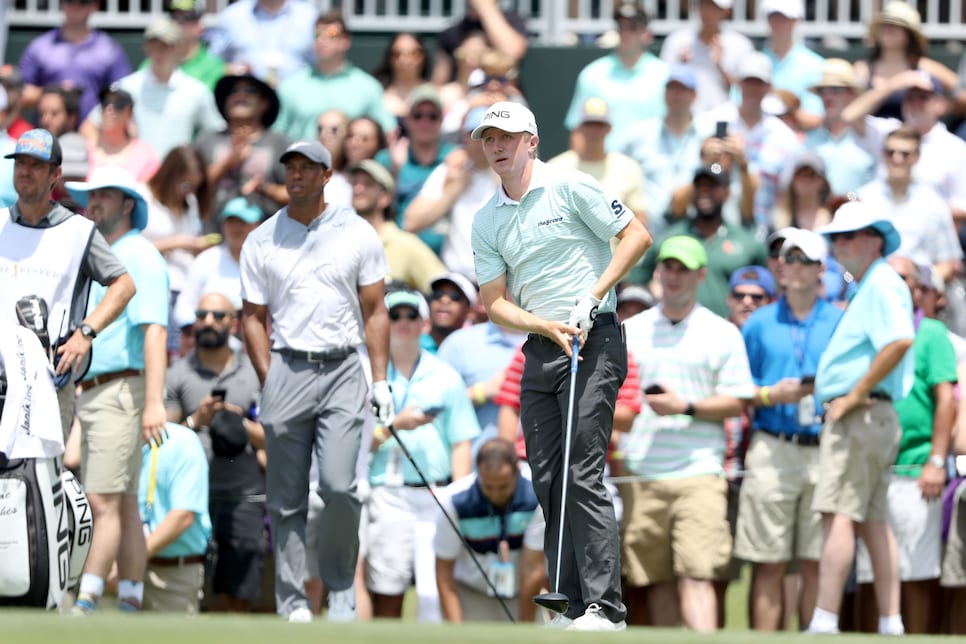 PONTE VEDRA BEACH, Fla. -- Mackenzie Hughes was having lunch near Tiger Woods in the locker room at Bay Hill earlier this year. The 27-year-old third year tour player was too chicken to say hello to the 14-time major winner.
"He was five feet from me," Hughes said. "I had no valid excuse to say, 'Hi I'm Mackenzie Hughes,' so I passed through quietly."
He didn't have a choice on Saturday morning. The two were paired together for the third round of the Players Championship.
The introduction turned out to be a pretty good one.
After making the cut on the number, Woods torched the front nine at TPC Sawgrass, going out in 30 before finishing with a career-best seven-under 65 to rocket up the leader board.
Even with an early tee time, the crowd swelled and the buzz grew as Woods birdied four of his first five holes and eight of his first 12.
It was an atmosphere closer to someone trying to win a tournament rather than being in the sixth group off in the morning.
"I was excited," said Hughes, whose one career victory on the PGA Tour came two years ago, a couple of hours up the coast at Sea Island. "He's somebody I looked up to my whole life. You watch all the majors he plays and all the majors he wins and it was really cool being alongside him competing against him and then for him to go out there and do what he did today was pretty cool."
It also took some getting used to for Hughes.
He double-bogeyed the third after missing the green right and pitching over it on his second before taking three more strokes to get down on the par 3. Three holes later, he rushed himself on a putt after getting a ruling and missed a four-footer for par.
"In the beginning I was out of my routine a little bit," he said. "On the first tee I was definitely a little nervous."
Once Hughes settled down, though, he handled the cauldron just fine, rolling in a 12-footer for birdie on the par-4 seventh then following with a 72-foot bomb on No. 8.
"The crowd knew I was there," he said. "Got a couple claps. That got me going."
He kept it going, too, getting up and down for birdie from behind the par-five ninth and adding another birdie from just outside 20 feet on No. 10.
Hughes, who has struggled this season with 13 missed cuts in 16 starts, made two more birdies on 15 and 16 before finishing with a pair of pars at the tricky 17th and difficult 18th for a 68.
"It's 90 degrees but you get goosebumps out there when you hear some of the roars and you realize, Hey I'm playing with Tiger Woods, and he's doing what he's doing and I'm hanging with him.
"It was fun. If you're gonna do Saturday early it might as well be Saturday with Tiger."