News
Players Championship 2018: Tiger Woods happy with Saturday 65, but leaves wondering what might have been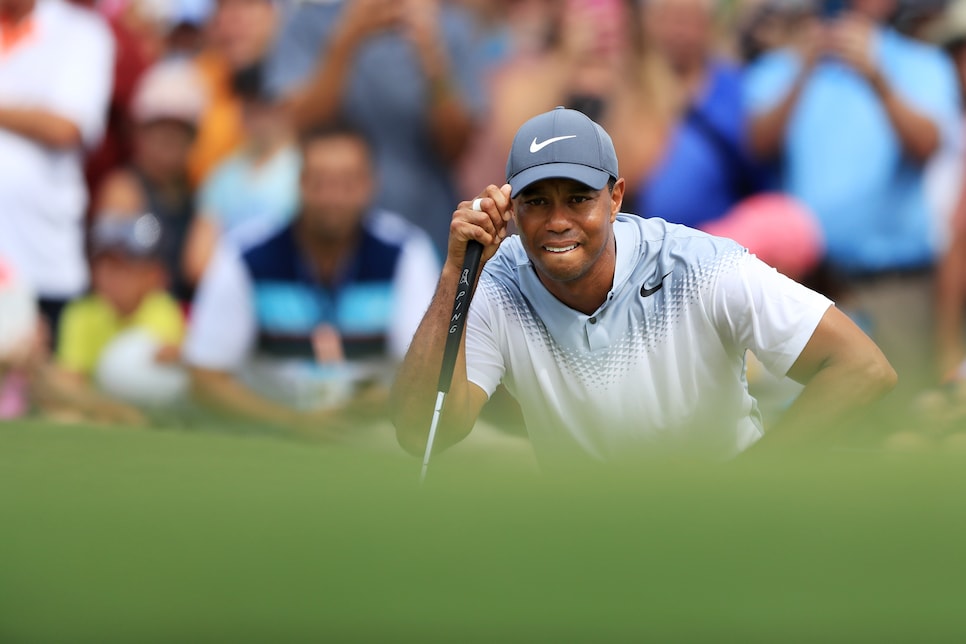 PONTE VEDRA BEACH, Fla. — When Tiger Woods dropped his eighth birdie at the short par-4 12th on Saturday at the Players Championship, his round suddenly had that freight-train feel so many of his career-low rounds have had throughout his career. It had been awhile since we saw Woods in the proverbial "zone" he was in during a second-round 61 at Firestone in 2013, or during his final-round 62 at the Honda in 2012, and there were reasonable doubts we'd ever witness it again.
But it's exactly what the massive gallery on hand was witnessing in the third round, and when Woods' tee shot at the 13th came to rest about 13 feet from the cup, you could sense it was going to be one of those special days. Even after his putt just missed for birdie, the momentum was still on his side. Then he got to the par-4 14th.
It's a hole that's plagued him so much over the years at the Players, most notably in the final round in 2013, when Woods made double bogey after hitting his drive in the water but still pulled out a two-shot victory for his second win in the event. Woods' drive there on Saturday stayed dry this time, but he caught an awful break when it hung up in the right rough, leaving him an impossible stance and lie from which to get to the green. He chunked it out short of the green, chipped it short and two-putted for his only bogey of the day. While there was time to get that shot back, it felt like the air had been let out of the balloon.
At 15, Woods found the right fairway bunker, and still gave himself a good look at birdie that tracked the whole way but just slid by. A lip-out birdie at 16, a mediocre tee shot at 17 that led to a par and another par at 18 added up to 65, which he said was "as high as I could have shot." For once, that didn't sound outlandish.
"I mean to be eight-under there through 12, realistically I probably could have got a couple more out of it and got to 10 for the day," said Woods. "That wasn't that bad a tee shot there at 14 and I ended up in a spot where I had to really, I didn't have much of a shot. I don't make birdie at 16. Seventeen's a sand wedge in there, but I'll take it."
He'll take it, but it likely won't be enough to seriously contend on Sunday, barring a catastrophic afternoon from the leaders, which he's not counting on.
"These guys are going to go low today again," he said. "I think that some of the guys will probably shoot better scores than I did out there today. It's definitely gettable. I know there's a lot of pressure coming down the back nine here, but I think these guys, the way they have set up the golf course today, it's set up for these guys to go low."
Woods' 65 is his career-low round at TPC Sawgrass, and his lowest since a third-round 66 in 2001. Despite his recent struggles, including his first 36 holes this week, the 14-time major champion knew a low number was coming sooner or later.
"Eventually I was going to put all the pieces together and today for the most part I did that. I hit a lot of good quality shots, I hit a lot of -- well I hit some shots in the correct spots, which was nice.
"As I've told you guys this week, I got my playing feels back and it's just a matter of playing and executing and putting the shots together. It was nice, I made some putts today, that was basically the difference."
While he walks away wondering what could have been, it was still an electrifying move that vaulted Woods to the first page of the leader board, giving everybody their money's worth an hour before the leaders even teed off on Saturday at the Players.