News
Players Championship 2018: Keith Mitchell, the last man in the field, impresses in first career round at TPC Sawgrass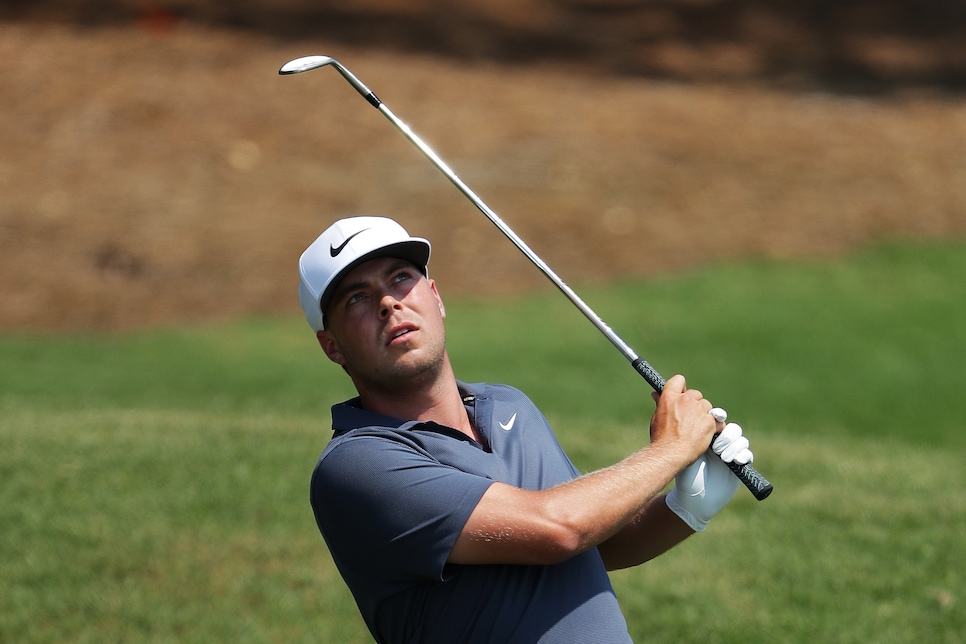 PONTE VEDRA BEACH, Fla. — During his Tuesday press conference, Tiger Woods was asked about recent rounds he's played with Web.com Tour graduates Sam Burns and Brandon Harkins, and how they've been able to find early success on the PGA Tour. Woods gave arguably his lengthiest, most-thoughtful answer of the afternoon, applauding the aggressive nature of up-and-comers.
Two days later, Web.com Tour graduate Keith Mitchell, who was the last man in the field thanks to a Paul Casey WD, made Woods' words sound prophetic in his first career round at the Players Championship. The 26-year-old University of Georgia alum came out firing, making four straight birdies to open his round and eventually carding a five-under 67, which has him one off the lead at TPC Sawgrass.
"Made a lot of birdies. It was fun," Mitchell said. "It was kind of calm this morning, so I was able to take advantage of the early holes and especially the reachable ones on the par-5s. So still got to keep those mistakes out of play—we hit a terrible shot on three, which cost us a couple shots—so try to get those out of the way. But all in all played great today."
On a golf course that can punish you if you're not careful, Mitchell held nothing back, which did get him into trouble on a few occasions. After turning in five-under 31 on the Stadium Course's back nine, Mitchell added another birdie at the par-5 second, putting him into a tie for the lead as he made his way to the par-3 third. There, he attacked a dangerous back left pin location, overcooking it into a green-side bunker and walking away with a double bogey.
"I'm more of an aggressive player, and it cost me pretty big time on No. 3 today," Mitchell said. "That was the back left pin, and I hit it long left and that's the one place you can't hit it. But to make a lot of birdies you've got to play aggressively, and on the Web.com you had to shoot 20-plus under a lot of times, so you learn to play more aggressively. So if you're hitting it well out here you can do it on the PGA Tour, but the problem is your mistakes are just magnified. So we've got to be careful out here, especially on this golf course."
The all-out approach is what got Mitchell to this point, so it'd be silly to abandon it now. In his second full season on the Web.com Tour, he ranked fourth in driving distance, third in eagles (holes per) and second in birdie average. In his rookie season on tour this year, he ranks 26th in birdie average and 14th in total birdies. It hasn't translated to a win on either tour quite yet, but he has made 11 of his last 13 cuts, including a T-6 at the Houston Open and a solo second at the Corales Puntacana Resort & Club Championship. Now, despite not even knowing he was going to play this week, he's firmly in the mix.
"I don't want to say it was a surprise. I've been playing well lately," he said. "I was surprised to be able to play, first of all, so that was more of the surprise, just to be able to tee it up. When we did, we just tried to take advantage of our opportunity."
Mitchell has another big opportunity on Friday when he tees off at 2:14 p.m. (EDT), which could be a much different challenge with the Florida sun beating down and drying out the course, making for some tricky greens. Whatever happens, it doesn't sound like Mitchell is going to change a thing.
"Same as always. Relax this afternoon. Maybe hit a few putts. Go back to the hotel and wake up and try to do it again tomorrow."