Editor's Note: This article first appeared in Fire Pit Collective, a Golf Digest content partner.
PONTE VEDRA BEACH — This Scottie Scheffler, with his wide shoulders and ambling gait, brings to mind the jock from yesteryear. He brings to mind certain of his golfing forebears, men who could have played anything and sometimes did. Mike Souchak, for instance. Before he was an Ike-era Ryder Cupper, Souchak was a kicker and a receiver at Duke. Scheffler was a widely recruited high school linebacker. By his walk and his look, you'd buy that, wouldn't you?
Scheffler, 26 going on thirtysomething, has been your reigning Masters champion for about 11 months now, and on Sunday he won the Players, by a field goal and a safety. The tournament was kinda interesting for about six minutes. Scheffler and his playing partner, Min Woo Lee, a 24-year-old Australian with a beautiful swing, were tied for the lead on the 4th tee, but Lee made triple there and all the air suddenly went out of the balloon. Poor Paul Azinger. More than three hours of broadcast time remained.
In a few weeks Scheffler will host a Tuesday-night dinner in the Augusta National clubhouse that will be like nothing another Texan, Ben Hogan, could have imagined when he started this supper with a very definite dress code. (Club coat, no socklets.) As the 2023 Players winner, Scheffler will now get his name in gold letters on stained old-money wood in the men's locker room. The name on the top of that column belongs to . . .
the player whose name must be whispered:
If Cam Smith, pride and joy of LIV Golf, wins this year's Masters, will you be shocked?
The Aussie, who lives in Jacksonville and catches bass by the bucket and has his mullet tended by a Jacksonville barber named Lee Trevino, pitches, chips and putts his ball like a man on fire. We're talking Olazabal-level. Jordan Spieth. Tiger in his prime, for crying out loud.
Last year, in a four-month span, Smith won the Players and then glory's last chance, the British Open at St. Andrews in July. Yep, the guy who navigated the Stadium Course so well last year also plotted his way around the Old Course with stunning efficiency. You couldn't imagine two more dissimilar courses.
But nobody would call the Stadium Course, which Scheffler played in rounds of 68, 69, 65 and 69, the second coming of Augusta National.
This year's Players will be remembered for Scheffler's dominating performance, and for those who were missing. For the first time in a long time, the MIA list hurt this event. Smith, Sergio Garcia, Dustin Johnson, Brooks Koepka and Phil Mickelson were all out on account of LIV.
Yes, the House of Saud has an open-door policy, if you're one of the Chosen Ones, the Get-It-While-You-Can 48.
Yes, there are suits and countersuits and you can read all about it in LIV and Let Die. All Alan Shipnuck has to do is write it.
Speaking of titles, The Chosen One was the headline on Gary Smith's 1996 Sports Illustrated cover story that all but predicted Tiger Woods would drive off a dry road and into a tree in 2021 and be sued by his former live-in girlfriend, Erica Herman, in 2023.
It's all too messy and sad to revisit here, but this judgy yet logical question was going around last week, at the highest levels of the game: Erica was in Tiger's life, and in the lives of his two children, in a lot of good and trying times over the past half-decade. Was there not a way to end this relationship amicably?
The $30 million question.
It was not like this for Arnie and Jack, or Hogan and Snead, or Sarazen and Hagen, or Young Tom and Mungo Park. Something changed. But what exactly?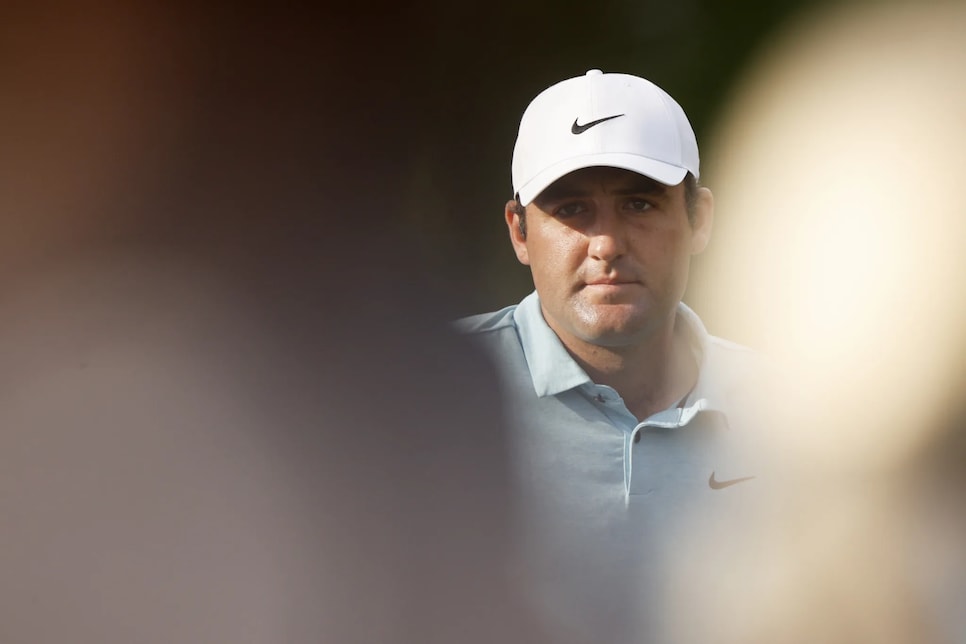 This Scottie Scheffler. He's about as likable and middle-of-the-road as a star golfer could be. His swing and his demeanor bring to mind Steve Jones, winner of the 1996 U.S. Open. Jones was just a guy, too. The swing doesn't need to be perfect. The golf doesn't need to be perfect. The person behind the golfer doesn't need to be perfect. Of course not.
Steve Jones earned $425,000 for that win in 1996 at Oakland Hills, on the outer rim of Detroit.
Mike Souchak was once the head pro at Oakland Hills. Yep, done as a Tour player, he needed a job.
Scottie Scheffler made $4.6 million for his efforts at TPC Sawgrass.
Of course it's funny money. Professional golf has no intrinsic value. But it is an effective way to sell whatever it is that Morgan Stanley and Optum and Grant Thornton sell. Some years are more effective than others.
In the pro shop here, there was not a single golf club for sale, but you could buy custom belts made of alligator, ostrich and python skins for $600 and $700 and $800.
This Scottie Scheffler. Nothing about him suggests that money is his main motivator in life.
He drags the club behind him at times like he's walking a dog.
After he won the Masters last year, he told the world about his Sunday-morning insecurities: "I cried like a baby this morning, I was so stressed out. I didn't know what to do. I was sitting there telling [wife] Meredith, `I don't think I'm ready for this.'"
It was one of the most revealing things ever said about why tournament golf matters so much. We care because they care.
You want to beat everybody. If you're Tiger Woods or Steve Jones or Mike Souchak or Scottie Scheffler, you want to beat everybody. But all you can do is beat the guys in the tournament you're in.
Scheffler started 2022 without a PGA Tour victory on his resume. Now he has won six times in the past 13 months and ascended to No. 1 in the World Ranking, looking all the while like he has one thing on his mind: getting to the house and being the low man in it.
His Sunday-night plan was to get dessert at his grandmother's.