Women's History Month
Players 2022: How history is being made behind the scenes at TPC Sawgrass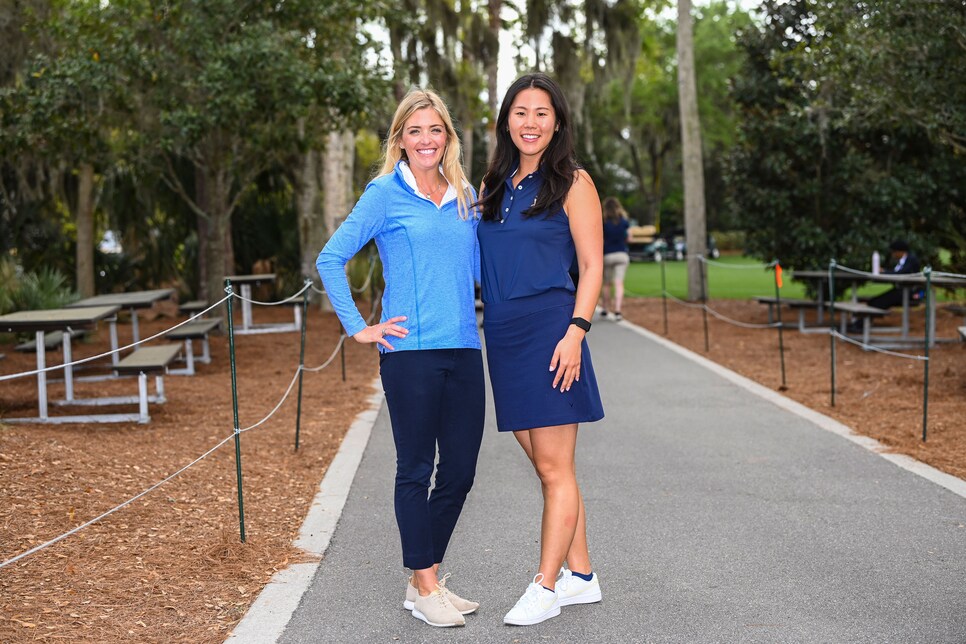 Leslie Grabeman and Sharon Shin are the first two women to serve as tournament administrator at the Players.
Keyur Khamar
PONTE VEDRA BEACH, Fla. — It takes a village to pull off the Players Championship. The most visible participants are the players themselves, their caddies and the volunteer marshals begging the crowd to be quiet. But there's also an entire operation of professionals working away from the cameras that helps make the tournament happen.
Two of those unsung helpers are Sharon Shin and Leslie Grabeman, who serve as tournament administrators at the 25-ish events they travel to per year. Both former college golfers—Shin at CSU-Northridge, Grabeman at Memphis—they handle player and caddie registration and liaise between PGA Tour headquarters and the on-site tournament staff. They are the first women in PGA Tour history to serve in this capacity, and before their promotions, they worked as the first two female scoring officials in PGA Tour history.
"I think we're getting better," Shin, who started with the tour in 2018, said of the tour's internal initiatives to bolster female voices. Three of the tour's 13-person executive leadership team are women: Allison Keller, chief administrative officer; Laura Neal, executive vice president of media content and communications; and Neera Shetty, executive vice president of social responsibility and inclusion.
"With any male-dominated sport, it's hard to stand out," Shin continues. "But with us, it verifies the hard work that got us here. And we see a lot of different women now in different roles and it's awesome to see that happening."
Grabeman noticed players' being a bit hesitant her first year out on tour back in 2014, not knowing exactly what to say to the lone woman around—but no longer.
"They've developed trust with us," she says. "They know because we played the game that we have experience, that we know what they're talking about. People were tip-toeing at first, just because it was new territory, new ground. And now with Cara [Canington] joining the player relations department, it just shows that there's no limit to what we can achieve here."
Canington, too, became the first woman in tour history to serve in her role. And the first congratulatory email she received came from Shin.
"It's hard to break into this world because it's all men," Shin says of Canington's role, which sees her serve as a point of contact for anything players might need throughout a season. "I told her that we have a great group of girls out here traveling on tour, we go out to dinners every week, we're all here for each other."