PGA Tour
Players 2022: Scottie Scheffler recalls the one par save that was more clutch than his epic 15th-hole save at Bay Hill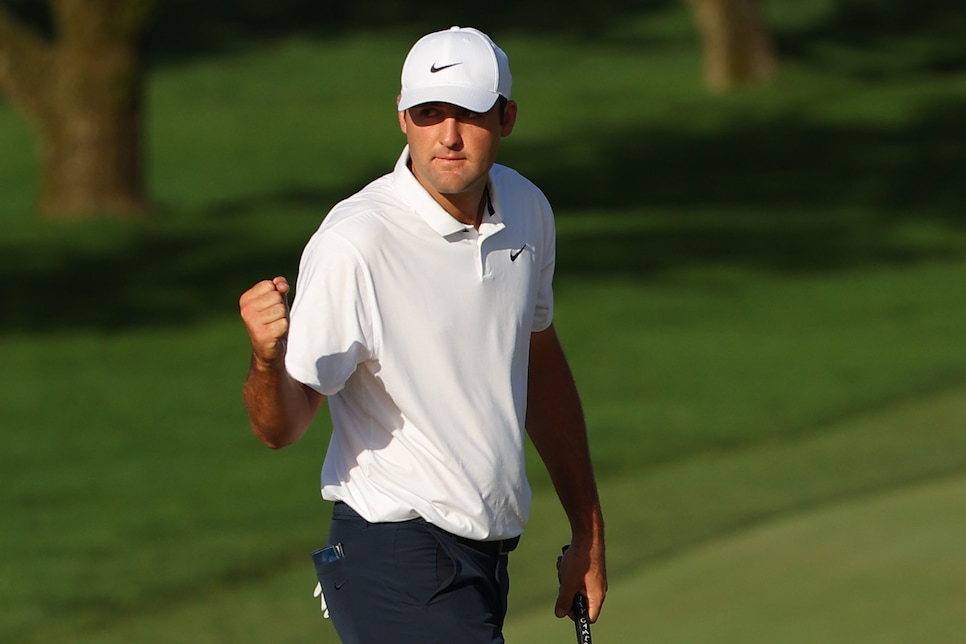 PONTE VEDRA BEACH—Scottie Scheffler didn't have to give the question a second thought.
Of course, his par save at the 15th hole in the final round of the Arnold Palmer Invitational last Sunday was the most clutch par of his career. Hell, it might go down as the most clutch par save of the entire tour season. Stuck behind a tree after a wayward drive. A Club Pro Guy-esque punch out that barely traveled 30 yards. A hack-and-run approach shot out of the thick Bay Hill rough from 150 yards away, which left him with a 21-footer. Bang. Fist pump. His par-par-par finish was impressive, too, but he won the tournament with the Houdini act at the 15th.
"Probably not," Scheffler said when asked if he could recall a bigger par save in his life. "No, probably not. That's probably the..."
Wait, hold the phone. After a mini pause, Scheffler did, in fact, recall an even gutsier par save from his Web.com Tour, er, Korn Ferry Tour days, hard as that is to believe.
"Actually there's one," he said on Tuesday at TPC Sawgrass. "I got up-and-down my last hole in Q-school to get my card for the Web.com, and I would say I probably felt more pressure over that one than I did at Bay Hill just because you're kind of fighting for your career. It's a little bit of a different environment."
Scheffler, who can take over the World No. 1 ranking with a win this week at the Players Championship, has come a long way since that 18th hole par save in the 2018 Web.com Tour Qualifying Tournament. In the last seven months alone, he's dominated Jon Rahm in Sunday singles at the Ryder Cup, fended off Patrick Cantlay in a playoff at the Waste Management Phoenix Open and hung on to win on an impossibly-tough Sunday at Bay Hill.
One could argue that no moment prepared him for moments like that par at the Qualifying Tournament.
"I think the one at Q-school, I got up-and-down on 17 and made birdie, and then to get on the number, and all I have to do is par 18," Scheffler explained. "I hit it right down the middle, had like 125 yards to the pin, and I hit the worst wedge shot that I've ever hit in my entire life, like a snap-hook, 150-yard shot that went like 25 yards from the pin. I was on a downslope kind of chipping back to the green, and I'm like, how did I end up here? There's all that pressure of what I'm going to do the next year and those thoughts start coming in, and I ended up chipping it pretty close and tapping it in.
"I would say that one I probably felt a little bit more pressure just because the stakes were a little bit different."
The moral of the story: having multiple career-best par saves to choose from is a good problem to have.