The Loop
Play halted, Europe ahead in three matches
NEWPORT, Wales -- They held out as long as they could -- perhaps too long judging by the number of puddles on fairways, greens and in bunkers -- but play in the Ryder Cup was suspended at 9:45 a.m. because of heavy rain.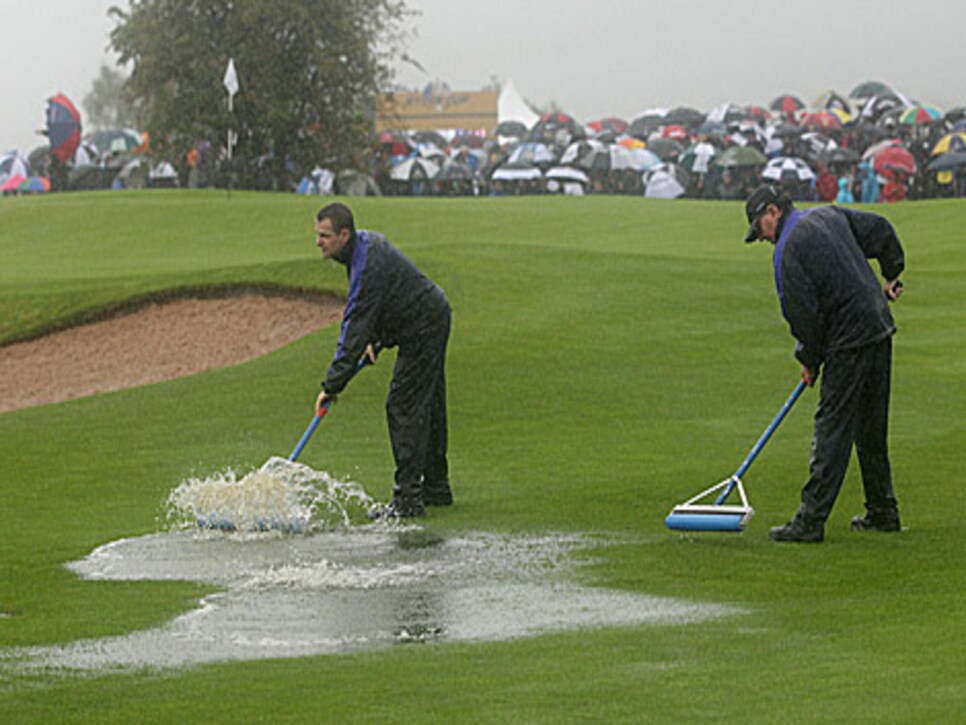 The break could be a needed reprieve for the U.S., which is already down in three of four matches two hours into play:
-- Lee Westwood and Martin Kaymer are 2 up in the opening match against Dustin Johnson and Phil Mickelson.
-- The Northern Ireland team of Rory McIlroy and Graeme McDowell is 1 up on Stewart Cink and Matt Kuchar.
-- Ian Poulter and Ross Fisher are back to 1 up on Steve Stricker and Tiger Woods after Poulter birdied the par-3 third hole.
-- Surprisingly, the one American team that is ahead is the rookie pair of Bubba Watson and Jeff Overton. Overton holed a putt from the fringe on the first hole for an opening birdie, and Watson followed that with a birdie on the par-5 second. They are 2 up through three holes.
Speculation has begun that play could be three or four hours away from resuming.
"I'm most disappointed for the fans, really," said Westwood, who hit the first shot for Europe, a drive into the middle of the first fairway. "They've been unbelievable. They gave us an incredible reception on the first hole. They've been brilliant. I would carry on, but we were struggling to find dry places in the fairway. The greens were holding up."
Asked if he had played in worse weather, Westwood chuckled. "Not when there wasn't anything on it. If I was home playing with the lads, I think we would have stayed in the bar."