Women's clubs
Ping's G Le3 clubs address the question of what women want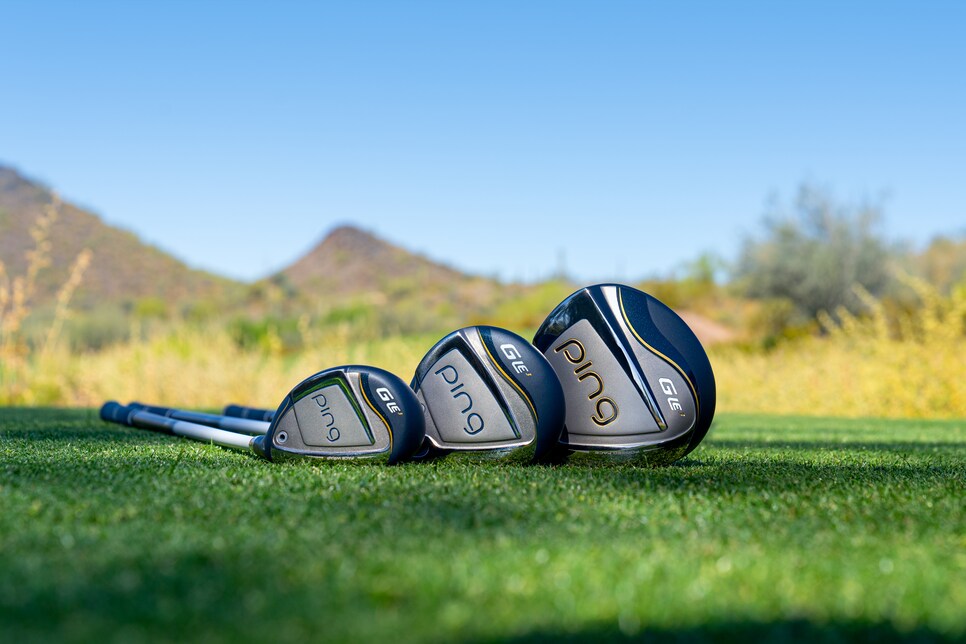 Sigmund Freud once said, "The great question that has never been answered, and which I have not yet been able to answer, despite my 30 years of research into the feminine soul, is 'What does a woman want?'"
It's a question that has plagued golf equipment makers for years as well. Although some companies have made an earnest effort to dissect the swing of the female golfer and design clubs specifically for them, far too often women have had to settle for a lighter version of a men's model with a different color scheme.
Ping latest iteration of its G Le model, the G Le3, eschews that mindset. "Our ongoing commitment to engineering lightweight, easy-to-hit, premium clubs for women is rooted in Ping's long history of supporting women's golf, dating back to the early 1970s. It started with my grandparents, Karsten and Louise Solheim, and continues today with the Solheim Cup and other game-growing initiatives," said Ping executive VP Stacey Pauwels, who oversees the development of Ping products made exclusively for women.
The set includes driver, fairway woods, hybrids, irons and putters, and the full-swing clubs reflect the commitment to distance through a different understanding of how women players create swing speed and ball speed and how clubs can be manufactured to better line up with the speeds these golfers create.
"The G Le3 family offers a full set of performance-engineered, custom-made clubs that deliver added distance, unmatched forgiveness, a confidence-inspiring look and a pleasing sound," Pauwels said. "In developing the line, we also made proper gapping a top priority to help ensure women get the best results from their set. That starts by visiting an authorized PING fitting specialist to determine the ideal set make-up and specifications, based largely on the player's swing speed."
The G Le3 driver ($540) is optimized for swing speeds of 80 mph or less. Doing so required lightweight shafts and grips in an effort to boost swing speed as well as a 460cc titanium head with a forged face maximized to get the best results from slower swing speeds. The center of gravity and moment of inertia are optimized thanks to a high-density fixed weight in the back. The low, back, and slightly heel side CG position helps deliver faster ball speeds and higher launch with tighter dispersion. The adjustable hosel allows the 11.5-degree loft to be adjusted plus or minus 1.5 degrees and up to 3 degrees flatter to dial in the player's ball flight.
Fairway woods require not only distance-enhancing properties, but the ability to launch them high as well. This is particularly critical for slower swings that sometimes need a boost in achieving the proper lift. For G Le3 ($325)that meant creating a stainless-steel club with a maraging steel face wrap to foster face flex while reducing spin. A variable roll radius better accommodates mis-hits, especially those low on the face as the more consistent spin results in higher ball speeds. Available in 3-, 5-, 7- and 9-woods, the high-MOI fairway woods are adjustable for loft and lie as well.
For many women, hybrids are a perplexing proposition. Yes, they often are easier to hit than irons, but often not as effective as a high-lofted fairway wood. Ping addressed part of that challenge by making the G Le3 hybrids ($245) a quarter-inch longer, making them swing closer to a fairway wood. Like the fairway woods, they rely on a springy maraging steel face that flexes at a faster rate to provide higher-launching, longer-carrying shots. The dual-roll face is optimized to the target swing speed, providing consistent spin, especially higher on the face. A three-dot alignment aid on the crown, with the middle dot slightly larger, aids alignment.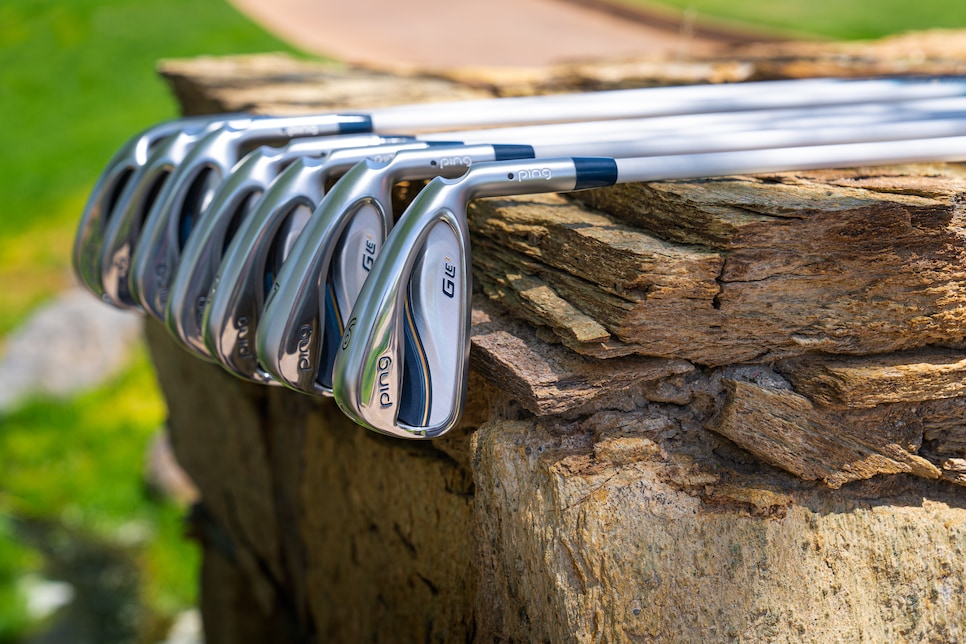 The irons and wedges ($185 each) are designed to work seamlessly with the hybrids, allowing players to mix and match irons and hybrids to find the proper set makeup. Available in 6- through 9-iron with three wedge options (PW, UW, SW), the stainless-steel G Le3 irons feature a low CG and a thin face that positions mass low and to the perimeter, assisting distance, forgiveness and launch—all desirable traits in an iron. High-density heel and toe weights contribute to added forgiveness and allow for light swingweights, making the irons easier to swing.
Ping engineers applied the design attributes of the iconic Eye2 sand wedge Its slimmer hosel, wider sole and more traditional head shape combined with fully machined grooves (also found in the PW and UW) make bunker shots easier for those that often fear that shot the most.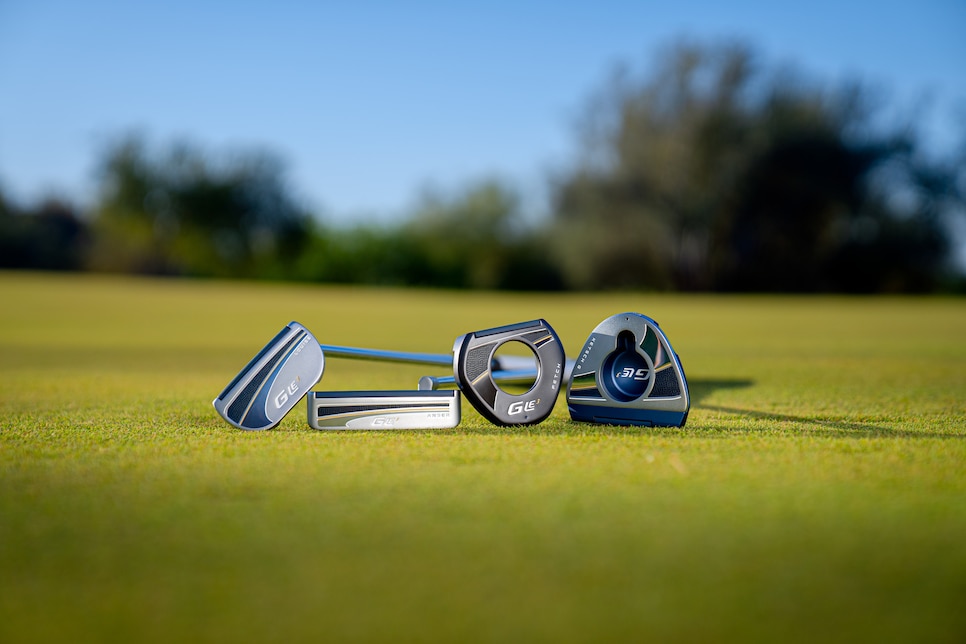 The four putters ($250 except for the Ketsch which is $325) all check in at b33 inches in length and cover the gamut from slight arc to strong arc strokes as well as those with straight back and straight through paths. All four models are engineered with a white, two-piece Pebax elastomer insert consisting of a soft front with PLD-inspired shallow grooves and a firmer back to ensure the optimal combination of feel, forgiveness and distance control.
Along with the iconic blade-style Anser, a new mid-mallet pays tribute to Louise Solheim, Karsten's wife. Known simply as "Louise," it borrows its shape and weighting properties from the tour-proven Ping DS72 but differs with a mid-slant hosel and parallel tip shaft to best fit a strong stroke type. It also offers the full-face insert and a sight line on the cavity floor to aid in alignment. Two mallets–the Fetch and Ketsch—also are available. All four putters are built with the new G Le3-specific, pistol-style PP59 grip, distinguished by an updated PU wrap that provides a better feel and premium look.
Speaking of aesthetics, the G Le3 family boasts a color combination of navy, gold and silver accents, creating a premium look.
The G Le3 line of clubs is available for custom fittings and pre-order at authorized Ping golf shops immediately.