Courses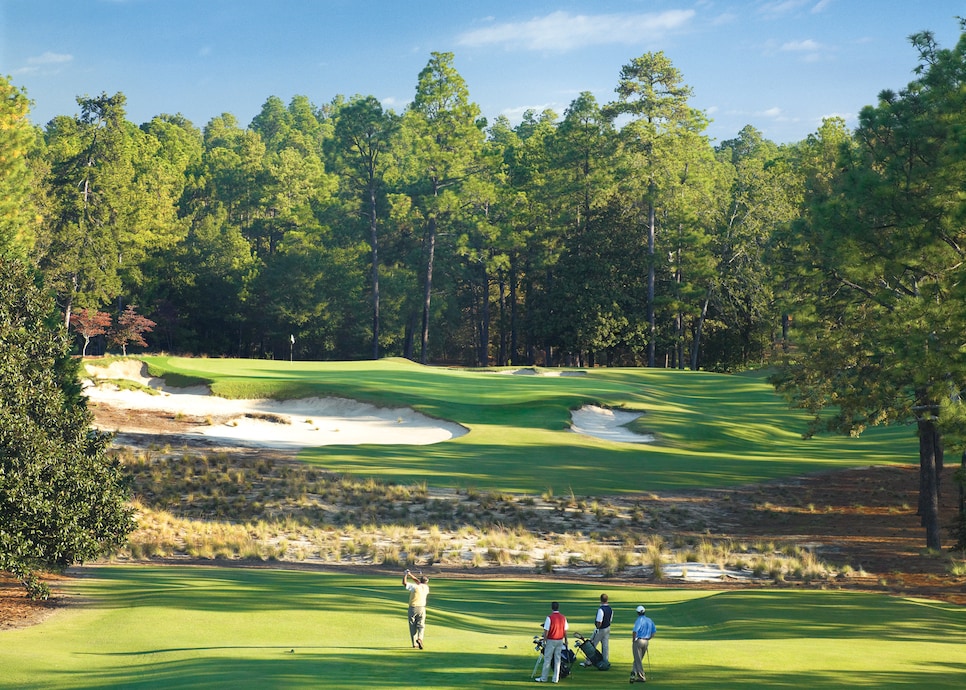 Nothing says "historic American golf" more than Pinehurst Resort. The notable North Carolina resort is on most golfer's bucket lists, but what a lot of people don't know is just how diverse a Pinehurst experience can be. Eric Alpenfels, Pinehurst's director of instruction and golf academy, has been with the resort for 33 years. He's seen every ability of golfer come through the school and has in-depth knowledge of the characteristics of each of the 9 courses there, the first of which dates back to 1896--a bit before Alpenfels' time.
Of course many visitors come to Pinehurst to play the storied No. 2, the 1907 Donald Ross classic that has hosted 2 U.S. Opens, a Women's Open, the Ryder Cup and numerous other professional and amateur championships. When helping a guest decide which course, or courses, to play, Alpenfels would certainly never steer anyone away from playing this top-ranked layout with its crowned, undulating greens and scruffy waste bunkers if that's what they really, really want to experience, but he'd caution: " If No. 2 is on your list, do it. It's probably not going to be your best round. And just pick up if the going gets rough on a hole."
We asked Alpenfels for his expert advice on the perfect pairings of courses to play for three different groups of golfers. "All courses have multiple tee options so you can pick your distance, but the challenges vary," he says. And Donald Ross didn't want the first hole of any course to be too difficult to give the player a chance to warm up a bit. Apply that same idea to the order of the courses you play, says Alpenfels, and you'll have a much more successful outing.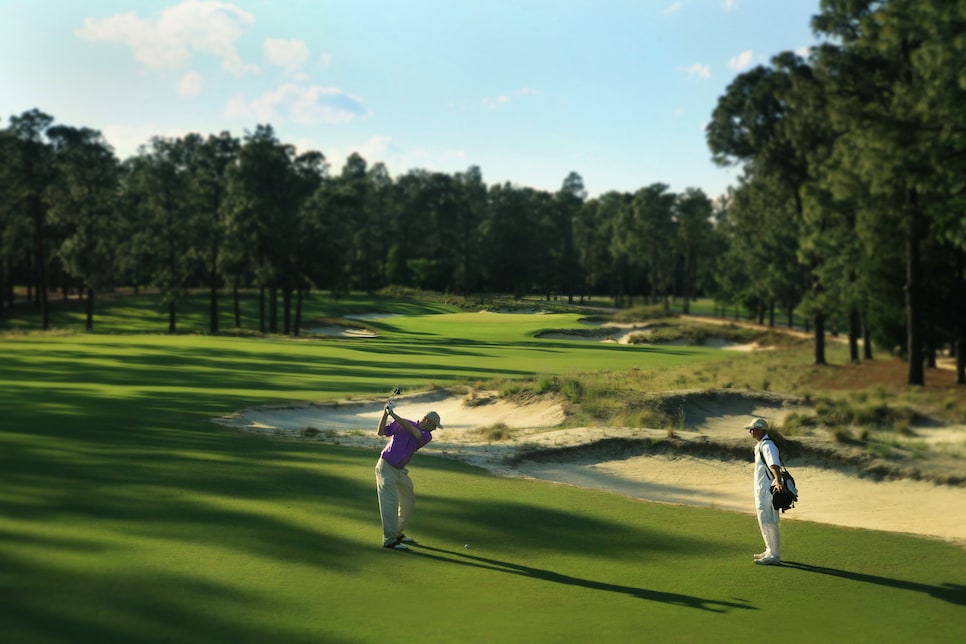 A Buddies Trip of Mostly Low Handicappers:
No 2. is the hardest design at Pinehurst, with turtle-back greens and numerous three-shot holes (the Championship tees play from 7,588 yards). Poor approach shots will bounce away from the flag. But the course's strategic characteristics, natural beauty and rich history will more than make up for its difficulty. It's cart-path only so take a caddie to enhance your experience.
Nos. 2, 4 and 8 offer a similar flavor, with Donald Ross style swales and slopes, so if you're playing No. 2, pair it with either No. 7 or No. 9 for a different style of play, suggests Alpenfels. No. 9 is a Jack Nicklaus Signature Course that has its own clubhouse and a secluded, private-club feel. It provides a friendlier challenge with wide fairways and five sets of tees. No. 7 is a Rees Jones course that opened in 1986. Its elevation changes, wetlands, forced carries and length (only No. 2's U.S. Open tees play longer) favor players who can shape the ball and stay out of trouble.
Parent and Child:
If you're traveling with kids or brand new golfers, No.s 1 and 3 make a good pairing. "The length and the terrain are not as dramatic as some of the other courses. You don't have the elevation issues of No. 7 or the crowned greens that make No. 2 so challenging," says Alpenfels. But you do have the deeply embedded Pinehurst history on each. No. 1, which dates to 1898, and No. 3, from 1910, both feature Ross's handiwork. On No. 1, hole 18 has a reachable par 5 and a good starting yardage at 5,193, maxing out at 6,089 from the tips. No. 3 is the shortest course at Pinehurst and offers three sets of tees under 6,000 yards. Both courses allow golfers to run the ball up to most of the greens. "No. 5 and 6 are good options when you have graduated to the next level," says Alpenfels. On No. 5, there are more water hazards and some elevated greens with some undulations, and you need to be able to carry the ball, making 5 harder than 1 or 2 but not as challenging as 2," he says. But the greens, which are due to be converted to Bermuda grass this summer, are not as undulating. "Pinehurst is changing with the times. It's a great surface and the best product for our customers," says Alpenfels.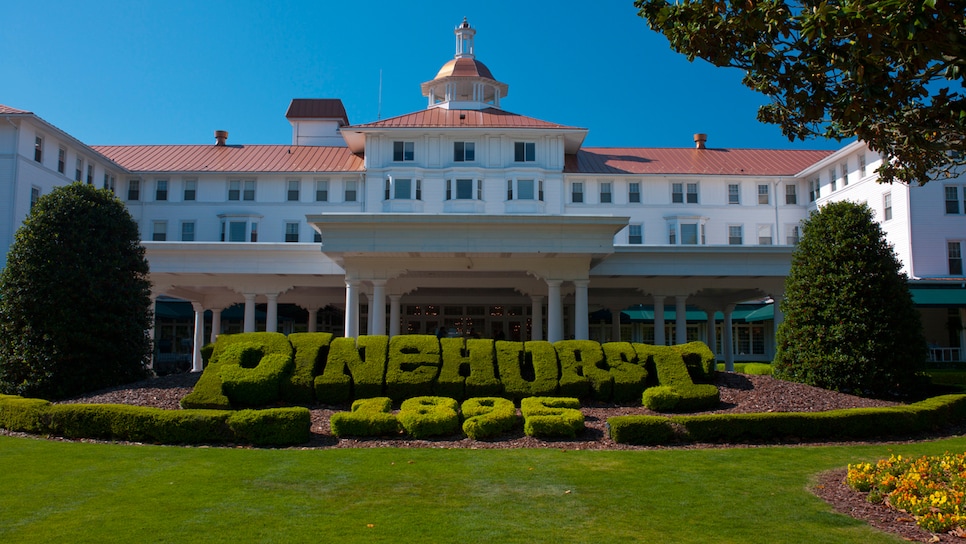 Women's and/or Couples Getaways:
No. 4 and No. 6 are good options for female players of all levels, says Alpenfels. "The yardages are still manageable, and the fun, strategic challenges remain." No. 4 was named a Top Course for Women by Golf Digest in 2013; it has five sets of tees, with a starting yardage of 5,217 yards. A 1919 Ross original that underwent a Fazio revamp, it has a distinctive look with a lake and complexes of pot bunkers. There are very few forced carries and a really fun downhill par 3. Many women like to pair this with No. 6, which has a set of forward tees at 4,992 yards. But No. 8 is a favorite of mid- to high handicappers alike. It's a great course for walking as well. Built to celebrate 100 years of Pinehurst, in 1996, it has large receptive greens, gently rolling terrain and forward-tee yardage of 5,177.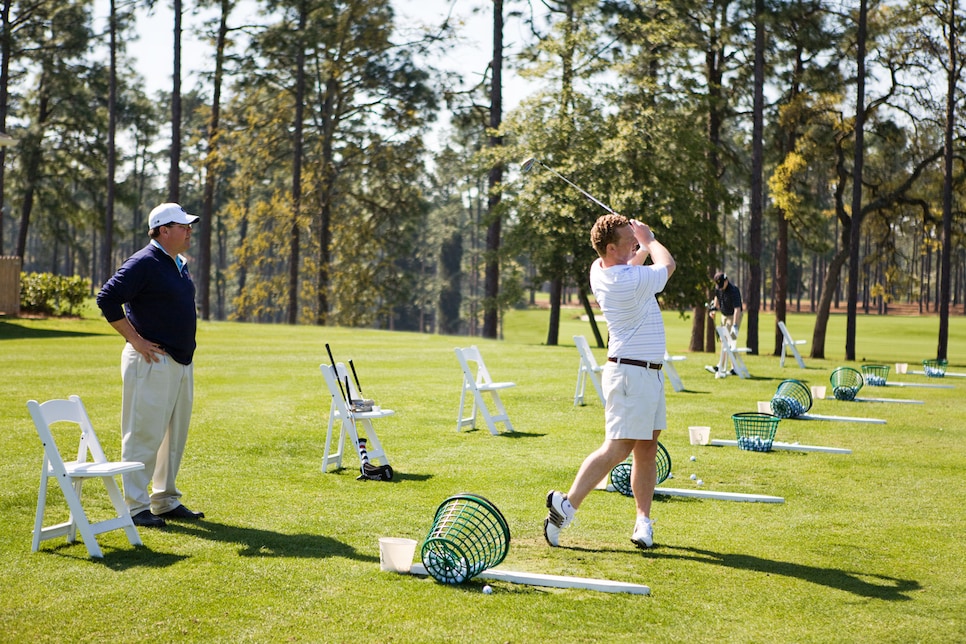 If you happen to be traveling with non-golfers, there are options to get them into the action. Pinehurst offers year-round golf schools for all skill levels, including a short-game school, a school for juniors, a parent-child option, as well as weekend and weekday adult sessions. Even if your non-golfing travel companion just wants to lounge by the pool or enjoy the spa while you're on the course, convince them to join you on Thistle Du, the resort's 18-hole putting course that mimics the historic Himalaya course at St. Andrews (below). "It's a perfect way to spend a fun, relaxed time with friends and family at the end of the day," says Alpenfels. "It's a must-play."