USGA
Pinehurst, set to host 2024 U.S. Open, awarded six additional USGA championships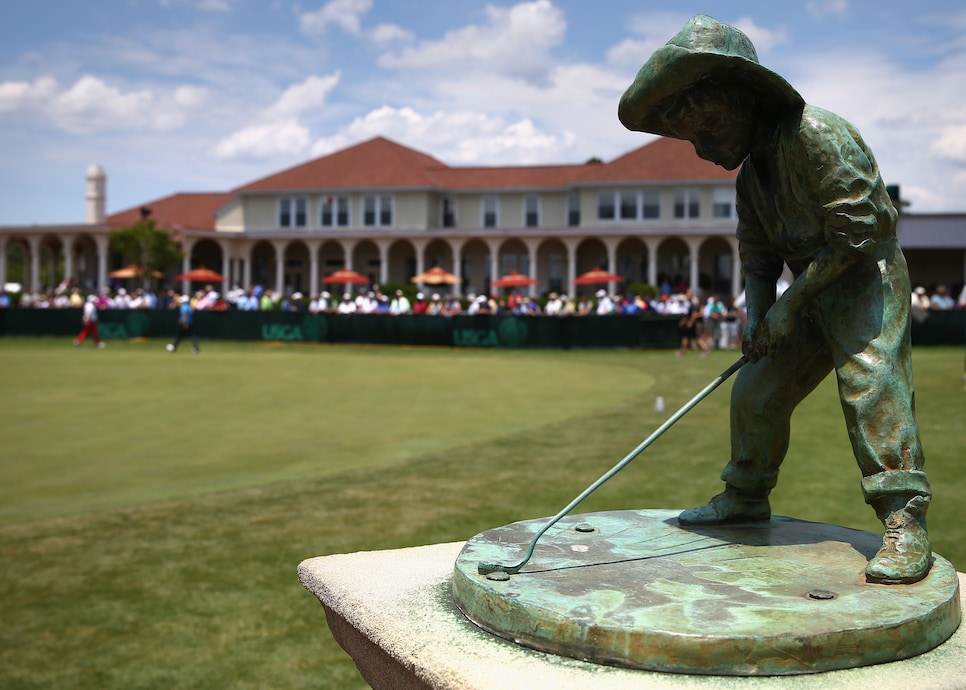 Streeter Lecka/Getty Images
Six more USGA championships will be heading to Pinehurst in the near future, underlining the USGA's commitment to making the North Carolina mecca one of the governing body's anchor sites.
The USGA announced Tuesday that the 2027 U.S. Women's Amateur, 2032 U.S. Junior Amateur and U.S. Girls' Junior, 2038 U.S. Amateur, 2044 U.S. Women's Amateur and a future U.S. Adaptive Open have been added to Pinehurst's hosting slate.
"Bringing more championships to a venue like Pinehurst is a testament to the USGA's commitment to our long term partnership with the resort and our promise of expanding the presence of our organization in the area," said John Bodenhamer, chief championships officer of the USGA. "Pinehurst's rich golfing heritage and commitment to excellence make it the perfect setting for all of the USGA's world-class events. Their commitment to our Open championships is incredible, and now we are able to shine a light on the amateur game here as well."
In 2020 the USGA signaled a new strategy for its championships, reducing the number of venues for its premier events and introducing a rotation of sorts around a handful of sites. One of the fulcrums for this blueprint was Pinehurst; the resort was awarded four U.S. Opens, with the USGA announcing plans to move some of its operations to the area, including an administration building, testing center, museum and hall of fame. The testing center and administration building are set to open at the end of this year, with the museum and hall of fame on track to open next spring.
While additional courses have been added to the anchor strategy in the ensuing years, Pinehurst remains the USGA's de facto epicenter: Tuesday's announcement gives the resort 12 future USGA championships, including next year's U.S. Open at the No. 2 course. Along with three previous U.S. Opens, Pinehurst has hosted the Ryder Cup, PGA Championship and U.S. Women's Championship.
"We are honored and thrilled to welcome these USGA championships to our historic venue in the years to come and today continues to help us achieve our goal of hosting a variety of premier championships," said Bob Dedman Jr., speaking on behalf of the Dedman family, which owns Pinehurst Resort. "This continued partnership with the USGA reflects our shared dedication to the game of golf and the bright future we envision together. Pinehurst's legacy in golf combined with the USGA's commitment to innovation ensures that our collaboration will continue to create memorable championship moments for years to come at all levels of the game."