The Loop
Piers Morgan is the week's worst human being
If you caught the Wimbledon men's final on Sunday, you likely saw Marin Cilic have a breakdown in the second set of his match against Roger Federer. Beating Federer at his favorite tournament is an enormous task even under ideal conditions, and Cilic had the additional handicap of an injury to his left foot. So when he called the trainer out, already down a set and 3-0 in the second, the enormity of the situation hit him—this wasn't going to be his day. For now, at least, the dream of becoming a Wimbledon champion would have to wait.
So Cilic cried. And I mean really cried—sobs that wracked his entire body while his eyes seemed to open wide in alarm, leading many on Twitter to speculate that he might be having a panic attack. Cilic later said that this wasn't the case, and that he was only disappointed that he couldn't play his best, but regardless of how you want to label the moment, his pain was tangible. It may have been the most visceral display of mental agony I've seen in tennis, and anyone who didn't feel for the guy at that moment must have a heart of stone. (And by the way, Cilic is no shrinking violet—he won the 2014 U.S. Open, and beat Federer in a terrific semifinal performance.)
Enter Piers Morgan, with this tweet:
There are a ton of reasons not to like Piers Morgan, so let's not pretend this tweet is the first indication that he's a complete jackass. Nevertheless, it's a terrific showcase of his obvious numerous flaws. First, the instinct to laugh at somebody else's pain. Second, the urge to actually publish that weird form of sadism, just to make sure everyone else knows you're a jerk. Third, the apparent pride at feeling no empathy for a suffering human. Fourth, the deep insecurity in one's own masculinity that prompts this mockery of a man who is clearly your physical superior. Fifth, the sad craving for attention that underlies it all, propelled by the very modern addiction to fame that so clearly rots the soul of its victims.
Piers: I know you love the attention your tweet has inspired, because that's your sickness, and I know the backlash against you won't change a thing. But still...you suck, dude.
And now, on to lighter topics! The superlatives await...
The Refreshingly Honest Athlete of the Week: Henrik Stenson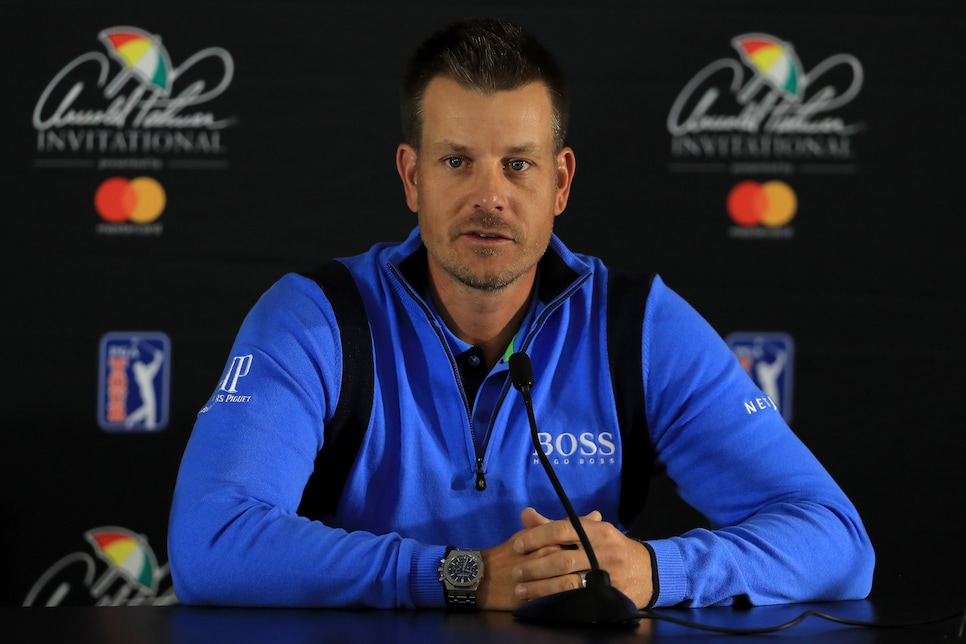 Stenson closed his Scottish Open with a Sunday 68, but when reporters asked him if he had a chance to defend his British Open championship this coming week, he basically said, "nah." Sure, he used more words, but he almost completely discounted his chances regardless. Here was his most positive sentiment:
"You never know, it might be the only time we're defending champion at the Open Championship so I might as well enjoy it."
How's that for a rousing self-endorsement?
This is classic Stenson, who is both the funniest person on tour (and not just because he played in his underwear once, though that didn't hurt), and one of the most insightful. When I covered golf in person, his pressers were can't-miss events, and he could even make the most dour hardboiled British journalists laugh, and I'm pretty sure of them haven't experience real joy in decades. Clearly, he's not the kind of guy to delude himself, and he's long past feeling any need to delude the press. If every athlete could be this genuine, sports would be a lot more fun.
National Hero of the Week: Ryan Lochte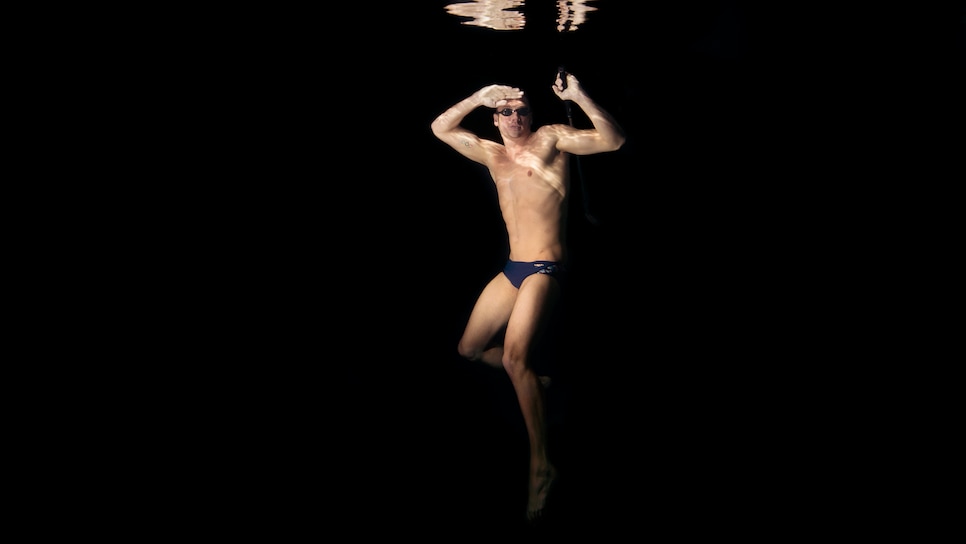 Look, it's tough times in America, so when someone like Ryan Lochte—who committed some minor vandalism at a Rio gas station and then lied about the aftermath—gets all charges dismissed on a technicality by a Brazilian appellate court, well...he's basically Abraham Lincoln now. U-S-A! U-S-A!
(But if you ask me, Michael Phelps would've gotten the charges dismissed by the supreme court, not some knock-off low-rent appeals court. He's just on a different level.)
The "Why is anyone letting these two people speak in public?" Morons of the Week: Conor McGregor and Floyd Mayweather
Their fight isn't until August, but it seems like every day there's some new weigh-in or press conference where one of these guys says something atrocious. It would be impressive, if it wasn't so horrifying. Let's go down the list of offensive content, and see if there's anything they've missed: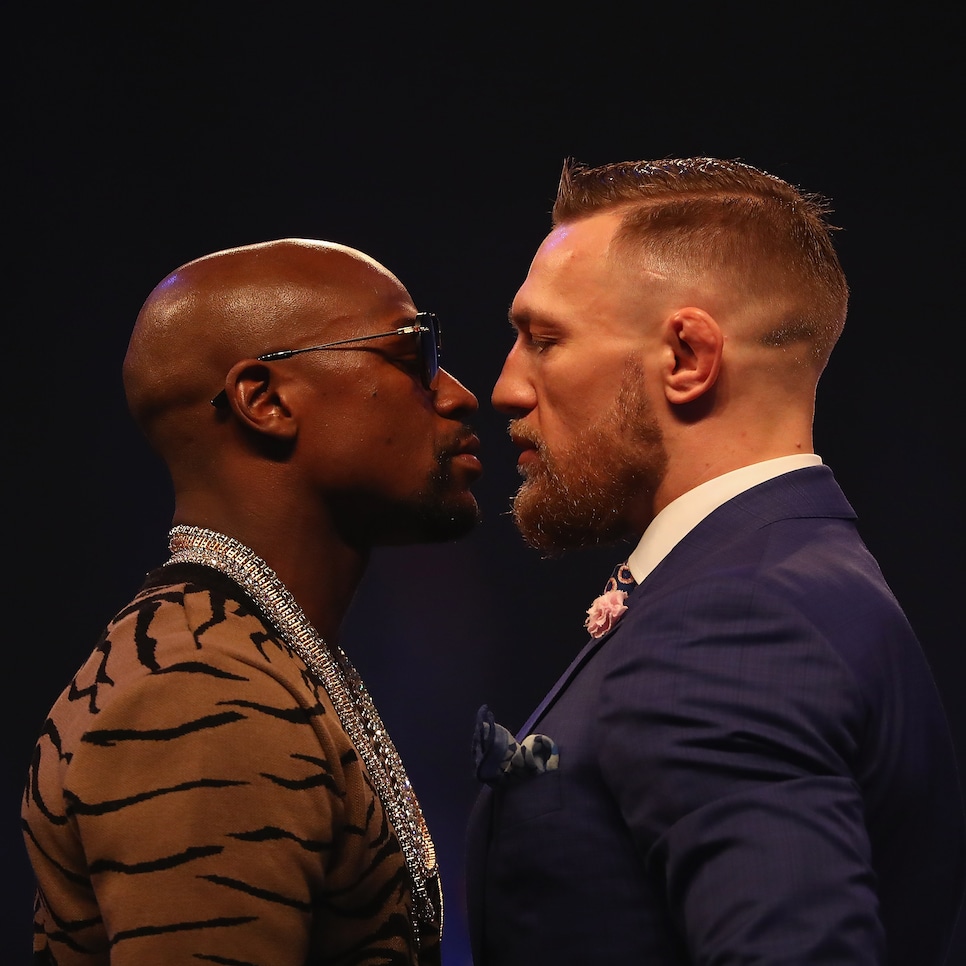 Really inspiring stuff. But at least now when they fight, there's a clear rooting interest—the giant 20-ton chandelier that is hopefully hovering above the ring, hanging by a thread.
The Most Confusing Awesome Thing of the Week: Australian Rules Football
I have no idea what's happening here, but it seems pretty awesome anyway:
On a side note, how much better would American football be if the person who scored the touchdown had to kick the extra point?
Best Underwear Police of the Week: Wimbledon Underwear Police
I'm just so glad this is a real story, and I'm so glad this is now a real superlative. And I'm so, so, so glad that Wimbledon is embarrassed that their underwear fascism went public:
"It is our preference that any issues regarding the 'all-white' rule and undergarments are discussed and dealt with between matches," a statement from the All-England Club said. "Unfortunately, we have been made aware of a couple of instances where this was not the case, but we will ensure this happens in the future."
Don't let them do it, tennis pros! Make them confront you about your scandalous underwear choices in the light of day, for all to see! We cannot expose this systemic evil if the culprits are allowed to enact their draconian underwear policy in darkness!
I will leave you with this piece of tennis history from the same Times piece, because it is easily the funniest piece of sports prose I've ever read. Enjoy!
"Undergarments have been an occasional obsession at Wimbledon for generations. In 1949, the American Gertrude Moran (known as Gorgeous Gussie) scandalized the tournament by wearing white underpants with lace trim that was visible under her short skirt. The All England Club criticized Moran for "bringing vulgarity and sin into tennis."