The Loop
Piecing together the reasons for Tiger Woods' WD in Napa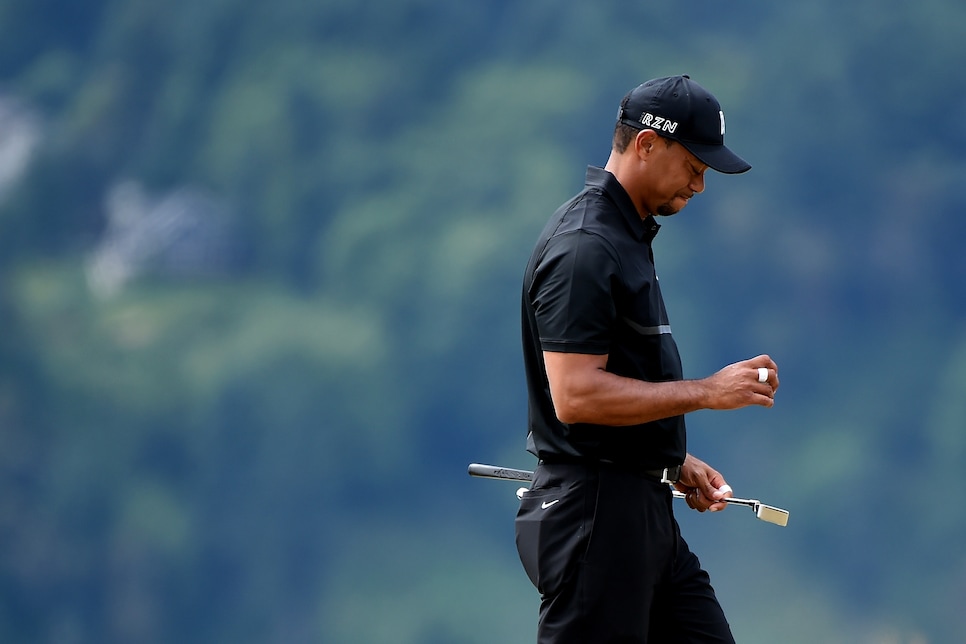 Tiger Woods was smiling while attending a Stanford football game on Oct. 8. He might not have been while at Stanford Golf Club the next morning with caddie Joe LaCava. Bottom line, Woods' decisions to enter the Safeway Open on Friday, Oct. 7, and then withdraw on Monday, Oct. 10, remain puzzling.
There were no shortage of theories and rumors circulating around the Silverado Resort and Spa about those four days in Northern California. Speculated causes included the impending rains that eventually doused Napa as well as a video that showed Tiger making cautious three-quarter swings at a clinic in Pebble Beach. Then there was all the scrutiny Woods would be under in his marquee pairings with Steph Curry in the pro-am and with Phil Mickelson in the tournament proper.
"Anybody would be [nervous] that's away from the game for 14 months and you've got all this hoopla," said tournament host Johnny Miller. "You've got to be sweating bullets about coming back."
Mark Steinberg, Tiger's long-time manager, told me it was simply a case of misjudging the effect of lost practice time during Tiger's week at the Ryder Cup in Minnesota and while at home in Florida during Hurricane Matthew.
"He played a lot of holes of golf [over the weekend in California], and the game just wasn't there," Steinberg said on Monday. "We spoke this morning, and based on the culmination of the last several days, his game wasn't responding the way it needed to be to be out there."
Tiger's withdrawal was a shock to those in the U.S. team room at Hazeltine National. "From the swings I saw, it looked like he was ready," said Ryder Cup captain Davis Love III, who also withdrew from the Safeway but without the same headlines. "I think the same thing happened to me. We tried to get ready, got caught up [in the Ryder Cup and the hurricane] and didn't do as much as we thought."
While surprised, Steve Stricker could also relate after going through back and clavicle issues and a case of the driver yips a decade ago. "I understand it's difficult to take it from the range to the golf course, and then the golf course at home for fun to the tournaments," Stricker told me. "When I did it, there were growing pains."
Contrary to rumor, according to Steinberg, Woods did not drive to the third hole at Silverado on the Sunday before the tournament to play nine "dawn patrol" practice holes. According to another source, Woods went to watch the Raiders football game Sunday in Oakland before traveling to Pebble Beach for the Tiger Woods Invitational, a fund-raiser for his foundation that began Monday.
Two sources heard on Sunday that Woods was going to withdraw. Jeff Sanders, executive director of the Safeway Open, wasn't looped in until early Monday morning. "I can't think of a bigger shock I've ever had," Sanders said.
The good news? It wasn't Tiger's back. "It's not like a physical setback," Steinberg told me. "The game's not there yet. It could be fairly soon, but it's just not there yet."
The "fairly soon" won't be the Turkish Airlines Open, where Woods said in September he hoped to play but last week he confirmed he would not. The most likely site for a return would be Tiger's Hero World Challenge, an 18-man event Dec. 1-4 in the Bahamas with no cut, small galleries and Woods in control of course setup.
"I feel bad; it's going to be even harder now if he decides to play someplace else," said the always candid Miller. "People are going to start thinking, Is he going to show up or not? He shouldn't have said anything and just committed last week and showed up."