Court Style
Two stylish pickleball collections to consider if you are picking up the paddle this fall
*All products featured on Golf Digest are independently selected by our editors. However, when you buy something through our retail links, we may earn an affiliate commission.*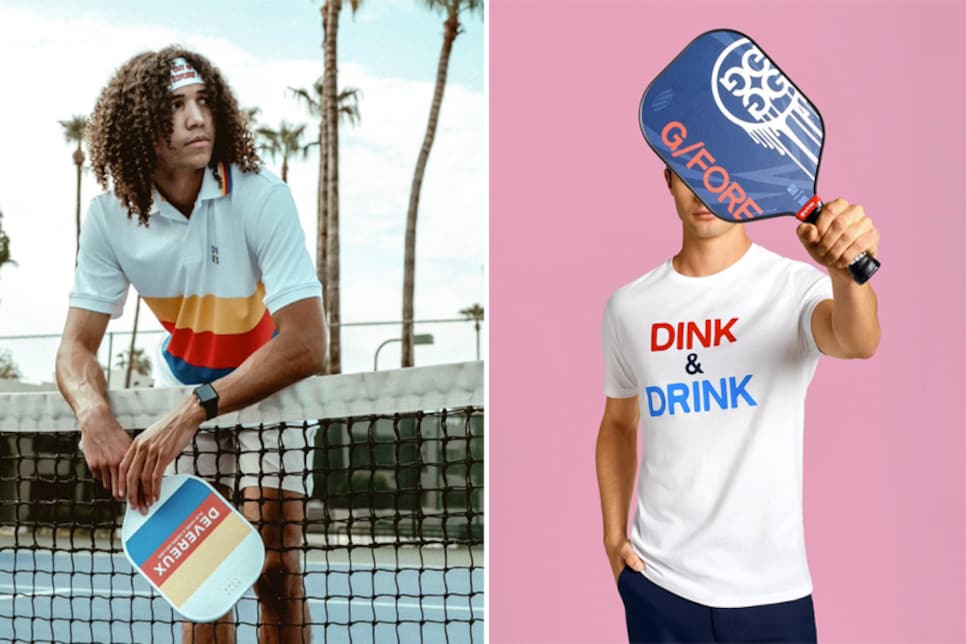 Pickleball has been gaining popularity at golf clubs for a few years now. The paddle sport is great for staying in shape during the off-season or for those looking to mix in some more cardio-driven activities. Golf brands like Devereux and G/FORE have picked up on the trend and are creating collections just for Pickleballers. Here's a look at Devereux's recently released capsule and G/FORE's line that dropped this summer.

RELATED: Is Pickleball for you?
Devereux timed its Pickleball collection to drop just before the final weekend of the tennis U.S. Open as a celebration of on-court style. Pulling inspiration from 1960s sports attire, the collection is centered around a retro color palette of yellow, red and blue. It features vintage graphics and bold polos with color blocking, pinstripes and bright piping details.
The collection has mostly unisex sizing with a oversized fit. Devereux also teamed up with paddle manufacturer Harrow Sports on an eye-catching retro paddle. On the accessories side, there are three hats, a pair of socks and a Rafael Nadal-inspired headband.
More from Devereux's Pickleball Capsule:
The G/FORE Pickleball Capsule was released earlier this year and was referred to by the brand as "Drop 1," so expect more to come in this category. Currently on the site, there are three hats and two t-shirts still in stock.
Similar to the golf collection, the pieces feature playful phrases and graphics for an edgier, more unexpected look. The "Dink and Drink" wording refers to the low and slow dink shot that, if executed properly, lands just before your opponent's feet … and is usually followed by a celebratory drink. The Paddle Tee and Pickled Snapback are quieter nods to the sport, with a menacing paddle at the back of the shirt and a stylish tonal stitch design on the cap.