News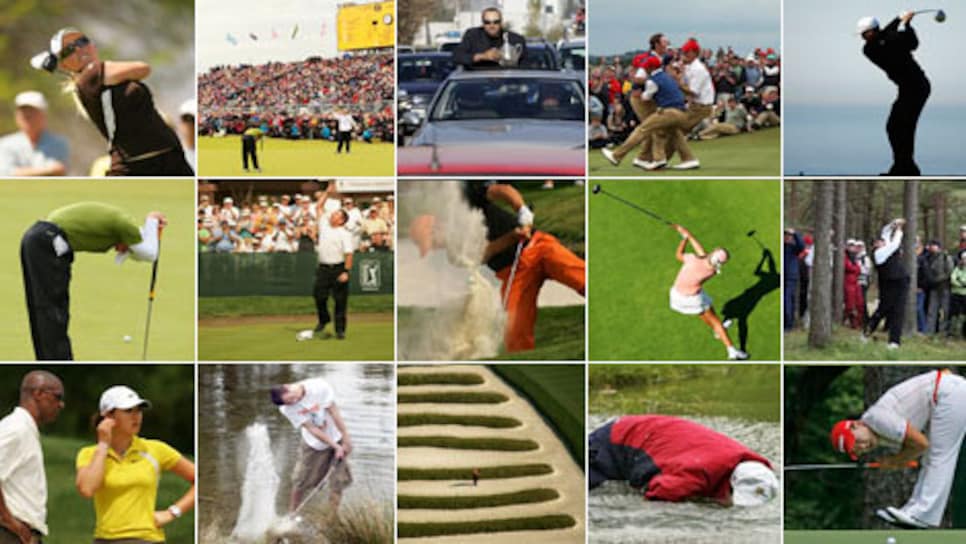 Just because a photographer is there to capture it doesn't guarantee a memorable moment will become a memorable photograph. Is the subject in focus? Framed properly? And perhaps more important, will the picture need no explanation?
The photo sequence of Woody Austin swinging, losing his balance and then falling into the water beside the 14th green at the Presidents Cup became an instant classic. Much like our 2006 Picture of the Year, the image Jamie Squire (Getty Images) made of Phil Mickelson putting his head in his hands on the 72nd green at Winged Foot after he realized he had lost the U.S. Open. And the shot Golf Digest/Golf World Senior Staff Photographer Stephen Szurlej captured in 2005 of Tiger Woods' reaction after he chipped in on the 16th hole at Augusta. Or the 2004 photograph by Dave Martin (Associated Press) of Mickelson's leap after he won the Masters.
Timothy Clary's photograph of Woody Austin face down in the water at the Presidents Cup is our choice for the 2007 Picture of the Year.
How did we settle on Austin's splashdown as our No. 1, and the other 29 among our top 30? Our critera included subject, location, historical significance, composition, exclusitivity and relevance.
—Matt Ginella, Director of Photography