The Loop
Photos: Holly Sonders turns heads at the Humana Challenge
Golf Channel's Holly Sonders is putting her golf game to the test this week, playing in the pro-am portion of the Humana Challenge. Not surprisingly, she's also drawing a crowd in Palm Springs -- even on the driving range.
On Friday, Kip Henley, caddie for defending champ Brian Gay, tweeted the following picture with the caption: "Concentration at an all time low on the range this morning."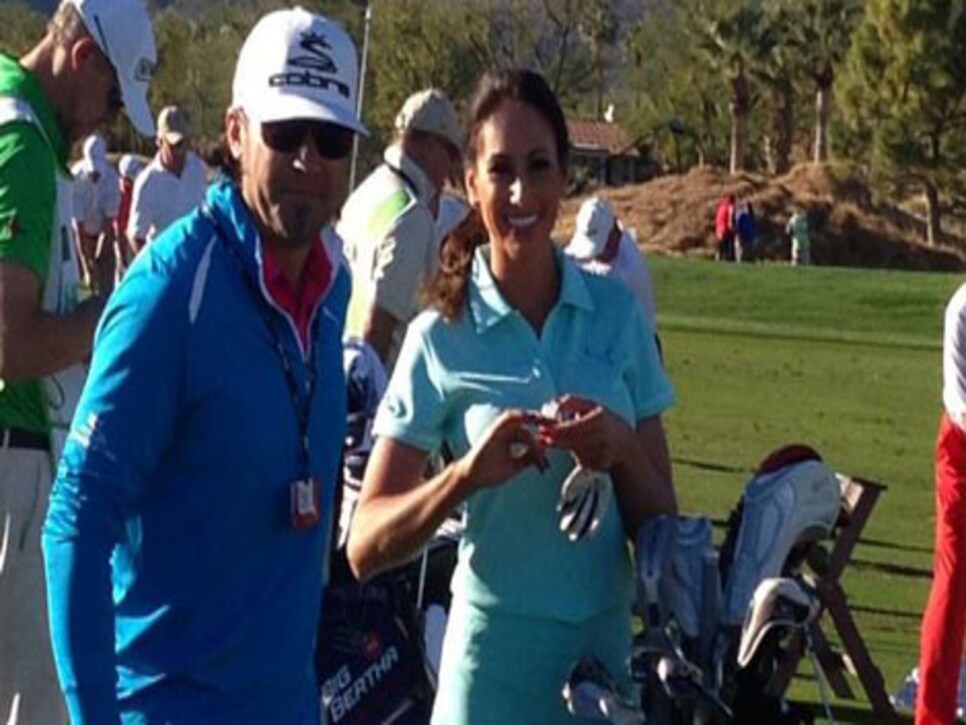 But Holly isn't just there to be eye candy for the PGA Tour players and fans, she's there to play. And don't worry, thanks to our friends at Getty Images, we have more pictures of her doing just that.
Here's Holly lining up a putt on the ninth hole of La Quinta CC on Thursday. Good form: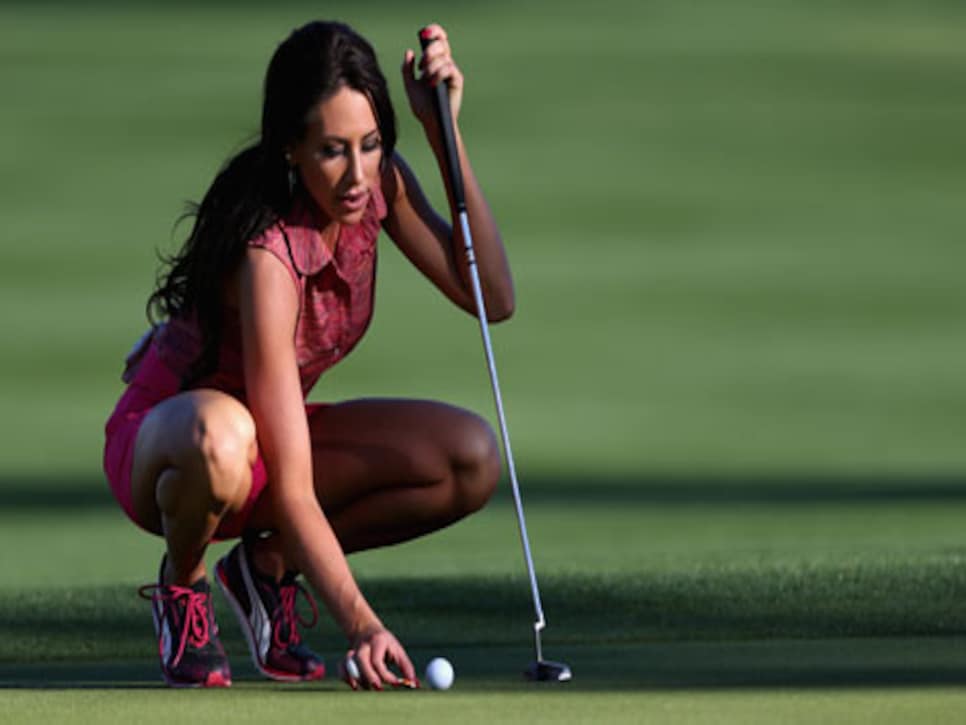 But unfortunately, she missed: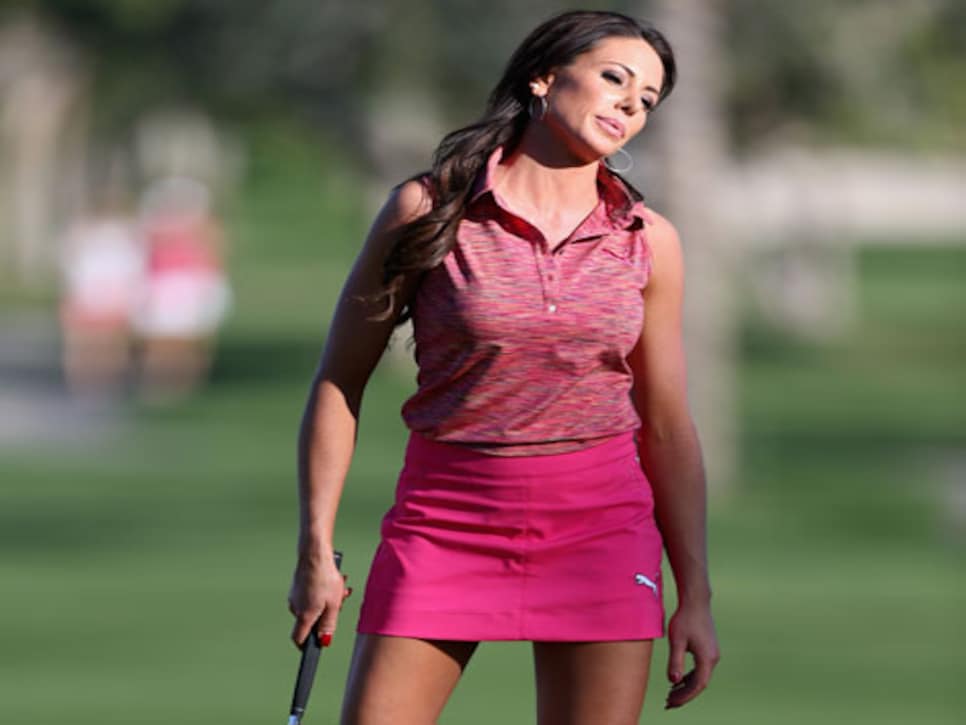 Hang in there, Holly! That's right, give yourself a pep talk!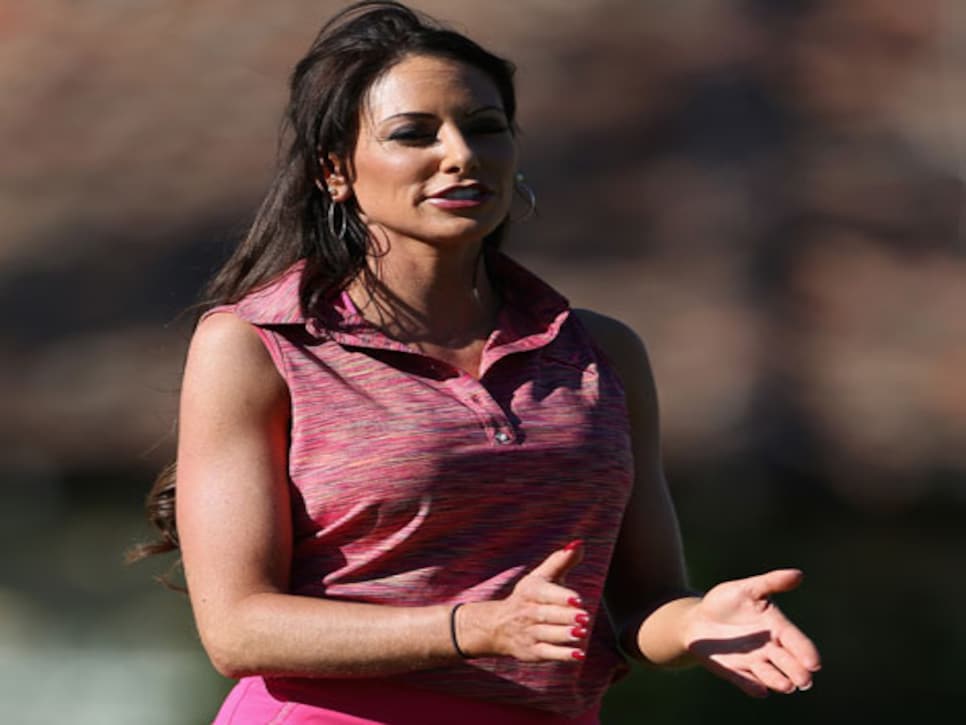 Sonders, entered as a 7 handicap, only managed a gross score of one under and a net score of four under in the first round while playing with partners John Daly and Jesper Parnevik. That left her near the back of the pack of 156 amateurs. But with neither Daly nor Parnevik breaking par on Day 1 (Seriously, guys? This is the Humana Challenge!), we'll give her a pass. Sonders was back at it on Day 2 wearing a different-colored short golf skirt. Look, she even matched it to her clubs!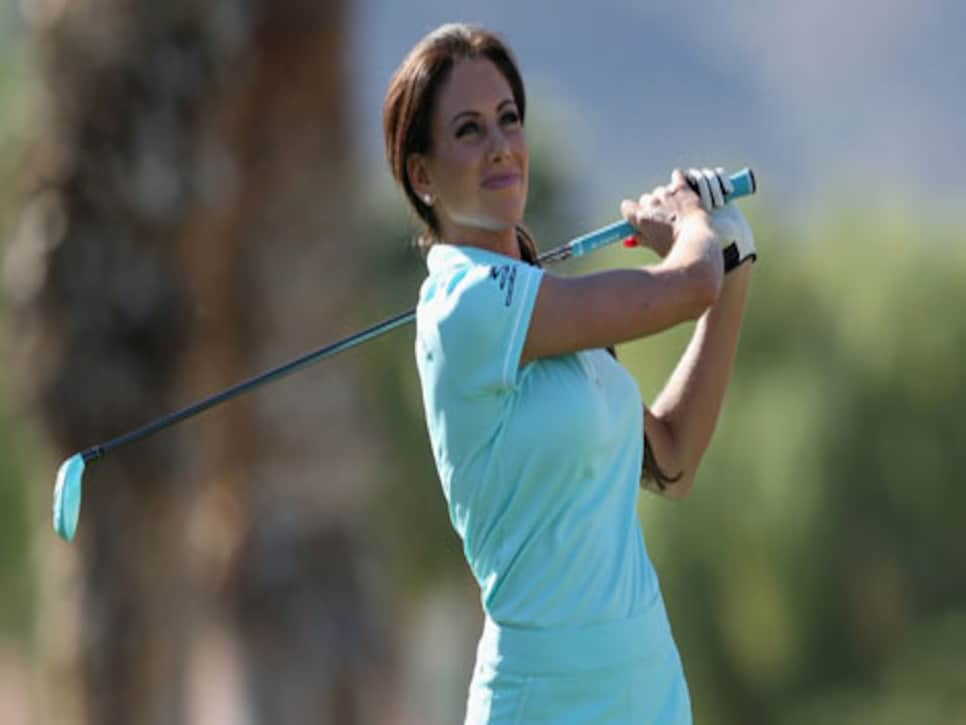 On Friday, Sonders showed more of the skills that earned her a spot on the Michigan State golf team and a co-hosting gig on one of Golf Channel's instructional shows. Here, she expertly keeps her driver in the bag on the eighth hole of PGA West (Jack Nicklaus), opting for a fairway wood instead. Course management!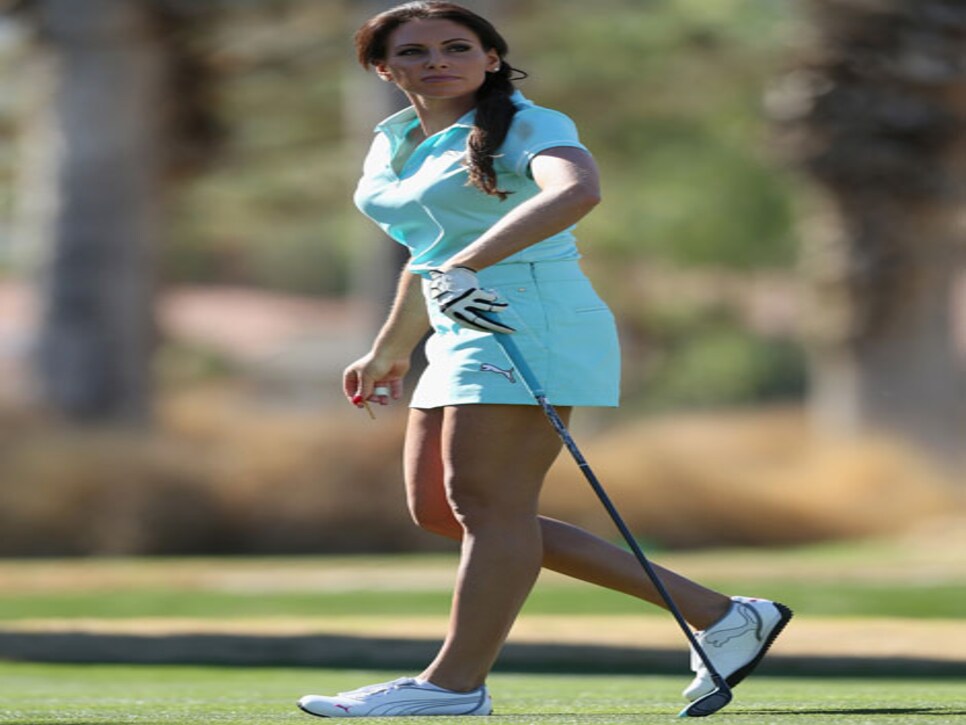 Here, she hits an approach shot as playing partners Jonas Blixt and John Merrick watched. Nice balance! Thankfully, they provided her with a little more help than those deadweights Daly and Parnevik.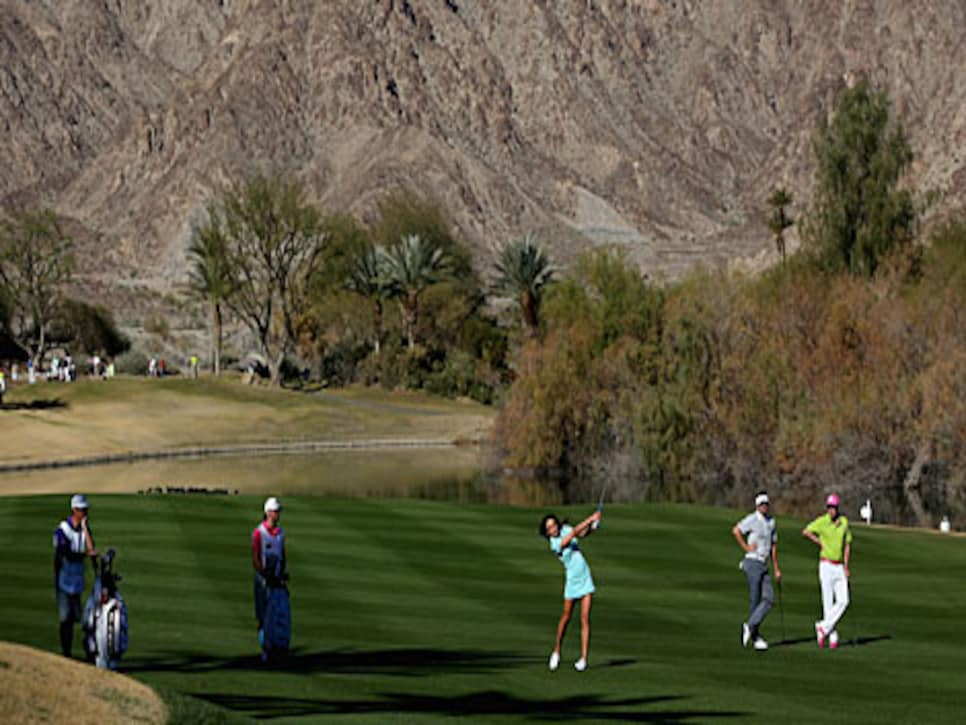 Moments later, she waved to the crowd after draining a putt. Clutch!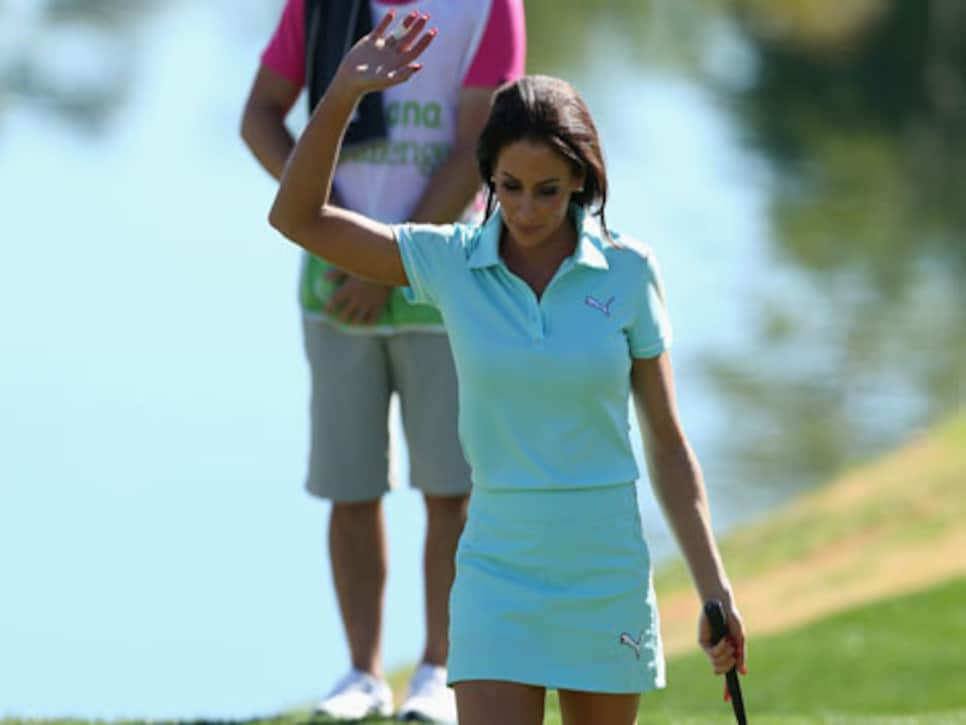 Here, she walks alongside Blixt. Funny, if I were betting on one of them wearing a matching pink hat-shoe combo, I would have put my money on Holly. . .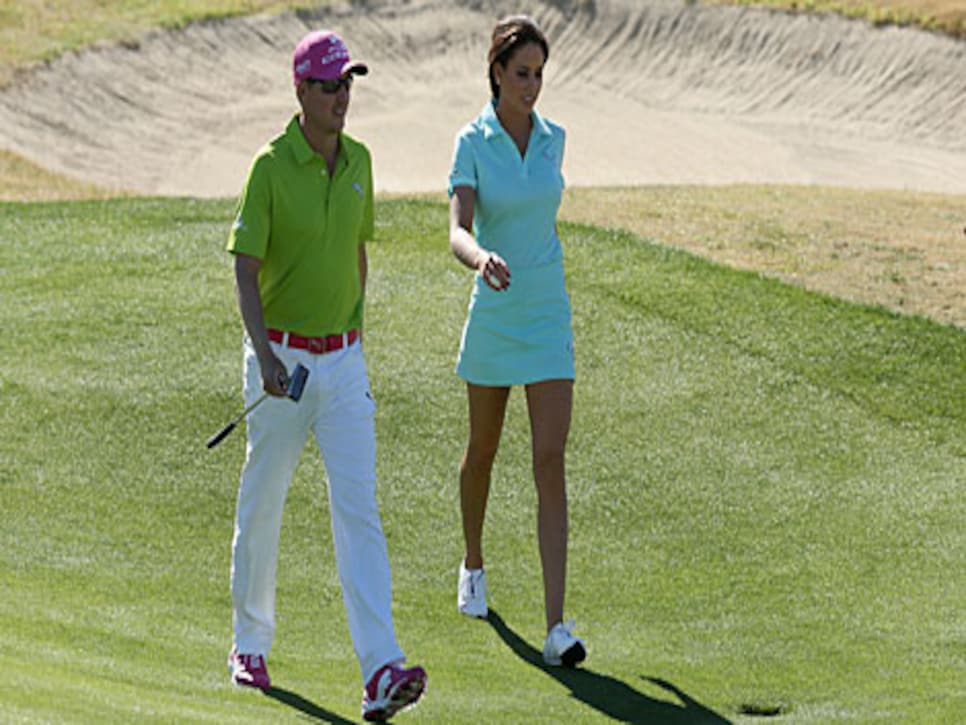 Who's her caddie this week, by the way? Rough gig.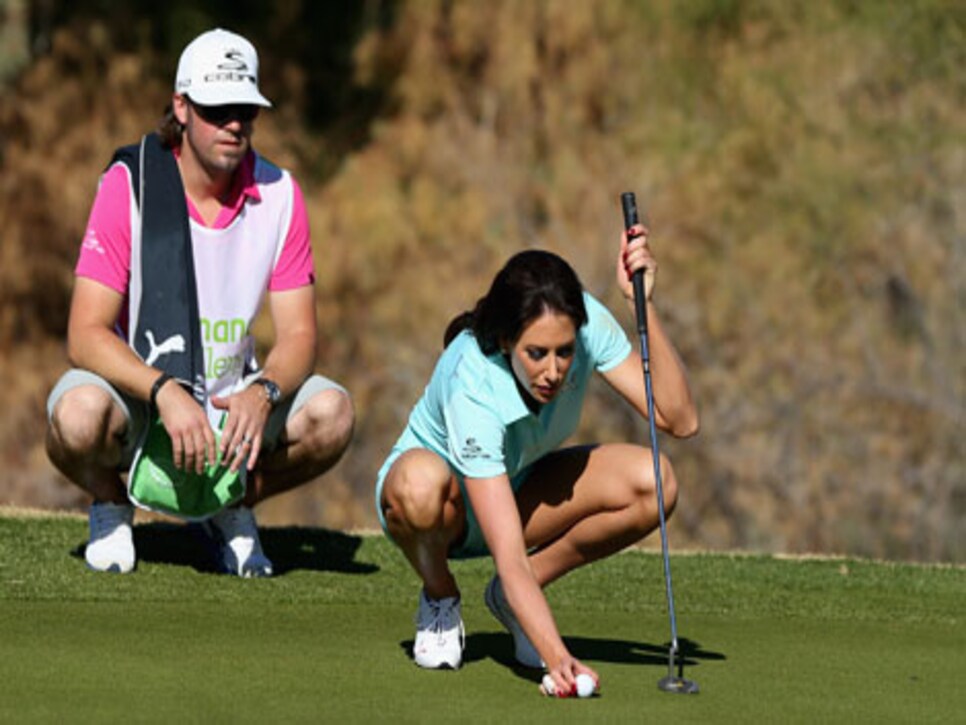 Sonders will play with Brandt Snedeker and Rickie Fowler (Even odds of who will wear more pink) at PGA West's Palmer Course on Saturday. Think anyone will be watching?
UPDATE: Sonders shot a pair of net 65s on Friday and Saturday to finish near the middle of the pack at 18 under. She tweeted us to say she "left a lot of birdies out there on Saturday." Still, Sonders finished second out of the four celebrity amateurs, topping Michael Bolton and Jay Feely, but losing to Craig T. Nelson (Coach!) by a stroke. And the lucky guy carrying her bag all week? Cobra Golf master club fitter Ben Schomin.