The Loop
Phil on using a long putter: "I wouldn't rule it out"
The last three PGA Tour events have been won by players wielding long putters, most notably Keegan Bradley's victory at the PGA Championship -- which was as much of a breakthrough for the young pro as it was for extended flatsticks. It doesn't appear that Phil Mickelson will try to add to that streak this week at the Barclays, but that doesn't mean the four-time major champion won't ever make the switch.
"I wouldn't rule it out," Mickelson said in his pre-tournament press conference. "But I think there are certain things technique wise that you have to understand to do it well, to putt well with it. It swings differently than a normal putter in your hands, and so I don't know those little idiosyncrasies, those little secrets, if you will. And so I don't really putt very effectively with it."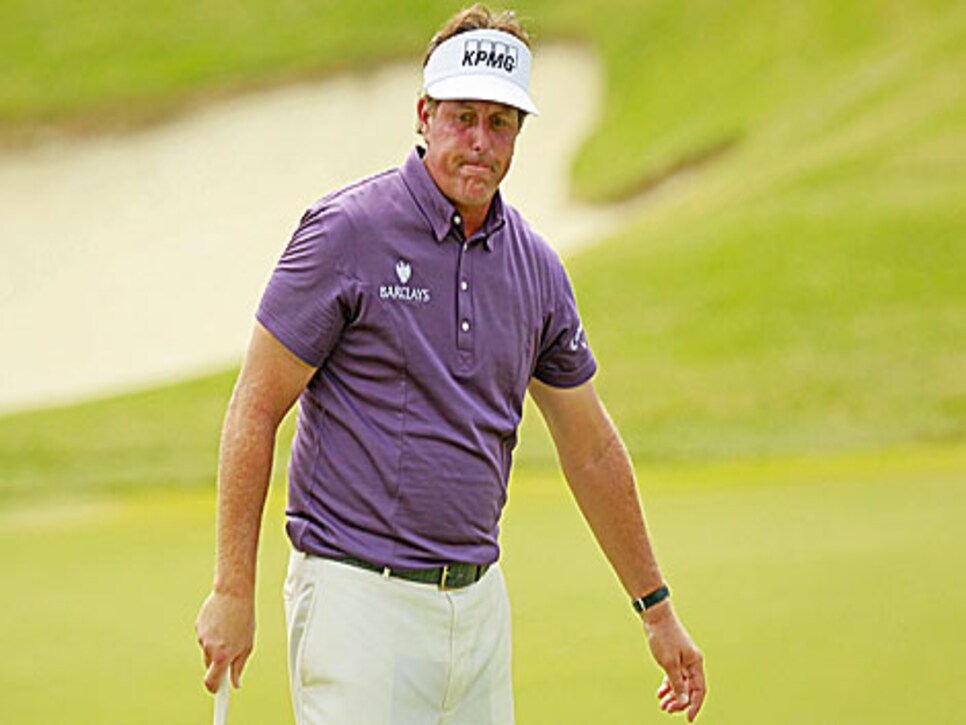 He didn't add the word "yet," but clearly it's been something on Mickelson's mind.
"Oh, I've grabbed one off the rack and just hit one with it, sure," he said. "I don't see very many left handed but I'll grab one when I see it and just take a few practice strokes."
Keep in mind also that Mickelson isn't afraid of getting involved in equipment controversies. He didn't shy away from the grooves debate last year when he took advantage of a loophole in the rules to use an old Ping Eye 2 wedge in an effort to get more spin on the ball (and as a way to protest the new rule). Fellow PGA Tour pro Scott McCarron characterized the move as "cheating" and the issue was eventually settled.
The USGA hasn't announced that any rules are forthcoming regarding long putter and Mickelson hopes it stays that way.
"I really don't [have any objections to them]," he said. "I think that there's more to it than just starting the ball online and putting. You have to read the green correctly. You have to start the ball online, which the belly putter I think really helps, but you also have to have the right speed.
"And if it were going to be banned, it should have happened 20-plus years ago. But now that it's been be legal, I don't think you can make it retroactive. There have been guys that have been working with that putter for years if not decades. I just don't believe that it should even be a consideration."
Follow on Twitter: [@AlexMyers3
](http://twitter.com/AlexMyers3)
(Photo: Kevin C. Cox/Getty Images)