News
Phil Mickelson's U.S. Open controversy still a popular topic at the Travelers Championship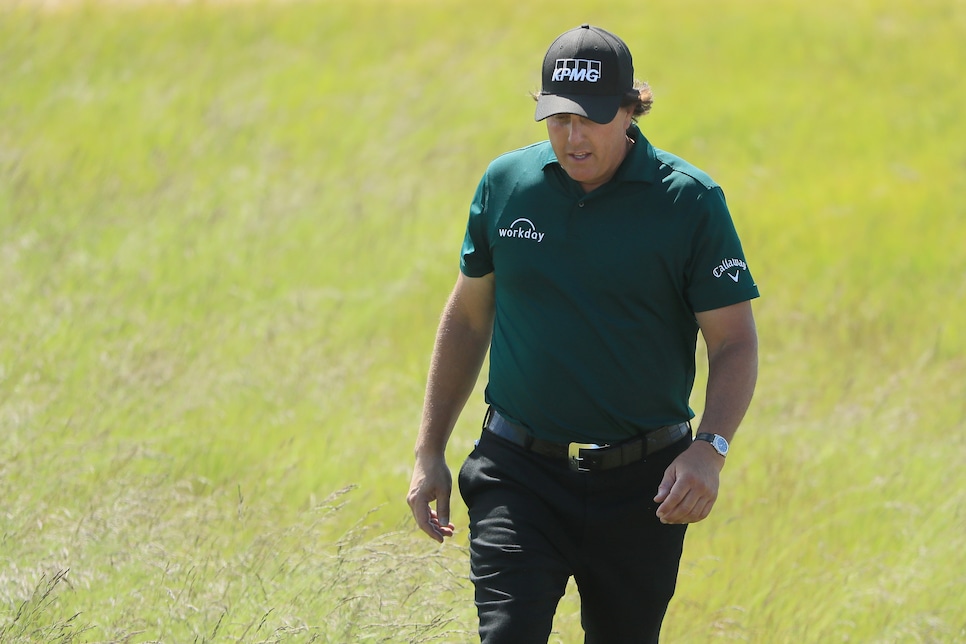 CROMWELL, Conn. -- Another week, another tournament, though golf isn't quite ready to move on just yet.
Three days after Phil Mickelson chased after a missed putt and whacked the ball back toward the hole to prevent it from rolling off the 13th green at Shinnecock Hills during the third round of the U.S. Open -- a moment he would eventually admit to a few in the media as to not being his finest -- his actions, and words, remain a hot topic. That included on the range for this week's Travelers Championship.
"He should've been disqualified," insisted one former major champion. "Why don't these governing bodies just enforce the friggin' rules? It was like Tiger [at the Masters] in 2013. That was a hard one, but this one Phil knew what he did and told everyone what he did, which was worse. It's like robbing a place, walking out and saying to the cops 'I did it,' and the cops go, 'It's OK, it's just you.'"
While the dozen players informally polled by Golf Digest all agreed that another player of less star power would've been disqualified for committing the same infraction, the vote was far more split as to whether Mickelson should have been.
By the letter of the law, his two-stroke penalty was appropriate, according to the USGA. Rule14-5, which says a player must not make a stroke while a ball is moving, was applied because that's what happened. However other rules bring in other questions. Intent and the spirit of the game were also brought up.
Rule 14-5 does not expressly permit what Mickelson did or expressly prohibit what he did. Then there is Rule 33-7, which allows for the committee to disqualify a player it if believes a serious breach has been committed but also to not do so under mitigating circumstances.
"He hit a moving ball and tried to use the rules to his advantage," said Brandt Snedeker, who was among those who thought Mickelson should not have been DQed. "The USGA had a chance to disqualify him for being egregious and they didn't, so no. The rules screw us over so many times, so more power to him for using them."
Bryson DeChambeau took a similar stance, though he could see the gray in the situation.
"Personally I think he was playing within the rules," he said. "Now his intentions absolutely [he should have been disqualified] but he was playing within the rules.
"This is where at times like this the USGA sees a loophole and they make a correction. I don't think it's a bad thing. I think it's a great learning experience for everybody out there and will be beneficial for the game in the end."
It's also a conversation that doesn't seem to be ending, at least for now.
In the eyes of some it was as much about Mickelson as it was the USGA and another questionable Championship.
"It's a testament to how frustrated guys get to playing setups like that," another past major winner said. "To drive a guy like Phil, who is incapable of getting angry, to that point that was the first sign that something was going wrong on the course. We've all gotten mad and have our breaking points. The USGA found Phil's breaking point. What he did was dumb but understandable. I'm not justifying it but it's understandable.
"The mistake was his answer. It was ridiculous. But I don't think you can get DQ'd for that. He didn't gain an advantage. It was a kid throwing the toys out of the cart saying I'm done."
Despite the tournament being over, the conversation around what happened, both with Mickelson and at Shinnecock Hills, doesn't appear to be going away anytime soon.
"Instead of us talking about Brooks Koepka winning the U.S. Open, we're still talking about this," one player said. "And that's the shame of it."