News
Players Championship 2018: Phil Mickelson's shirt upstages a group that included Tiger Woods, Rickie Fowler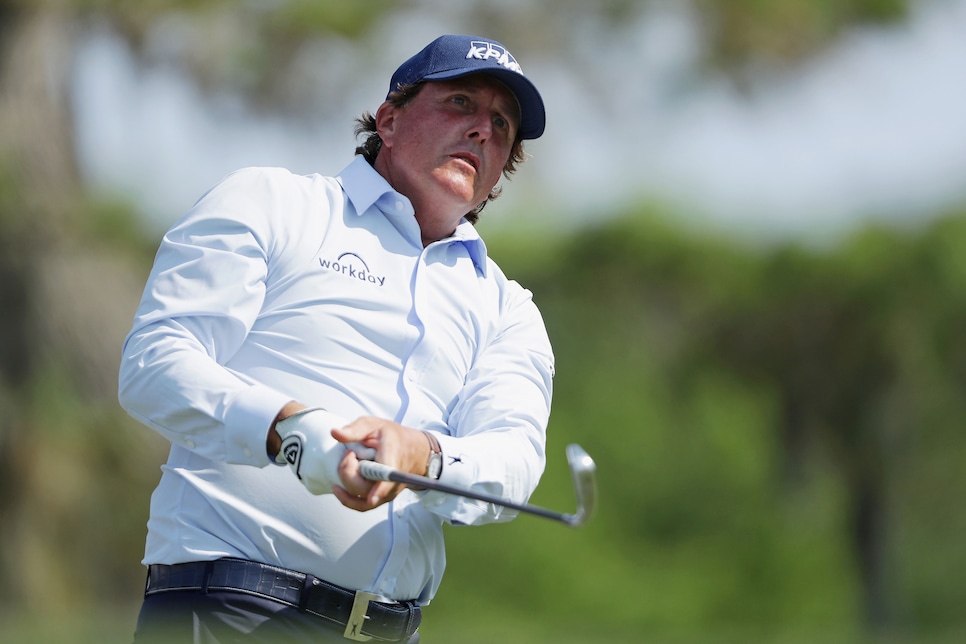 Photo By: Richard Heathcote/Getty Images
PONTE VEDRA BEACH, Fla. — It was a tough afternoon in the office for Phil Mickelson on Thursday. Usually that'd be considered a cliché, except that Lefty showed up for the opening round of the Players Championship in a long-sleeved button-down shirt that would allow him to "move from the board room to the golf course," as he said in a news release announcing his new partnership with Mizzen+Main, purveyors of fine performance menswear.
If only his transition to the opening round at TPC Sawgrass went so smoothly. Mickelson shot seven-over 79 for his highest score in the event since 2000 when he recorded an 83 in the first round.
A bigger concern than a questionable wardrobe for Mickelson—who won earlier this year in Mexico and was coming off a tie for fifth last week at Quail Hollow—was his energy level, he said.
"I just kind of ran out at the end," he said. "I was concerned about this being an issue. I don't know what else to say, just the ability to focus and have energy at the end of the day, and I sensed it Sunday at Wells Fargo. And, unfortunately, I tried to do some things this week to offset it, but I just wasn't able to get it done."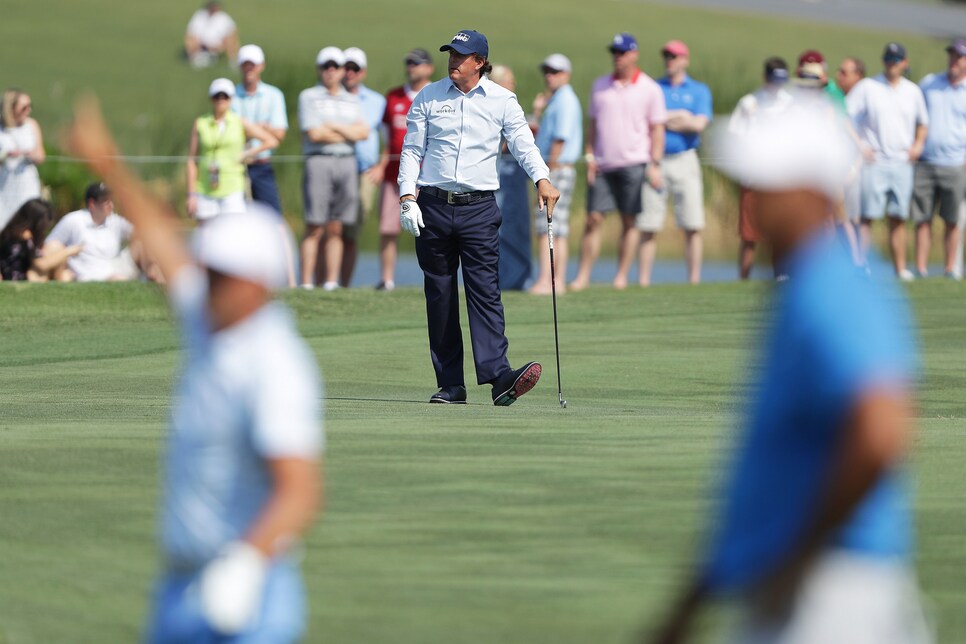 Richard Heathcote/Getty Images
He wasn't the only one in the group to stumble. Rickie Fowler shot 74 and Tiger Woods 72 as the day's supergroup, with 19 majors and four Players titles among them, couldn't manage to break par on a day prime for scoring, with 68 of the 144 players in the field in red by day's end.
"I felt like today the way I was hitting the golf ball, especially toward the back nine, that I felt like I should have shot something in the 60s," said Woods, who salvaged the best score of the threesome thanks to an eagle on the par-5 ninth and birdies on 12 and 16. "We have to go out there and tear this place apart. We got to be aggressive and go low. This golf course is playing a little bit on the easier side."
Woods' day was anything but, with just five fairways hit and 11 greens in regulation. Then there was the stinger off the 18th tee that he sniped into the water left en route to a closing bogey.
Mickelson made it especially hard on himself.
After playing his first 13 holes in even par, the 47-year-old's day started to unravel beginning on the par-4 14th, where he nearly pushed his tee shot into the water left, laid up sort of the green, then took four more strokes to find the bottom of the cup.
One hole later, he again blocked his tee shot left and this time into the trees, leading to a bogey.
Things went from bad to worse on 16, where Mickelson's second shot on the par five came up short and in the water. He took a drop, hit his fourth over the green and three-putted, with his seven-footer to save bogey lipping out.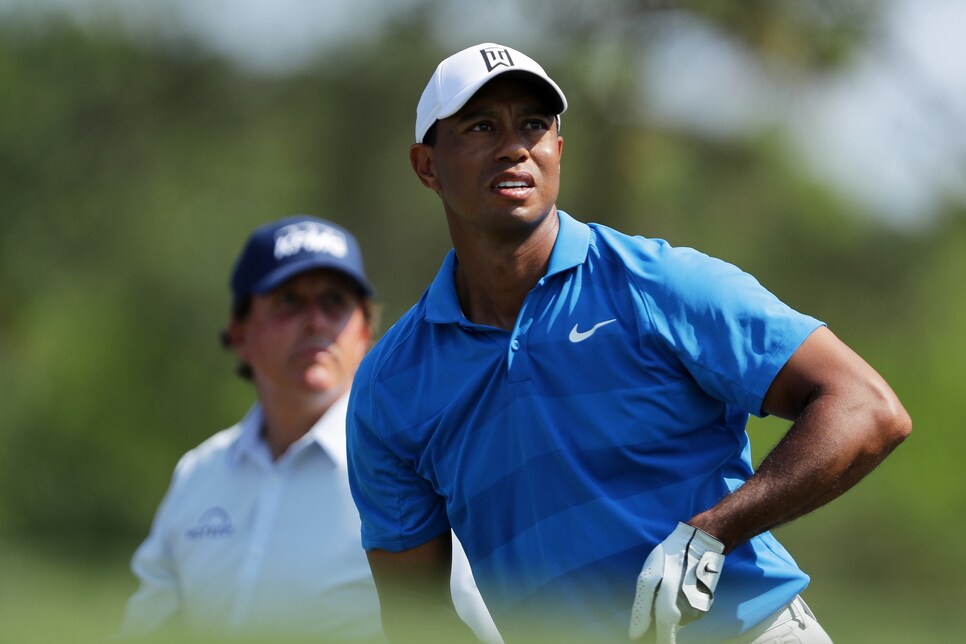 Richard Heathcote/Getty Images
The final blow came on the island par-3 17th, with Mickelson hitting into the water again and making another double.
Fowler, who teed off just in front of Mickelson on the hole, didn't do any better, also hitting his tee shot into the drink en route to a double of his own.
"It can be [contagious]," Fowler said of the group's struggles. "But no, it's a lot more fun when you can get tothree guys firing and kind of going, trying to top each other and kind of pushing each other.
"I was looking forward to [playing with them] and definitely enjoy it. I feel like it helps bring out the best in me, but just didn't get it going today."