The Loop
Phil Mickelson's history of unexpected rants
Phil Mickelson: five-time major champion, short-game wizard, and personable fan favorite.
Let's also not forget: world class axe-grinder
If Tiger Woods is often guilty of a string of regrettable, vanilla sessions with the media, Mickelson at least has been known to turn the interview podium into his personal soapbox when something strikes him as unjust -- whether it's obscure equipment rules, course setups, or even state and federal tax codes.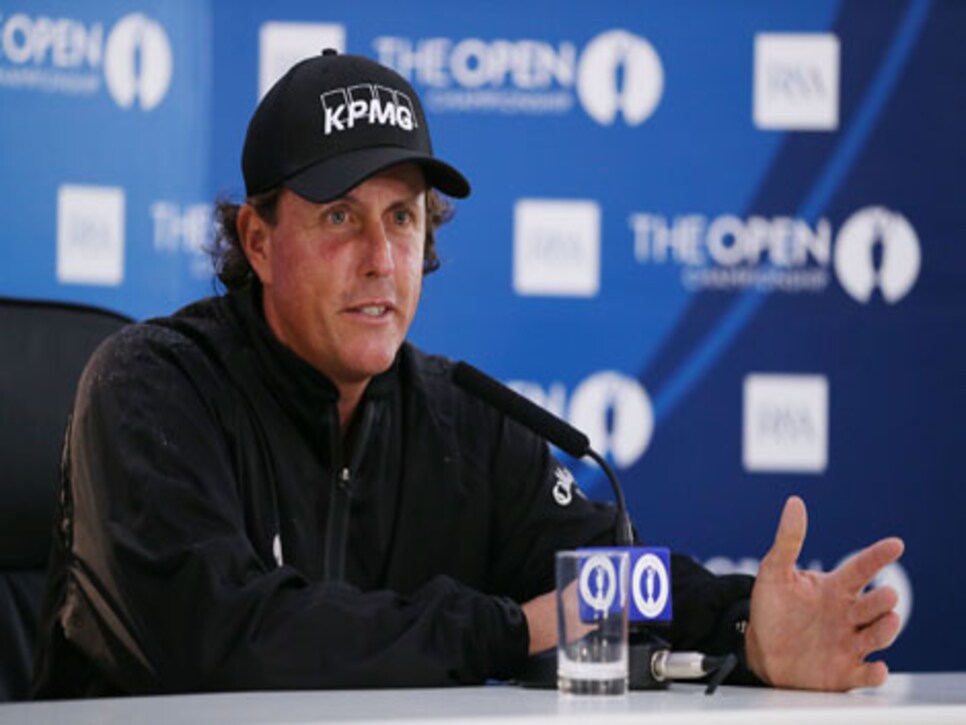 Mickelson's most recent agenda item was a Tour Championship setup at East Lake that will likely look nothing like the course players will see at Hazeltine National for the Ryder Cup.
"The European Tour would never have the setup be so different the week before the Ryder Cup," Mickelson told reporters. "If we were in Europe and they were going to set up the course a certain way, the week before they would set it up a certain way. We're not going to have rough like that -- this is the worst rough I've seen in years. We're not going to have that rough next week. Why the Tour set it up so differently from what we're going to have next week is a lack of communication and working together. It's those kinds of details that we have to sort through as a unit to bring out our best."
The post-round statement was just the latest example of the lefthander's curious way of getting something off his chest.
Among some of our favorites:
Phil objects to Oakmont's "dangerous" rough: After narrowly missing out the year before at the U.S. Open at Winged Foot, Mickelson was primed to make another run at the national championship at Oakmont. But in a scouting mission at the Pittsburgh-area course two weeks before the Open, Mickelson hurt his wrist in the thick rough. When he went on to miss the cut at 11 over, Mickelson made a point of criticizing the USGA for hazardous conditions. "With the liquid fertilizer and this new machine that makes the grass suck straight up, it is absolutely dangerous," Mickelson said. For the record, he has mustered the courage to play the Open in years since.
Phil sends The Commish a message: One of the early highlights of the new FedEx Cup was Mickelson's two-stroke victory over Tiger Woods at the Deutsche Bank Championship in 2007. But what should have been a celebratory moment for Mickelson and the tour took a bizarre turn when Mickelson, in his post-round remarks, expressed disappointment with Commissioner Tim Finchem for not heeding his advice about the new playoff format. As further protest, Mickelson skipped the next week's tournament in Chicago.
Phil objects to a loophole by exploiting loophole: Before there was a debate over anchored putting, there was the friction caused by a groove rule introduced in 2010. That rule banned the use of a certain type of grooves in wedge, but a handful of players exploited a loophole that allowed Ping wedges with the grooves in question made prior to 1990. When Mickelson put the Ping wedge in play as well, he became the most high-profile player to enter the fray, and he did it, he said, to prove a point. "I'm very upset with the way the rule came about, the way one man essentially can approve or not approve a golf club based on his own personal decision, regardless of what the rule says," Mickelson said. "This has got to change." Mickelson took the club out of his bag soon after, but not before threatening to put it back in play if the game's governing bodies didn't get their acts together and close the loophole -- which they soon did.
Phil blames Rees Jones for ruining golf (or something like that): When par-3 15th hole at Atlanta Athletic Club measured 265 yards for the PGA Championship, Mickelson took it as an opportunity to lament how "modern architecture is killing the game." Specifically, Mickelson criticized course architect Rees Jones for making changes to courses that were suitable for professionals but overly penal for amateurs. Mickelson even went on to cite a statistic that said play at AAC was down by 25 percent because of intimidation. Whether that number was accurate or not, the club wouldn't say. "Phil is not a member, so I don't know where he got his information," club general chairman Tom Adderhold said.
Phil would prefer not to underwrite the entire government: Mickelson shot three rounds in the 60s en route to a T-37 in his season opener at the 2013 Humana, but that wasn't as interesting as his announcement that he needed to rethink his schedule and his state of residence. All this, apparently, because Mickelson was concerned about the hefty taxes he would have to pay at the federal and state level. Mickelson said taxes were also the reason he withdrew from his plan to take an ownership stake with his hometown San Diego Padres. "If you add up all of the federal and you look at disability and unemployment and the social security and the state, my tax rate is 62, 63 percent," Mickelson said last Sunday. "So I've got to make some decisions about what I'm going to do."
Phil questions Tom Watson's leadership in painfully awkward Ryder Cup press conference: Following another drubbing at the hands of Team Europe in 2014, Mickelson said much of the Americans' problems could be traced to straying from a successful formula employed by previous captain Paul Azinger. The remarks were a very thinly-veiled dig at the man in charge of that team, Tom Watson. "Unfortunately, we have strayed from a winning formula in 2008 for the last three Ryder Cups, and we need to consider maybe getting back to that formula that helped us play our best," Mickelson said.