The Loop
How Phil Mickelson's equipment moves have both worked (Muirfield 2013) and failed (Torrey '08)
Phil Mickelson is an equipment writer's dream -- the gift that keeps on giving. Whether it's using two drivers to win the Masters or the mistake of no drivers at Torrey Pines in 2008, Lefty never disappoints, with the British Open being the latest example.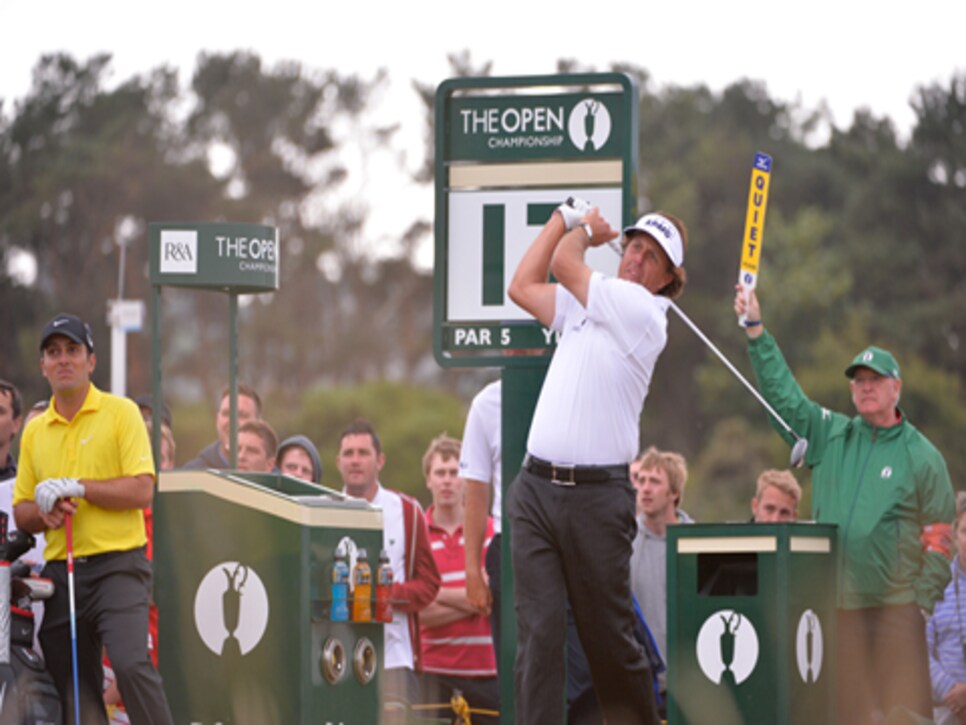 The Champion Golfer of the Year again fiddled with his set makeup, opting for no driver and not even a Phrankenwood, but rather a Callaway X Hot 3Deep 13-degree 3-wood as his longest club in the bag, just as he did at Merion for the U.S. Open. This time, however, the results were different as Mickelson took home his fifth major. Here's a look at some equipment changes Mickelson has made leading up to the majors (not counting the infamous switch to Callaway just prior to the 2004 Ryder Cup) -- moves that resulted in memorable wins or epic losses.
Two drivers at 2006 Masters
Mickelson is known for preferring to play the week before a major and at the 2006 BellSouth Classic, he used the tournament to try out a potential strategy for the following week at Augusta National -- a pair of 9.5-degree Callaway Big Bertha Fusion FT-3 drivers.
He did this in hopes of working the ball both left and right without altering his swing. Although comfortable hitting his "baby cut" with his gamer, Mickelson had to change his move to hit a draw. The second driver was one inch longer (46 inches as opposed to 45 on his gamer) with a lower center of gravity. Along with moving some internal weight to make it more draw-friendly, the club provided Mickelson the desired shot with his normal swing.
"I knew I was going to [use two drivers] at Augusta," he said at the BellSouth. "I wanted a week where I did this before the Masters, to see if I could go from one driver to the other and still hit fairways and not have it be a big change."
The change was big, but in a good way. Mickelson won the BellSouth in runaway fashion and his second Masters the following week.
A 64-degree wedge at Winged Foot
In the weeks leading up to the 2006 U.S. Open at Winged Foot GC, Mickelson had Callaway make him a 64-degree X-Tour wedge to combat the touchy little shots around the course's tricky greens.
Although Mickelson wasn't alone in carrying a high-lofted weapon, he did face the problem of what club to leave out. During a trial run at the Memorial, Mickelson left the 7-iron out to make room for the club. At Winged Foot, however, Lefty dropped the 3-wood. Still, the 64-degree proved handy. After 54 holes Mickelson said, "That one club has saved me a lot of shots, more than one or two a round possibly. If I'm able to be successful tomorrow, I will give credit to that one particular club for being the little extra edge." Unfortunately, his memorable double bogey at the last prevented that.
No driver at 2008 U.S. Open
On the longest course in U.S. Open history, Mickelson decided to go without a driver, opting instead for a Callaway FT Tour 3-wood -- a 13-degree version bent to 11.5 degrees. Mickelson had a 43-inch Mitsubishi Diamana White Board shaft installed and used the club as his primary weapon off the tee the first two days.
Mickelson's rationale was that his driver would go too far and quite possibly land him in trouble. "The 3-wood carries 275 [yards]," he said. "So it's running about 300 here. And it's just easier to hit fairways at 300 than 320. It just felt more comfortable."
Unfortunately, the plan backfired as he had trouble finding the short grass with the shorter club, forcing him to go back to the driver on the weekend.
Phrankenwood at 2013 Masters
At this year's Masters Lefty kinda sorta tried two 3-woods in the bag and the results were mixed. Mickelson promised a "special club" for the Masters and was true to his word, unveiling the "Phrankenwood" -- a 250cc "driver" that came about because of Mickelson's affinity for Callaway's X Hot 3-wood, which he noticed spun less than most 3-woods.
Mickelson asked the engineers at Callaway to take that technology and put it in a slightly larger clubhead, effectively making the club a small-headed driver. However, unlike most drivers that are titanium or titanium/composite combinations, Phrankenwood was made from stainless steel with a Carpenter 455 face insert to help boost ball speed. The club had a 45-inch Mitsubishi Fubuki shaft and 8.5 degrees of loft.
The club performed well enough as Mickelson ranked sixth in distance at 298.12 yards and T-9 in accuracy at 71.43 percent, but the result that mattered most wasn't very good as the three-time Masters champ had his worst Masters performance ever, finishing T-54.
The "Hot" 3-wood at 2013 U.S. and British Opens
Earlier this year Mickelson expressed a desire for a fairway wood that was long enough to use as a second driver, but also playable off the ground. The company responded by making the X Hot 3Deep with a face 10 percent taller than its X Hot model, thus raising the center of gravity slightly, making it more in line with the impact area on tee shots (higher on the face), leading to more ball speed.
Mickelson used the club at this year's U.S. Open at Merion GC and again at Muirfield. Although the results were mixed at Merion (he could barely reach the fairway from the back tee on No. 18 and the club came up short on the brutally long par-3 third in the final round), the strategy played to perfection in Scotland. Mickelson kept the ball in play and then, on the 71st hole, struck a pair of shots that essentially put the tournament away.
"That is exactly why I don't have a driver in the bag," Mickelson said afterward of the two 3-woods that reached the par-5 17th in two blows. "Those two 3-woods were the two best shots of the week."
Which brings us back to where we started. Whether he continues to play well or fails, Mickelson's equipment decisions will continue to be debated and dissected. Like we said, an equipment writer's dream.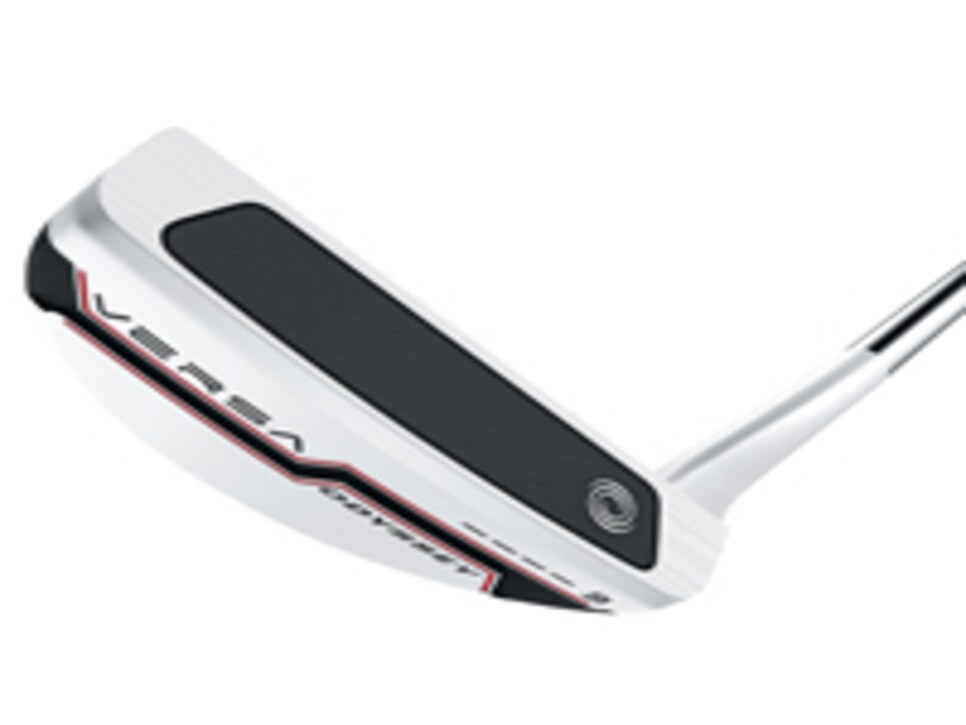 PRICE: $170 (Lengths: 34, 35 inches)
Versa putters feature a high contrast alignment technology that accentuates the face angle at address. Phil Mickelson used this model at the British Open.
](http://odysseygolf.com/)
After taking to Twitter to solicit putters, Ian Poulter settled on an Odyssey White Damascus iX #1. Currently a Japan-only product, the club is made from the same Damascus steel that has been used in samurai swords. Poulter rallied to finish T-3 at the British Open, ranking T-16 in total putts. ... Another player making a putter change was Lee Westwood, who went back to a Ping Redwood Anser -- a model he has won with nine times. ... Although drivers were not used often at Muirfield, some big names had a new big stick in the bag. Most notable was Tiger Woods, who added a Nike VR_S Covert Tour prototype driver. The non-adjustable driver features the same cavity back as the retail version; however the head is more pear-shaped, which Woods prefers to help shape and control his shots.