The Loop
Phil Mickelson's career revival delayed by Vaughn Taylor's career resurrection
The final round of the AT&T Pebble Beach National Pro-Am was less a reminder of Phil Mickelson's brilliance than a reaffirmation of a capricious talent that win or lose is always entertaining.
Mickelson as usual put on a great show, one that even included a happy ending — not for him, as it were, but for the journeyman who beat him.
When Mickelson's five-foot birdie putt at 18 lipped out, Vaughn Taylor was the winner, resuscitating a career on life support, his first victory in 11 years and third of his career.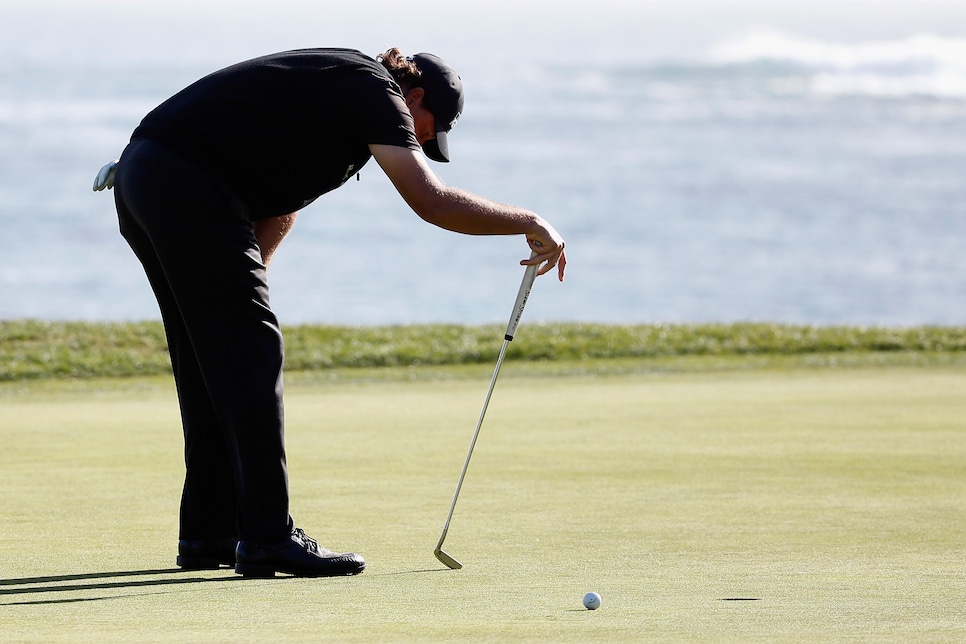 "It's been a long time," an emotional Taylor said. "I didn't think it was going to happen. I've worked so hard and kept getting knocked down and knocked down. I'm at a loss for words right now."
Two weeks ago, Taylor missed the cut at the Web.com Tour's Panama Claro Championship. He no longer had his PGA Tour card and got into the field only on his past champion status. His career had stalled and the future was bleak before a final-round 65 enabled him to climb off the canvas and defeat a Hall of Famer who is in the midst of his own search.
Mickelson is closing on three years since his last victory, in the British Open at Muirfield. He has played 50 tournaments since without a victory and is four months away from his 46th birthday. He had fallen to 29th in the World Ranking, still respectable, but immaterial for a man whose only goal at this point is winning.
This appeared to be the week that he would do so. He took a two-stroke lead into the final round of a tournament he had won four times previously. He, too, had a positive mindset based on the quality of his ball-striking generally, though some errant swings on Saturday had him summoning his new instructor Andrew Getson to Pebble to iron it out before his round on Sunday.
Those in pursuit, meanwhile, were not of the sort to pose a credible threat to a man with 42 career victories and a two-stroke lead on a course on which he was so comfortable.
Instead, Mickelson wavered, lost his lead, regained it, lost it, then needed a birdie-birdie finish to force a playoff. He produced the required two at the par-3 17th hole, then was just short of the green in two at the par-5 18th.
This time, his renowned short game was sans its usual magic and delivered a mediocre pitch that left him with a difficult five-footer that he missed, another unexpected turn in a wildly meandering career that has never been dull.