The Loop
Phil Mickelson won't win, and 5 other things the stats tell us about Tiger Woods' missed majors
Tiger Woods' withdrawal from the 2014 U.S. Open means his drought in major championships will extend to 24. What should be more alarming is the fact he will have missed a quarter of those tournaments due to various injuries.
We still don't know when Woods will return from the back surgery he had in March, but we can take a closer look at the five majors he's sat out since limping his way to that memorable win at Torrey Pines in 2008. Here's what we learned about those events -- and majors in general during Woods' rocky six-year span:
-- Padraig Harrington has clearly taken the most advantage of Woods' absence from majors. Harrington is the only player to win more than one of these five majors as he claimed the 2008 British Open and 2008 PGA, the two majors Woods missed that year after undergoing reconstructive knee surgery following his win in the U.S. Open. The victories gave Harrington three career majors, led to him claiming his lone PGA Tour Player of the Year Award and moved him to a career-high third in the Official World Golf Ranking. Unfortunately for Harrington, he won't be in the field at Pinehurst after failing to make it through qualifying. But enough about him. Let's get back to talking about the Official World Ranking . . .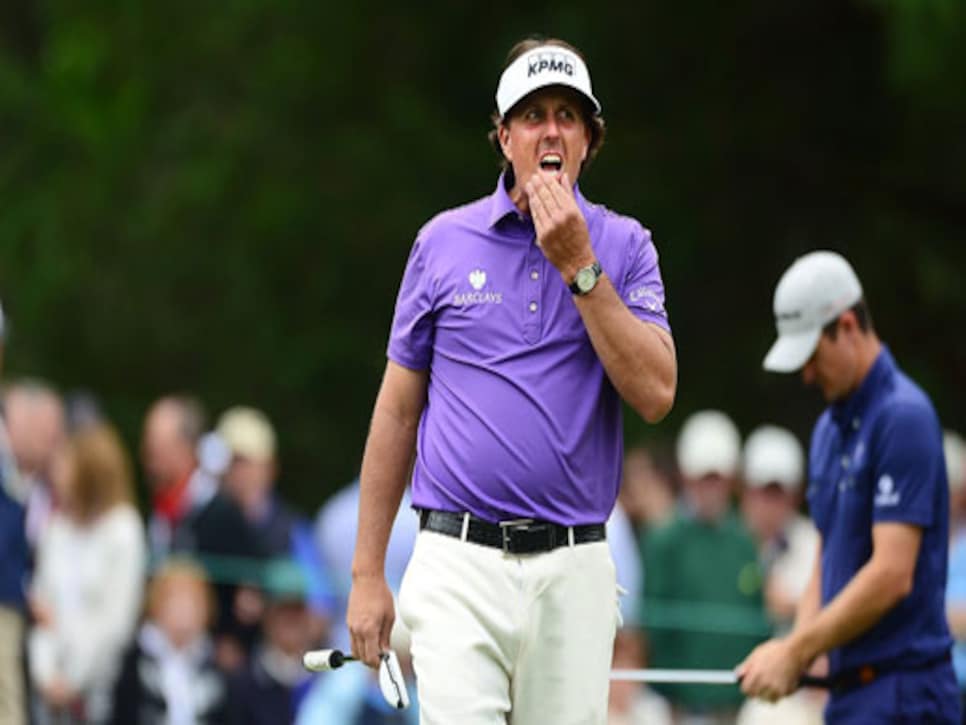 -- Better players seem to step up when Woods isn't around. In the 18 majors Woods has played since winning the 2008 U.S. Open, the average world ranking of the winner at the time is 35.2 compared to 29.2 when he doesn't play. Take out the three winners ranked lower than No. 100, though, (Darren Clarke at the 2011 British Open, Keegan Bradley at the 2011 PGA and Y.E. Yang at the 2009 PGA) and the average goes to 26.1 when he does play to 8.8 when he doesn't.
-- But the next in line hasn't stepped up to win yet. In the five majors that Woods has missed, the player ranked No. 2 (or during 2011, the player ranked No. 1 in the world) has had an average finish of 35.8. Padraig Harrington was ranked No. 3 on the strength of his British Open win when he won the 2008 PGA Championship a month later. Two other players, Phil Mickelson (2010 Masters) and Rory McIlroy (2012 PGA), have won majors as the third-ranked player during this span.
-- Speaking of Phil . . . If Padraig is the guy who has benefitted most from Woods missing majors, Phil has been the guy who has taken the least advantage of his rival's DNPs. Mickelson is the only player to have been ranked in the top 10 entering all five of those majors, but has only contended once, finishing co-runner-up with Dustin Johnson to Darren Clarke at the 2011 British Open.
-- Actually, the top 10 in general hasn't fared well. Harrington (2008 PGA) and McIlroy (2011 U.S. Open) are the only two players ranked in the top 10 at the time to win one of the five majors Woods missed. That's not a crazy stat, especially considering the average rank of the typical major winner during this span, but overall, these players' performances have been disappointing. No fewer than three top-10 players have missed the cut in four of those five majors, with five top-10 players failing to play the weekend at the 2011 British Open. On the flip side, in only one of those five events (2008 PGA) have more than two of the top 10 finished in the top 10 that week.
-- It's tough to consistently make cuts in majors. Only two players, Henrik Stenson and Woods' buddy/putting coach Steve Stricker, made the cut in all five majors Tiger missed. Stricker was ranked in the top 10 entering four of those tournaments, the only player other than Mickelson to be ranked in the top 10 in more than three of them. Stenson might be a surprise name here considering the horrific slump he went through, but his aggregate score of 30 over par just nipped Stricker at +31. Yeah, majors are tough.
So, if these trends continue, we shouldn't expect No. 1 Adam Scott or No. 2 Henrik Stenson to win at Pinehurst, but we shouldn't be surprised if another big name a little further down the ranking does. It just probably won't be Phil Mickelson, who is trying to complete the career Grand Slam at a tournament where he has a record six runner-up finishes. Sorry, Phil.