Phil Watch
A Phil Mickelson sighting (!) on a golf course (!!) increases speculation about a potential return to the game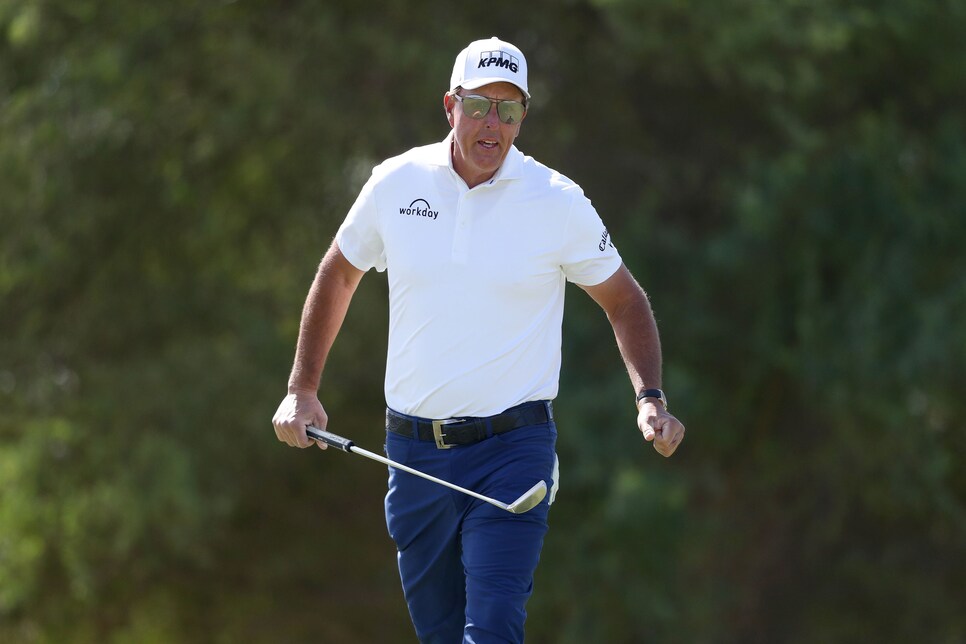 The amazing thing about the disappearance of Phil Mickelson since stating in February was taking time away from the game in the wake of his controversial comments about the upstart Saudi-backed golf league was the completeness with which his withdrawal from society seemed to take place. The common thought was that he was secluded in Montana (or was it Wyoming?) plotting his next move, but no one truly knew. Bryson DeChambeau and other friends say that Lefty had gone dark, hearing nothing from him and were as curious as the rest of us what he was up to. Had he grown a shaggy beard and a man bun? Had he turned into a coffee-drinking shorts-wearing mountain man?
This week, however, offered the first signs that Mickelson is indeed around and considering a return to life as a professional golfer. On Monday, his longtime agent Steve Loy released a statement saying that Mickelson has registered for next month's PGA Championship, where he is the defending champion after becoming the oldest winner of a major at age 50 with his victory last May at Kiawah Island. He also has filed an entry for the U.S. Open in June and requested from the PGA Tour a release to potentially compete in the first LIV Golf Invitational event outside London in early June. Loy's statement came with a warning, however, not to presume when Mickelson might officially return to competition:
"Phil currently has no concrete plans on when and where he will play," Loy's statement said. "Any actions taken are in no way a reflection of a final decision made, but rather to keep all options open."
On Wednesday, however, video surfaced of an actual Mickelson sighting … on a golf course!
The Fire Pit Collective says it was from Rancho Santa Fe Golf Club in California, so he's at least returned from secluded cabin life. The question now gets more interesting: When might Mickelson play in a tournament again? The first round of the PGA Championship starts in three weeks at Southern Hills, which would seem to be enough time to get his game into some kind of playing shape. If that didn't work for some reason, the inaugural LIV Golf event is three weeks later, buying him more time to decide how to reacclimate with the least amount of fuss. (Oh, and there will surely be fuss.)
Mind you there are dozens of other questions, too, most notably: Has he reached out to PGA Tour Commissioner Jay Monahan to talk about possibly playing again on the PGA Tour? (Recall that as of March, according to Monahan, the two had not spoken.) Or, as The Telegraph reported, has Mickelson committed to playing all eight LIV Golf events in 2022?
For now, we'll all take a Phil sighting, even if just two seconds of semi-grainy video, with the knowledge that it reignites everyone's favorite Mickelson game: "What will Phil do next?"