The Loop
The struggles of Phil and Tiger continue at Firestone
AKRON, Ohio -- Confidence is, perhaps, the single most important quality for any golfer, and great golfers have an abundance of it. But it can't be manufactured. Presumably, no one can fool himself into having it or gaining it.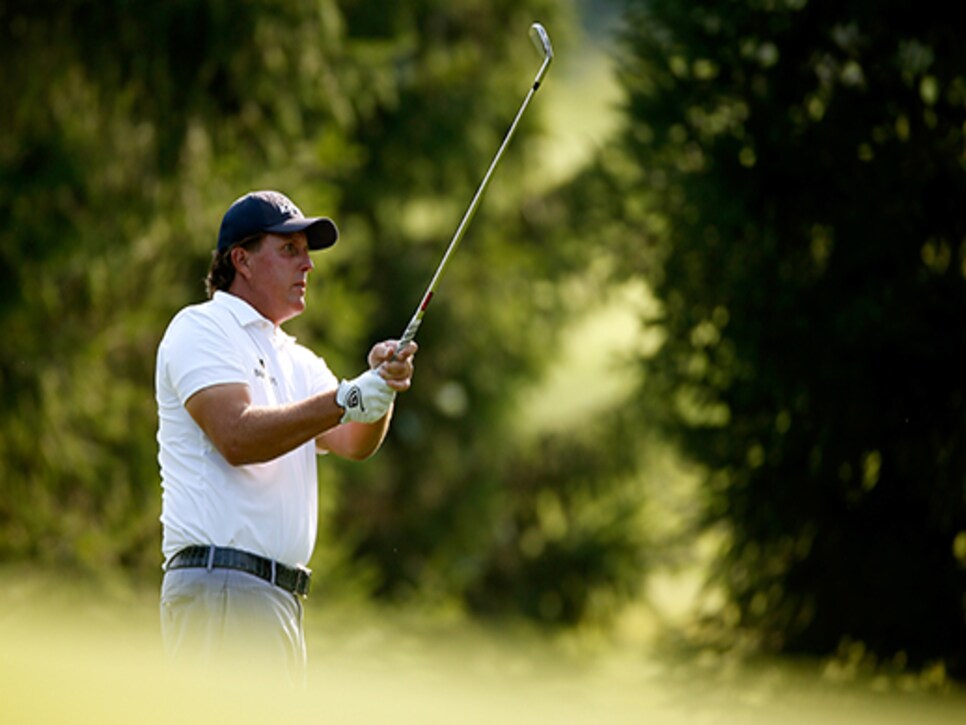 With the year's final major approaching, two of golf greatest players, Tiger Woods and Phil Mickelson, are struggling with their games and, clearly, their confidence. Between them they do not own a top-10 finish this year, and they aren't likely to post one in this week's WGC-Bridgestone Invitational at Firestone CC.
Woods, competing in just his third tournament after back surgery, flailed away under a soft morning sky on the South Course but rustled up a two-over 72 Saturday, leaving him at one-over 211, barely in the same area code with leader Sergio Garcia. Mickelson, still ailing from strep throat, fashioned a one-under 69 with the aid of just two birdies. He's even farther adrift at three-over 213.
One player was dejected after his round, the other encouraged and hopeful.
Said the dejected golfer: "I've got a little work to do on my game. It's been a long time since I've played well, and it's been more of a struggle than I thought it would be. I thought it would come back a little bit quicker."
Said the hopeful golfer: "If I could hit the ball just a little bit better . . . I hit it pretty decent today, which was nice. I just didn't putt well at all again today. I couldn't get comfortable with my setup, and unfortunately, it just kind of worked out that way."
Would you be at all surprised to learn that Mickelson uttered the first quote, Woods the second?
You can't manufacture confidence. Can you?
Mickelson, 44, seemed resigned to the fact that his game, though acceptable in fits and starts, hasn't been consistent enough to contend in big tournaments. His exasperation bubbled to the surface at Firestone as he bluntly assessed his meager chances of vying for the PGA Championship next week at Valhalla GC in Louisville, Ky., a venue where he contended in the 1996 championship and where he enjoyed a sun-splashed week of success in the 2008 Ryder Cup, America's only triumph in this young century.
"I felt really close at the British and Scottish [Opens]. I thought it was going to click. And then the first two rounds here were disappointing," said Mickelson, who hasn't found the measure of his immense talent since winning last year's British Open at Muirfield, Scotland.
Asked if he had enough time to repair his game for a PGA bid, Lefty responded hesitantly: "I'm not sure. I'm not sure. We'll see. It would be out of nowhere for me to play well.
"As I look back on my game right now," Mickelson added, "what has always been a strength for me is my short irons. I usually hit one or two to tap‑in distance every round or make a lot of birdies. I've led on Tour in birdies per round in total for a number of years. My short irons have been pathetic. I'm not hitting the ball close.  I'm not making many birdies. I played pretty well today, and I made two birdies. That's just not going to cut it."
Mickelson, who has had his own back issues this year, hasn't been himself, ranking 52nd on the tour in birdie average after leading the stat in 2013. The last time he was out of the top 20 was 2009.
Woods, of course, is in the midst of just his sixth tournament of 2014. He's still in rebuilding mode after microdiscectomy surgery on March 31. He may have won his eighth WGC-Bridgestone title by seven strokes last year, but Firestone South is unforgiving to the mediocre ball striker, and Woods, for all his talk of putting woes, has been exhibiting a golf swing more fragile than his spine.
Previous to this year Woods ranked third cumulatively in ball striking at Firestone compared to the field. This week he's hit 18 of 42 fairways and 30 of 54 greens in regulation, including seven fairways and six greens on Saturday.
"Yeah, I'm fine," Woods, 38, said when asked about his swing. "It took me a while to get my playing feel back again. I'm starting to get the feel of my hands to hit the ball the right distance. That's something I didn't do a very good job at at Congressional. Kind of hard to tell at the British Open because you're playing so many different kind of shots. Each day I've done better with my hands and the feel and getting the right number."
Among other things, the PGA represents the last chance for Woods and Mickelson to display improved form for U.S. Ryder Cup captain Tom Watson, though Mickelson still has the luxury of playing his way into an automatic berth.
He didn't sound like a man who fancied his prospects.
Woods, meanwhile, was of a mind that progress is imminent. He completed his third round by hitting his last two fairways and the last three greens in regulation. Is confidence that easily obtained?
"I actually smoked it coming home, which is nice," said the former No. 1 player in the world. "I figured something out there. … I just need more reps, still continue to stay at it because I'm actually getting better the more rounds I'm playing."
Who knows, maybe confidence is largely a choice. Let the experiment commence.