The Loop
Phil Mickelson, three years after improbable Open win, opens up about state of game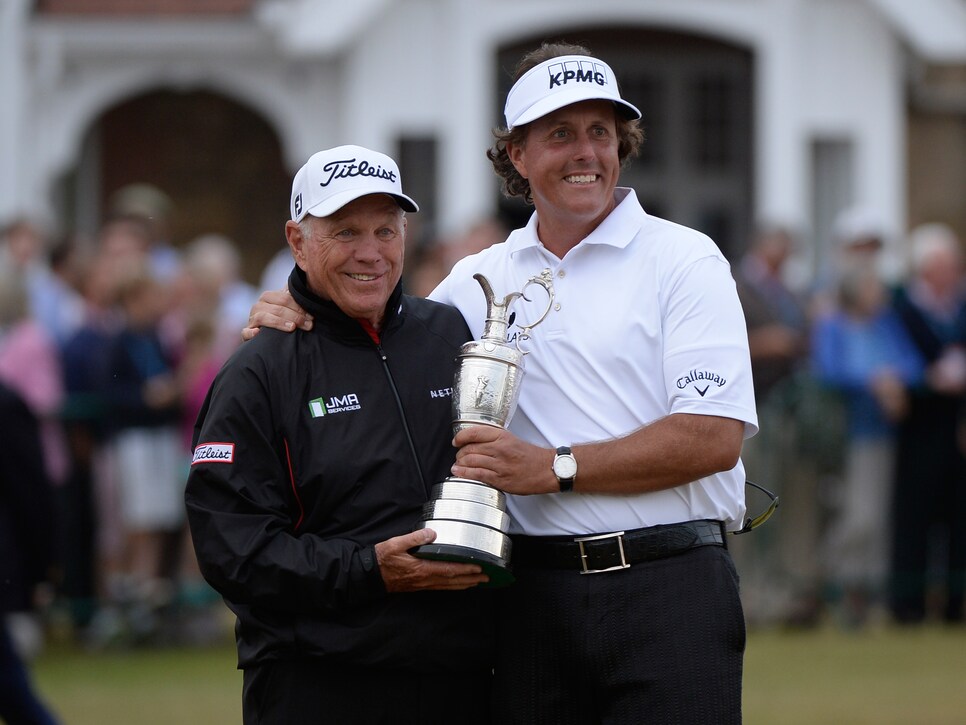 As ever with the Open Championship, weather -- good and bad -- will potentially play a large part in determining the winner of the Old Claret Jug when the game's older and most important event reconvenes for the 145th time at Royal Troon this coming week. Getting the wrong end of the draw can, for example, virtually end a player's chances of victory.
"I hear the argument that, no matter how it is set up, the course will be the same for everyone," says 2013 champion Phil Mickelson. "But sometimes that is not the case. Conditions can be bad for the morning players and not for those playing in the afternoon. But that is just the luck of the draw."
How the course is presented -- something of a hot-button topic these days -- is another area of much debate. Both the R&A and USGA have more than once created controversy with course set-ups at recent Opens and US Opens. Only last year at St. Andrews, the Open was halted when conditions were deemed "too windy" to continue and balls were oscillating on greens many observers suspected were simply too fast. Certainly, every other course in Fife was open for play that day.
"It's always a challenge to find the line between identifying the best players or just embarrassing them," says Mickelson. "Any time you go close to that line it is hard not to go over it. The R&A likes to use some interesting pins. The USGA puts more emphasis on tee-to-green. They have very tight fairways, extremely long rough and very quick greens. They try to 'trick it up' to where par is a good score. But the fact is that today's players are so much better than they were 100 years ago, so par is not a good score. So you have to cross the line to make par a good score. And that line is always gray."
"We are where we are with the equipment," Mickelson said. "I'm not upset with the way the ball and the clubs have gone. My misses are better so it just doesn't get me fired up."
Indeed, only last month, the U.S. Open descended into what meany deemed farce when the eventual champion, Dustin Johnson, played the last six holes of the final round at Oakmont not knowing how he stood in relation to his fellow competitors. As Johnson played on, a debate raged on whether or not he should be penalized after his ball moved on the 5th green.
"I don't know what I would have done in Dustin's situation on that 12th tee," continues Mickelson. "I think he thought he was not going to get a penalty because he did nothing to make that ball move. The fact that he did get a penalty is a different story. I think he 'knew' in his own mind that, because he did nothing to make it move, there would be no penalty. And that is why he continued to play.
"I'm not sure what the other option is. You have to continue your round. I'm sure some players would demand to know if they were being penalised or not. I don't know if I would do that though. But I understand that reasoning."
As for the notion that major championship course set-ups are more and more extreme because of the ever-increasing distances top players can launch their drives, Mickelson remains unconvinced that anything can or even needs to be done.
"Dustin is an extreme case," says the game's finest ever left-hander. "In every round he gains two-and-a-half shots on the field with his driver. He drives it longer and straighter than anyone. You cannot set up courses just to fight him. Besides, other players gain strokes on him on and around the greens. Jason Zuback is going to start playing a bit on tour. The guys hits it 380-400 yards off the tee. Does that mean we have to have 650-yard par-4s?
"We are where we are with the equipment. I'm not upset with the way the ball and the clubs have gone. My misses are better so it just doesn't get me fired up."