The Loop
Phil Mickelson 'searching' ahead of PGA Championship
AKRON, Ohio - A year ago in the WGC-Bridgestone Invitational at Firestone CC, Phil Mickelson discovered a bit of timely magic to fire a final-round 8-under-par 62. The performance fueled his bid for a sixth major championship the following week at Valhalla GC in Louisville, where he came up one agonizing stroke shy to Rory McIlroy.
Mickelson hopes to conjure a similar confidence-building round Sunday on the South Course, where he won the 1996 NEC World Series of Golf, but he's unsure of the method necessary to achieve it as he looks ahead to next week's PGA at Whistling Straits in Kohler, Wis.
After a third-round 1-over 71 Saturday morning, Mickelson stood T-58 at 7-over 217 and is still without a round under par this week. Only once before, in 2007, has the popular left-hander failed to shoot a round in the 60s at this venue.
"I don't remember what clicked. I know I made some good putts," Mickelson said, recalling his birdie binge on Sunday that elevated him to a T-15 finish. "I putted well the following week at the PGA. But I don't know what I did."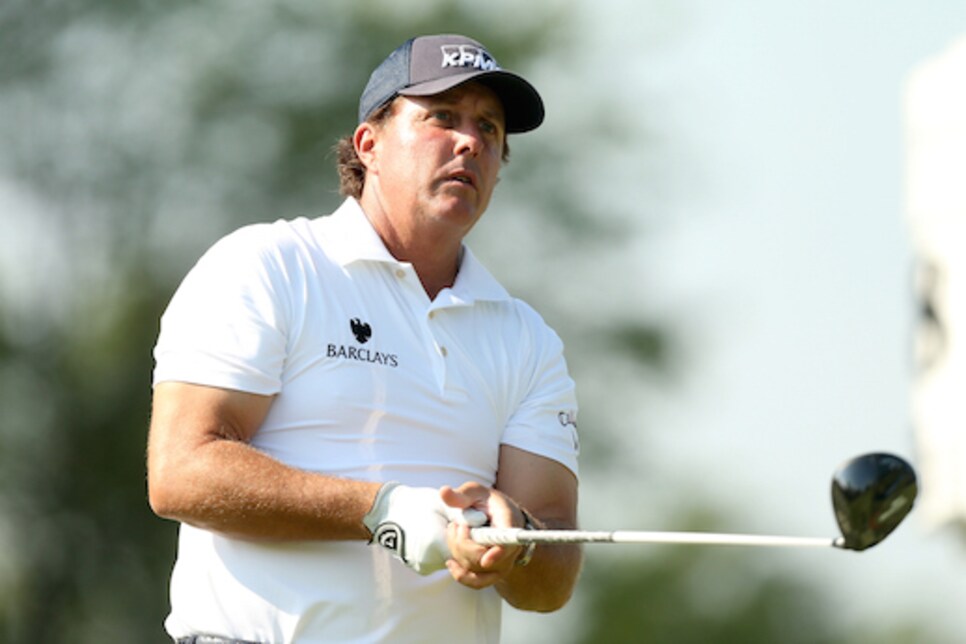 There were flashes of brilliance during Saturday's round, including the 7-iron that he hooked around the trees from the right fairway bunker at the par-14th hole that struck the flagstick and set up a tap-in birdie. But there just hasn't been enough this week.
He converted 10 birdies in his final round Sunday a year ago. Through 54 holes this year, Mickelson has six birdies. Last year, he said a run at the PGA would have to come "out of nowhere." Then he blitzed Firestone and finished second at Valhalla. This time, a similar scenario seems even less likely.
But with Mickelson you never know. Few players possess the ability to suddenly find another gear, and he seems to rise to the occasion in majors, as he did again at the Masters when he ended up T-2 behind Jordan Spieth.
"I don't know what to say about that," Mickelson, 45, of Rancho Santa Fe, Calif., responded when asked how he can kick-start his game. "I'll try to do the same thing tomorrow that I did last year. I'll try to have a good solid round and try to get ready for the PGA. I was playing well, I thought, coming in here, and I thought I was going to have a good week. Then I'm five over through the first seven holes, and the chance of winning is basically gone in the first seven holes. It was a very disappointing start."
Without a victory since he won the 2013 Open Championship at Muirfield, Scotland, Mickelson, who has 42 tour wins, was at a loss to explain his struggle to score this week. "I'm so disappointed. I was so up for this week, and to have the start I have was just very tough."
Nevertheless, he was hopeful. "The greens are perfect. The ability to get it really close is difficult here [because of some tough hole locations]. It's really a good way to prepare for a major championship," Lefty said. "You have to play conservatively in majors. At Whistling Straits, those are very tough greens, and you can't be missing shots there. The patience element is not a bad thing this week. You know, I'll just keep searching."